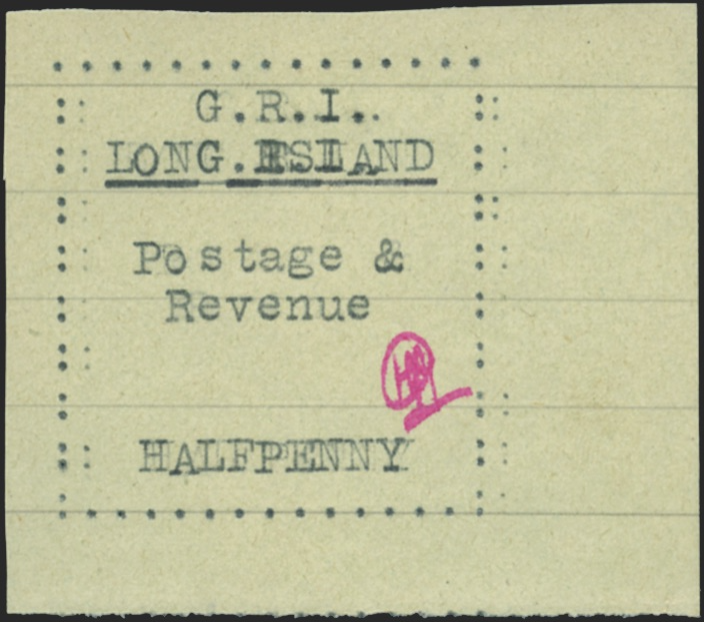 Not all good investments look good
Primitive philatelic charm of the rarest kind
Regular readers will be familiar with my 5 golden rules.
These are the rules I rigidly stick to when buying. 
The rules equally apply to what makes a good investment.
The rules have never let me down. 
You see, stamps that don't sell straight away are not a problem for me. 
As long as I stick to these rules, my stamps sit in our vault rising in value over time. 
The appreciation in value is much more than I could ever get from our bank. 
The most unusual piece of philatelic history I have for you today passed the 5 golden rules test with flying colours… 
RULE 1 - RARITY
Not only is it from the first issue of this famous stamp, which were deemed unsuitable and therefore of very limited supply… 
It also shows an extremely rare error. 
Only three examples with this error could have existed. There are, however, only two examples recorded.
RULE 2 – QUALITY
Of the two recorded examples, this is much the finer. It is therefore the finest quality example in the world.
RULE 3 – PROVENANCE/AUTHENTICITY
It has superb provenance as it once belonged to the famous Long Island Mountrobeck Collection and was part of a high-profile sale in 1994 through Christies Robson Lowe Auctions. 
It is also accompanied with a clean independent certificate of authenticity issued by the highly regarded philatelic expert, Peter Holcombe.
RULE 4 – LIQUIDITY 
Stamps from this little-known area of the world are considered great rarities of the British Commonwealth. They are particularly unusual amongst British Empire issues for their clear provisional nature. 
They hold a certain primitive charm and have always proved popular amongst a wide range of collectors. 
RULE 5 - PRICE 
The stamp comes from a hot area of the market at the moment with prices clearly breaking out into new territory.
And now the big reveal…
Ok, so it doesn't look like any other stamp you have seen before.
Neither is it particularly pretty. It looks like something you could knock up on a typewriter. And, indeed it was (more on that later).
But, when it comes to philatelic value, you only have to look at how ugly the world's most valuable stamp is (the British Guiana 1c magenta) to see that looks aren't everything! 
Technical description
Long Island 1916 (7 May) ½d black on pale green paper with horizontal grey lines, SG4a, typewritten (top copy as always), right marginal from Plate 2a, position 12, showing error 'G.R.I. double' (with the first impression under 'G ISLA' of 'LONG ISLAND'). 
A superb quality unused example. 
Only three existed (from positions 10-12 of this plate), but this is one of only two recorded, and much the finer. 
Provenance: Ex 'Mountrobeck' (Christies Robson Lowe 1 June 1994, lot 25).
Accompanied with a Holcombe certificate of authenticity (1990).
Price: £5,500
The history of this little-known Island resulted in the issue of some of the world's rarest stamps…
The Brief History 
Long Island (not to be confused with the one in New York) is situated at the entry of the Gulf of Izmir on the west coast of Turkey.
It is a small island, only 6 miles long.
Long Island (now Uzan Ada)
The island was originally called Chustan (or Keustan) when it was under Turkish rule.
The island was for a short period renamed Long Island when it was occupied by the British Navy during World War I during April 1916. 
The British Navy monitor (M30) was stationed to blockade the Gulf. On the 14th of May 1916, the M30 was hit by Turkish shore-based gunfire and sunk. 
As the airfield was unusable, Long Island was abandoned by the British on 26th May. 
The stamps that should never have been
Despite such a short occupation, between the 7th of May and the 26th of May 1916, local stamps were issued by the occupying forces. 
They were produced very crudely based on the resources available and in very small numbers. 
Oddly, they were actually manually produced on a typewriter by the British Civil Administrator, Lieutenant Commander H. Pirie-Gordon. 
They were inscribed "GRI LONG ISLAND". The initials "HPG" in red you can see on the stamp are his own initials. 
Green paper was used for the first issues, but was found unsatisfactory and use of green paper had to be abandoned.
As a result, the first issues on green paper are exceptionally rare.
Thereafter, various colours of the stamps were produced from the sheets of carbon paper used for duplicating.
After the typewriting paper ran out, transfer paper cut from a folio letter-copying book was used. 
The stamps were short-lived. From a letter dated 10 June 1916 from the Civil Administrator to the British Postmaster General, we learn:
"The Turks have been so very offensive that the issue of Long Island stamps has had to be discontinued… the Naval Authorities ordered all remaining stamps to be sent to them, with a view, I believe, to having them destroyed so it will be useless to apply to anybody for any more of them". 
The stamps were not really necessary and should never have been issued. They were not meant for the few local inhabitants and were used solely by the British Navy personnel. The stamps were discontinued on May 26th.
They are of particular draw to collectors today because: 
The numbers issued were so few making them very rare
They are curious in their primitive design
They were the first issue directly attributable to the navy
As a result, they have become one of the most valuable of all British War Issues. 
Investment Potential
The table below shows the history of SG catalogue values in five-year intervals over the past twenty years…
The stamp has risen in value over the past 20 years by 189% (9.5% pa simple annual growth).
Whilst historic growth shows a solid investment track record, the absence of any price movement in the past five years has curtailed the overall average annual growth rate. 
It is important to note, though, that these prices are based on Stanley Gibbons catalogue values.
As these stamps are so rare, it is not unusual to see Stanley Gibbons prices fall behind the true market values.
This is because, in the absence of any trading data, the prices in the catalogue will remain the same… 
And that can happen for very rare stamps. Long Island stamps are very scarce and rarely come onto the market. 
It is interesting to note the comments on the website of one of the longest established British Commonwealth stamp dealers in North America:
"Very little Long Island material comes to the market, and it's worth noting that the entire colony is under-catalogued, as the printings include many stamps with a printing edition of less than 50 copies." 
This bold statement is encouraging, especially from such a highly regarded dealer with almost 50 years of experience in the British Commonwealth stamp market.
More importantly, a similar rarity to the one you can purchase from me today appeared in an auction recently selling for $13,000. 
That makes the price today of £5,500 for the finest quality example of one of the rarest of errors from Long Island particularly attractive.
It is certainly one of those rarities which could outperform when it next appears at auction. 
17% discount exclusive to our American clients 
Buying this major rarity today is even more compelling if you are paying in US dollars. 
Take a look at the illustrative table below to show how the strengthening of the US dollar against the British pound provides a valuable saving if you are paying in dollars:
If you are paying in US dollars, you will also benefit from an effective 17% discount on the price you would have paid for this stamp at the start of the year…
A Lower Priced Alternative Option 
I only have two stamps from Long Island in stock. The error featured above is one of the rarest.
If this is above your budget, but you would love to own a piece of this unusual part of philatelic history, take a look at this lower priced alternative…Long Island 1916 (7 May) 6d mauve inscribed 'SIX PENCE', typewritten (carbon) on thin horizontally laid with initials in red, SG19.
A fresh mint example, without gum as issued. There is an unobtrusive crease at foot, and minor paper blemishes. Such imperfections are, however, common for this stamp with this example being well above average.
An extremely rare stamp as only 60 were originally produced, from which Gibbs recorded only 16 unused examples (and 1 used).
The Stanley Gibbons catalogue value is £1,600. 
PRICE: £1,250
If you would like me to reserve either of these stamps for you, please email me today at mike@paulfrasercollectibles.com.
As I said, it looks like a good investment even if the stamp itself is not so good looking. 
Kind regards
Mike Hall
PS. ATTENTION STAMP INVESTORS… Please, don't miss out on your final chance to add some high quality rarities to your collection at our lowest ever prices.
I have extended our end of summer sale until Monday 29th August to give you one last chance to benefit from these prices.
As an investor, taking opportunities like this to buy rare stamps at considerable discounts to market value, is the most obvious way to improve your returns when you come to sell in the future.