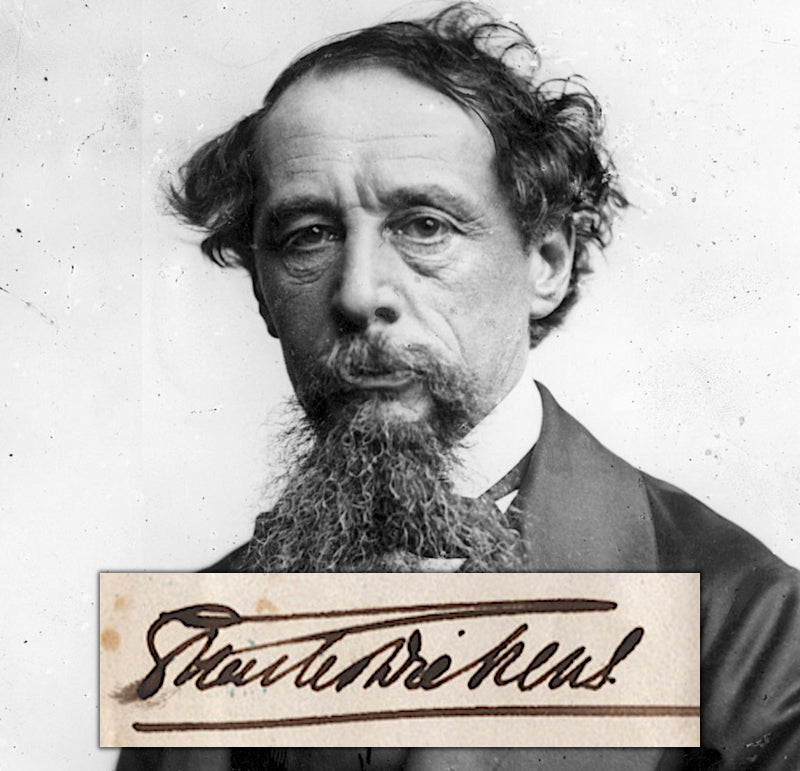 A brief moment in a remarkable life
Hi fellow collector
In a quiet corner of a gentleman's club, in the heart of Victorian London...
Charles Dickens sits eating his sandwiches.
He nods politely to fellow members. Bids "Good afternoon" to Charles Darwin on his way to the library.
And in this peaceful sanctuary, Dickens writes a letter to a friend.
He addresses the envelope. Signs it with a flourish. Then asks a passing porter to kindly post it at once.
It's a moment in time from the life of Charles Dickens.
Preserved on paper for more than 150 years.
A Charles Dickens signature is an autograph to treasure for generations.
A Charles Dickens autograph is an item to treasure.
It captures your imagination. It links you one of history's greatest writers.
Signed by the same hand that wrote A Christmas Carol, Oliver Twist and Great Expectations.
And this Dickens handwritten and signed envelope is the perfect way to add one to your collection.
It features a bold signature in a format that's perfect for display.
And if your passion is philately, this piece will also sit proudly in a collection of historic postal covers.
This is an autograph of real quality. At a very affordable price.
Dickens wrote sections of his masterpiece David Copperfield whilst staying with White in Bonchurch in 1849.Dickens addresses the envelope to the Reverend James White, in the village of Bonchurch on the Isle of Wight.
In 1849 Dickens and his family spent the summer in Bonchurch with Reverend White at his home, Winterbourne House.
Dickens wrote to his daughter Kate:
"I have taken a most delightful and beautiful house, belonging to White, at Bonchurch; cool, airy, private bathing, everything delicious. I think it is the prettiest place I ever saw in my life, at home or abroad."
And most notably, during his stay Dickens was inspired to write part of his masterpiece David Copperfield.
This attractive display is ready to be framed and hung on your wall.The envelope itself measures 4.5" x 2.5" and is in fine condition, with light stains to the edges and a slight vertical fold.
Dickens has signed boldly in black ink in the lower left corner.
It's a classic example of his autograph, signed with his usual flourish.
The envelope carries a Penny Red stamp and is postmarked Pall Mall in central London.
This street was home to The Athenaeum, an exclusive gentleman's club where Dickens spent much of his time.
Given the postmark, we believe Dickens likely wrote the letter and posted it directly from the club.
The envelope is attractively overmounted beside a photograph of Dickens at his desk, to an overall size of 12" x 8".
It's just waiting to be framed and given pride of place on your wall.
You can purchase this handsome Charles Dickens signed envelope today for only £2,500.This is a highly desirable example of Charles Dickens' autograph.
Because when you know the history behind a signature, it conjures an image that brings it to life
It's that 'special something extra' that elevates your collection.
And that's what collecting history is all about.
So add this Charles Dickens envelope to your collection today.
Written by the hand of one of history's greatest authors...
And available for you to purchase now for only £2,500 ($3,060).Buy Now
To give you complete peace of mind before you buy:
This item comes with a Lifetime Moneyback Guarantee of Authenticity, and my own Certificate of Authenticity.
And what's more, delivery is free and fully insured.
To reserve it, contact me right away at info@justcollecting.com.
Or call me on +44 (0)1534 639998.
I look forward to hearing from you.
Thanks for reading,
Paul Fraser,
Chairman, Just Collecting