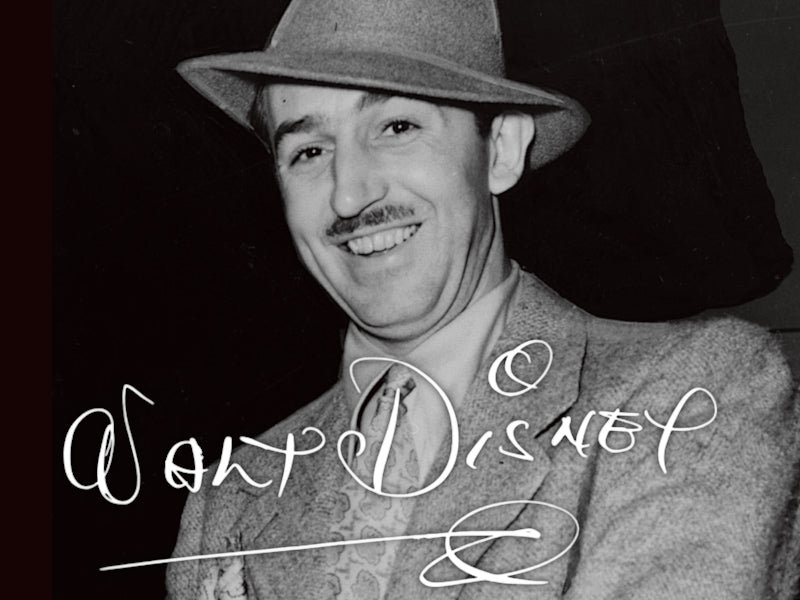 Own the world's most famous autograph
Hi fellow collector
It started with a pen. A dream. And a mouse.
And it ended with 22 Oscars. Over 100 classic films. And a business worth $200 billion.
In 1911 Walt Disney was just a kid from Kansas who loved to draw.
But he also had the vision to see further than most.
He revolutionised animation. And built the biggest entertainment empire the world has ever seen.
So if you're looking for an iconic name to add to your collection...
They don't come any bigger than Walt Disney.
Walt Disney: the most successful entertainer in history, and a defining figure of the 20th century.
And then there's his signature.
It's the world's most famous autograph.
A logo that's instantly recognised around the globe.
It's appeared on every Walt Disney cartoon and film, theme park and product for more than 80 years.
(And did you know: every actor who plays Mickey Mouse at Disney theme parks is taught to sign autographs in the same style?)
It's surely the most reproduced signature in history.
That's why an original example, hand-signed by the man himself, is such a desirable item for collectors to own.
And I have one for you today.
But this is much more than just a superb autograph...
It's a beautiful display piece of Disney animation history.
A rare original Disney animation cel, personally signed by Walt Disney himself circa 1951.
This is a rare original animation cel from the 1948 film Melody Time.
Hand-painted and assembled by artists at Walt Disney Studios.
And personally signed by Walt Disney himself.
The cel is professionally mounted and framed, in an impressive display measuring 39.3cm x 43.7cm (approx. 15.4" x 17.2").
So it's ready to you to hang on your wall and enjoy straight away.
Melody Time was Walt Disney's 10th full-length film.
It featured seven short animations set to popular songs in the same style as the classic Fantasia.
This cel features the ice-skating characters Joe and Jenny from the famous segment Once Upon a Wintertime.
It's a delightful image, with all the magic and charm of classic Disney films.
And it features an excellent example of Walt Disney autograph
Large and boldly signed with an artist's pencil against the white border.
A superb example of Walt Disney's signature: the most famous autograph in the world.
In terms of Walt Disney autographs, this is a real rarity.
Because he didn't sign animation cels for just anyone.
They were reserved as personal gifts for close friends, and people he respected and admired.
Disney inscribed this cel to Anne Shelton, OBE (1923 – 1994), a British singer famous for entertaining Allied troops during WWII.
Known as the 'Force's Sweetheart', she found fame after the war and toured the U.S in 1951.
It's believed Disney met Shelton during the tour, and gave her with this cel in recognition for her wartime work.
The cartoon was created by Mary Blair, Walt Disney's personal favourte artist.
The cel also has a personal significance to Disney.
Because Once Upon A Wintertime was created by his favourite artist Mary Blair.
She wrote the story, painted the backgrounds, and the entire look of the cartoon was designed to capture Blair's unique visual style.
Today she's perhaps the most celebrated - and certainly the most collectible – artist in Disney history.
Her concept paintings for films like Cinderella, Peter Pan and Alice in Wonderland regularly sell for more than $50,000 at auction.
And in 2020, two of her paintings for Once Upon a Wintertime sold for almost $20,000 each in the U.S.
So this animation cel comes with a superb artistic pedigree.
Combine that history with the quality of the signature, and you have an exceptional piece of Walt Disney memorabilia to add to your collection.
A beautiful piece of original animation art, signed by Walt Disney himself. Yours to own for just £11,995.This beautiful, hand-painted Walt Disney animation cel is the only one of its kind I've ever had in stock.
It's a truly rare collector's item for anyone who loves movie history.
And it's your chance to own the world's most famous autograph.
Personally signed by one of the defining figures of the 20th century.
So add some magic to your collection with this wonderful display.
You can purchase it now for just £11,995 ($14,600).
This signed animation cel comes with a Lifetime Moneyback Guarantee and my own personal Certificate of Authenticity.
And delivery is completely free and fully insured.
But remember:
This is the last Walt Disney signed piece I have available.
And the rarity of original Walt Disney-signed animation cels means I'll probably never offer another.
So don't miss your chance to add it to your collection.
Purchase it now, or reserve it by emailing me at info@justcollecting.com.
You can also call me on +44 (0) 1534 639 998.
I look forward to hearing from you.
Thanks for reading,
Paul Fraser,
Chairman, Just Collecting.