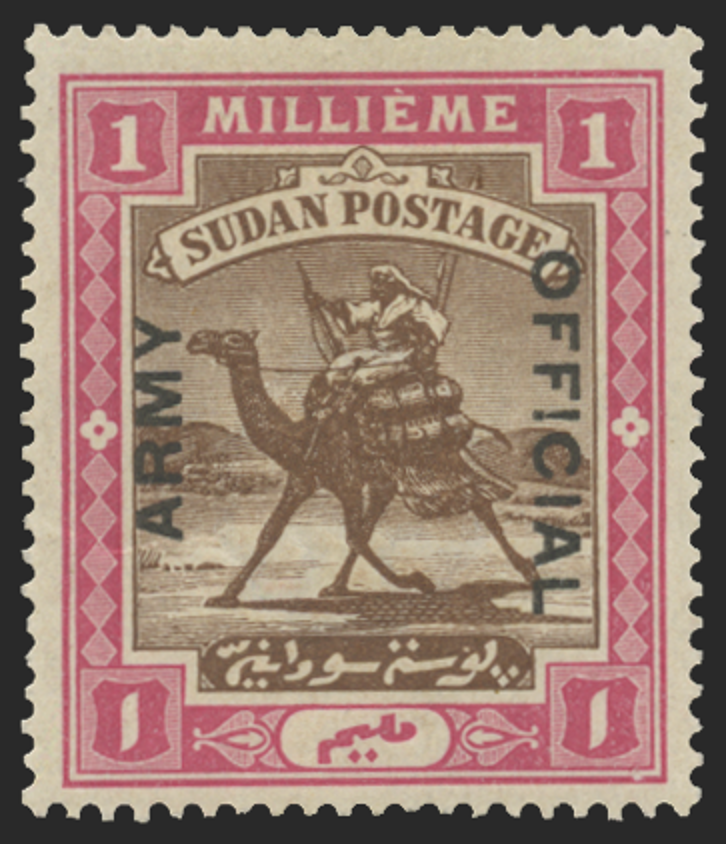 This stamp just scored 10/10: you won't want to miss it
One of the most iconic stamps in the world
Not a lot of people know this…
I'm a qualified Chartered Accountant.
Being an Accountant at heart, I like to use a formal scoring system when buying stamps.
I don't know of any other dealer who does this.
I put every stamp rarity through a formal 10-point score card assessment first before buying.
This guarantees I only buy the stamps you will most likely want to buy. 
The rarest of stamps in the finest quality.  
I can barely remember the last time a stamp scored 10 out of 10.
It hardly ever happens.
But, it happened today. 
Let me share with you what I wrote on the score card so you can see at a glance why this stamp ticks every box…
I've never handled this major rarity before and I doubt I ever will again.
It is a sheer delight to present to you the perfect 10/10 stamp rarity…
Technical description:
Sudan Army Official 1905 (Nov) 1m brown and pink, watermark Quatrefoil, type A1 overprint, variety "!" for first "I" in "OFFICIAL" (R5/4 of setting), SGA4a.
A lovely fresh mint example with large part original gum. Minor gum crease does not detract from very fine appearance and is not mentioned on certificate.
A great rarity, of which only one other unused example (ex. William Frazer) is known to us.
The "Camel Postman" stamps of Sudan are considered by the famous printers De La Rue as the "most satisfactory" in their long history of stamp production. It was first issued in 1898 and was so successful that it continued for over 50 years and effectively became the country's symbolic emblem.
Accompanied with a clear British Philatelic Association (BPA) certificate of authenticity (1989).
The Stanley Gibbons catalogue value is £6,000.
Price: £5,750
The story of the Camel Postman
Sudan is located in north eastern Africa. It borders the Red Sea between Egypt and Eritrea.
In 1896, Great Britain was trying to overthrow the Mahdist regime in Sudan. The British had previously lost control in 1885 following the revolt led by Muhammad Ahmad. 
The British forces were under the command of General Sir Herbert Kitchener. He would later be known as Lord Kitchener. 
By the late 1890s the country was almost all under British rule.
The postal system was a most important administrative matter in the late 19th century.
So much so, setting up the new postal system in Sudan was one of the first things Kitchener wanted dealt with. 
Kitchener knew exactly who he needed to speak to. 
During the campaign, a certain young officer called Capt. E.A. Stanton had caught his attention. 
Stanton was responsible for map-making during the campaign. He was also an amateur artist and had taken to drawing images of Sudan in the margins of the maps he was drawing.
Kitchener instructed Stanton to come up with the design for new stamps. The deadline he gave was just 5 days!
Three days passed by and Stanton had still failed to come up with any inspiration.
As he sat pondering, he watched the English mail arrive on a camel. This was odd as it usually came by steamer. Apparently, the steamer had broken down. 
As he watched the camels carrying the mail, he recalled an advert he had seen of camels carrying carpets. Inspiration hit… 
He immediately sent for the Sheikh of the local Arab camels and got him to put on his war kit. He then had him gallop and trot past five of six times. 
To make the camel look like it was on a postal run, he had bags filled with straw attached to the saddle to imitate mailbags. 
In something of a hurry, Stanton produced a watercolour sketch of the postman riding by with the dummy mail bags against the backdrop of deserts and mountains.
At that time neither Khartoum nor Berber had been re-conquered.
By way of aspiration, he printed in small letters the words "Khartoum" and "Berber" on the mailbags.
Much to his surprise, Kitchener loved his design and on 6 June 1897 the sketch was sent to De La Rue, the top stamp printers of the time.
By the time the first set was issued on 1 March 1898, Berber had been captured, with Khartoum falling six months later.
The Camel Postman stamps proved so popular, they were used on Sudan's postage stamps for over fifty years. 
When Sudan issued its first banknotes in April 1957, the Camel Postman was again chosen for the design. 
It is still today considered by collectors as one of the most iconic stamp designs ever produced. 
The very rare overprint error
The 1 millieme stamp denomination was the most important value of all the Camel Postman stamps. It was used for Official and Military as well as Postal correspondence. 
On 1st January 1905 an overprinted 1 millieme 'Star and Crescent' was released for use by the army authorities.
Unusually, the "ARMY OFFICIAL" overprint was released five months in advance of the normal issue for postal use.
This is likely because the stocks of the previous Army Official stamps had run out.
The overprint was applied by hand in Khartoum in half-panes of 30 stamps.
The printing variety substituting the "I" for "!" is one of the most bizarre and striking in philately. It only occurred on the 29th stamp in the sheet.
The definitive reference work by E C W Stagg (Sudan Stamps and Postal Stationery 1867-1970) estimates that only one sheet (= four panes of 30) on Quatrefoil watermark paper received the type A1 overprint.
However, the existence of two unused examples with the "!" for "I" variety, coupled with three known used examples, proves that at least two sheets must have existed.
The finest of the two mint examples 
There are only two surviving mint examples of this famous overprint error.
You have the opportunity to own the best example of the two.
The other example was last sold at auction in 2004 where it was described as "fine with part original gum". 
The stamp you can buy today is not just fine, it is "fine and fresh". Also, it doesn't just have part original gum; most of the original gum is still intact. 
It is actually better quality than most normal Camel Postman stamps you will see.
The fact that it has survived in such exquisite condition and being so especially rare is what makes it so special.
The All Important Provenance and Authenticity
Regardless of how rare and how fine a stamp is, without provenance and authenticity assured it can never be as valuable. 
You will be pleased to hear that the stamp comes with the all-important independent certificate of authenticity issued by the British Philatelic Association…
The certificate is what is known as "clean". This means, not only does it confirm the major rarity is genuine, it does not mention any condition defects at all.
This is much rarer than you might think, particularly for stamps as old as this from a part of the world with a climate which is not so friendly to a stamp's long term welfare. 
The poorer example of the two was previously in the William Frazer Exhibition Collection of Sudan and sold at auction in 2004. 
Our finest example was previously owned by Stanley Gibbons, giving it provenance from being handled by the oldest stamp dealer in the world.
40%+ undervalued against comparable rarities 
The current SG catalogue value for a mint example of the 1905 Sudan Army Official printing variety is £6,000. 
However, this value is almost irrelevant.
The fact is, this stamp is so rare there are no recent market transactions on which to base this value.
When I look at other comparable rarities we currently have in stock, this one looks undervalued…
For example, we have another similar overprint printing variety from New Guinea, which is one of only two used examples in existence. The catalogue value is £11,000.
That puts the Sudan Army Official variety at a 45% discount to a stamp I would consider directly comparable.
We also have a specialised British stamp, the 1901 10d Composite "Paste up" essay of the Victorian "Jubilee" series, on offer at the moment. 
There are believed to be only two or three examples of this stamp. It is valued at £10,000.
Similarly, we have a British 1901 3d Composite "Paste up" essay of the Victorian "Jubilee" series with two or three known examples valued at £12,500.
The evidence is clear…
The Sudan Army Official stamp looks exceptional value at the current catalogue price. 
This is likely your only ever chance to own this great rarity.
You can take it home today for the price of £5,750.
History of Catalogue Values
The history of the catalogue value of the Sudan Army Official variety demonstrates even further the apparent anomaly with the current valuation…
As you can see, the 20-year growth in value of 140% (7% pa simple annual growth) is lower than you would expect for such a key rarity.
That's partly because the price has not changed in the past five years.
As I said before, this is because the stamp, being so rare, has not traded in the market in recent years. 
As a result, the current catalogue value is not really an accurate indicator of the stamp's true worth in today's market.
Regardless, I am offering it to you today at a discount to catalogue value, just £5,750.
Own a rarity with a perfect 10/10 score 
To summarise:
One of the most successful and enduring stamp designs ever produced
A major iconic rarity with the stunning "!" overprint error
A compelling investment play at the price you can own it for today
Call me immediately on +44(0)1534 639998.
Or email me today at mike@paulfrasercollectibles.com.
You will need to act quickly if you want to secure this stamp.
It is, after all, a 10 out of 10 rarity. 
Kind regards 
Mike Hall
PS. If you are as captivated by the "Camel Postman" stamp as I am, but your buying budget is much lower, I would recommend you add this overprint error to your collection…
Sudan 1902 1m brown and pink Official, type O1 overprint, ERROR OVERPRINT INVERTED, SGO3c.
A fine mint example with original gum. Trivial gum wrinkles, mentioned for accuracy, but of very fine appearance. 
A rare error as only six panes of 30 originally existed.
Accompanied with a clear British Philatelic Association certificate of authenticity (1975).
The overprint of "O.S.G.C." represents "On Sudan Government Service". 
The Stanley Gibbons catalogue value is £350. 
PRICE: £295