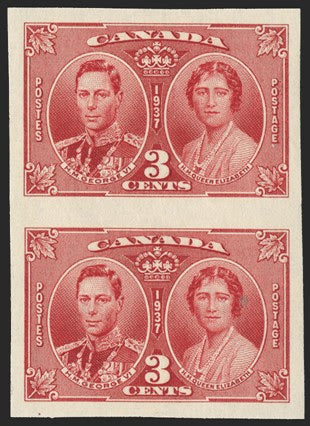 The Top 10 Selling Stamp Countries of 2021: Part II
Here it is… the countdown from Number 5 to Number 1
Last week, I revealed our top selling stamp countries from Number 10 to Number 6…
Today, I reveal the hottest 5 countries in stamps right now.
These are the stamps we have found most in demand over the past year.
And, I am sure you will want to grab a piece of this action…
5. Canada
Canada 1937 Coronation 3c carmine, IMPERFORATE vertical pair, SG356
Fresh mint example with large part original gum. Trivial gum blemishes and overall of very fine appearance.
Exceedingly rare as only 75 pairs originally existed.
The commemorative stamp was issued on May 10, 1937 to celebrate the Coronation of King George VI and Queen Elizabeth at Westminster Abbey in London.
The Stanley Gibbons catalogue value is £900.
Price: £550 (39% discount!)
I am not surprised to see Canada in the Top 5 selling countries. It has issued some of the most attractive stamp designs throughout its history.
The North American stamp market is a mature and sophisticated one, with a large base of collectors supporting prices.
Despite this, prices have proved stubbornly flat in the past few years and it is currently an area presenting great value. It is an area of the market where I would expect to see prices catch up in the coming years.
Collectors of Canadian stamps are generally very condition focused and will pay much more than Stanley Gibbons catalogue values for the best quality. The centring of the stamps is something of an obsession with Canadian stamp collectors. 
4. Australia
Western Australia 1860-64 6d sage-green, ROULETTED about 14, SG32
An enormous example with large to very large margins all round (showing portions of adjoining stamps at top and right) and exceptionally with separations complete. Very lightly cancelled by '1' numeral of Perth.
Minor tones mentioned for accuracy, but a remarkable stamp which would be difficult to improve on. A true 'condition rarity'.
The iconic Swan issue of Western Australia was used as it was the emblem of the colony and a reminder of when it was known as the Swan River Settlement.
Price: £750
Australia has suffered more than most countries from lockdown restrictions. The city of Melbourne spent more time under lockdowns than any other city in the world.
It is, therefore, unsurprising to see a huge resurgence of interest in Australian stamp collecting in the past year.
A director of one of the largest auction houses in Australia went on record as saying:
"Stamps are still fetching whopping prices after the pandemic revived the hobby for many people." 
Australia is an interesting philatelic country as it started early in the 1840s and 1850s, but stamps were issued by the colonies at that time.
The Australian colonies were, for a long time, considered the poor brethren to the first stamps from Australia, but interest in the past year has been developing considerably in these earlier classic stamps. 
3. China
China 1897 60th Birthday of the Dowager Empress, from unissued second printing, 9ca yellow-green, SG31Well centred and very fresh example with traces of original gum.
A sought-after Chinese Empire stamp, very rarely seen. This printing was made for surcharging in the new currency, and genuinely used examples are unknown.
The SG catalogue price is £7,500.
Price: £3,750 (50% discount!)
The Chinese stamp market was the fastest growing in philately from around 2000 to 2016.
As China's economy saw large growth, new wealthy citizens looked for places to invest their wealth. As a country with limited investment options and a banking system open to inspection by its government, stamps became an attractive way to invest in a portable tangible asset.
A Forbes Magazine study, published in 2016, tracked back the prices of 3,000 Chinese stamps.
The results were astounding, with an average 10-year price appreciation rate quoted of 716%.
Many areas of the Chinese stamp market looked decidedly over-heated at that time and prices have since fallen to some extent, but still show a strong long term growth rate.
The dynamic in play in 2021 was most surprising to us…
Almost all the Chinese rare stamps we sold in the year went to Chinese buyers.
Chinese collectors and investors are much more comfortable now buying online, which is assisted by new Chinese payment platforms supporting international payments.
Since prices in other countries for Chinese stamps are often lower than in their home country, it is no surprise they are keen to repatriate their philatelic heritage at discounted prices.
2. India
Indian Feudatory States Indore 1889-92 ¼a orange "Maharaja Shivaji Rao Holkar", SG5a
Horizontal pair, error with imperforate between.
Cancelled-to-order as always seen for this issue with small boxed cancels.
Choice quality and very rare.
Price: £950
The Indian stamp market is still in its nascent stages and it is only in the past 10 years or so that prices have started to move from a comparatively low base.
Prices remain low in many cases for very rare stamps compared to more mature markets such as the US and United Kingdom.
The Indian stamp market remains predominantly a collector market with only limited interest from those looking at stamps as an alternative investment.
But this is starting to change, with more investors taking notice of the opportunities from this burgeoning market.
Increasingly we have witnessed the impact of the growing Indian middle classes seeking to secure rare collectibles and repatriate items held overseas belonging to their heritage.
With a population of 1.4 billion, 113 billionaires and c.700,000 millionaires, the upward momentum certainly has the platform to continue.
The Indian Post Office was first established in 1837. In 1852 it introduced Asia's first postage stamp, the Scinde Dawk. India has a rich and complex philatelic history, making it a fascinating and absorbing area to collect.
India would have been our top selling country but for one problem…
We find it extremely challenging to find high quality rare Indian stamps for two key reasons:
The humid climate of India means finding stamps of fine quality is more difficult
The market is so competitive, making it hard to acquire high quality rarities at a price we consider ensures our clients are getting good value
When we do manage to acquire Indian stamp rarities they are usually snapped up quickly. Right now, the recommended rarity is the only Indian stamp I have available!
1. Great Britain
Great Britain 1913 5s Rose-carmine "Seahorses", SG401
Very fine and fresh unused original gum bottom left hand corner marginal block of six (lower block of four unmounted mint), printed by Waterlow.
A stunning exhibition piece with lovely colour and gum. 
SG Catalogue Value: £7,500
Priced to sell at: £3,750 (50% discount!)
British stamps will likely always be our top selling country, simply because it is the largest area of our stockholding by some margin.
Our home market has experienced a huge renaissance during lockdown. Our experiences of new buyers and increased demand have been mirrored from publicly made statements by other British stamp dealers and major auction houses.
Average price realisations at auction are certainly on the rise and the fact most traders in the market invested more than ever before in buying new stock, tells me everything I need to know about the "state of the market".
However, prices in the market have been held back still in the past year with motivated sellers looking to offload their collections quickly and willing to take "whatever price they can get".
I can see this dynamic drying up in 2022.
That's why we witnessed many of the major British stamp dealers buying like crazy this year. Most of these stamp dealers have been in the business for 20+ years and they've seen it all before. They know what comes next…
A lack of supply of the rarities their growing collector base are looking for.
And, that's when we will see the big rises in prices once again.
The beautiful exhibition piece I recommend to you today from the famous "Seahorses" stamp issue happens to be the stamp issue we sold more of than any other British stamp in 2021.
Round Up
Let's recap on our top 10 selling stamp countries in 2021…
1. Great Britain CLICK HERE
2. India CLICK HERE
3. China CLICK HERE
4. Australia CLICK HERE
5. Canada CLICK HERE
6. South Africa CLICK HERE
7. Zanzibar CLICK HERE
8. Falkland Islands CLICK HERE
9. Gibraltar CLICK HERE
10. British Guiana CLICK HERE
Hong Kong, USA and New Zealand dropped out of the Top 10 this year, although still remain popular and in the Top 20.
To purchase from my top recommendations, either:
Place your order directly through our online store by clicking on the "CLICK HERE TO BUY NOW" icons
Email me at mike@justcollecting.com
Call on +44(0)1534 639998
Message us to +44(0)7700702962
One thing is for sure. Stamp collecting is on the up right now and we are committed to continuing to invest in our stockholding.
Thanks for all your business and support in what was a difficult year for many.
Nothing gives us more satisfaction than finding the rare stamps our clients are looking for. 
Even more than that… 
Finding the rare stamps, you didn't even know you wanted!
I look forward to helping you further in the year ahead with your philatelic adventure.
I wish you a happy and prosperous new year.
Kind regards 
Mike Hall
PS. Please make sure when you are looking for stamps on our website to "flag up" any you are interested in purchasing, but which are sold out. Simply click "ADD TO WISH LIST". This helps us to help you find what you are looking for.