Hi fellow collector
On this day in 1599, a brutal legend was born.
A common man who took the head of a King.
He rose to rule England with a bloody sword and a fiery will.
And more than 400 years on, he casts a profound shadow over history.
Oliver Cromwell.
Few men in English history are so notorious.
His name carries a legacy of civil war, revolution and execution.
It's as powerful as any you can own.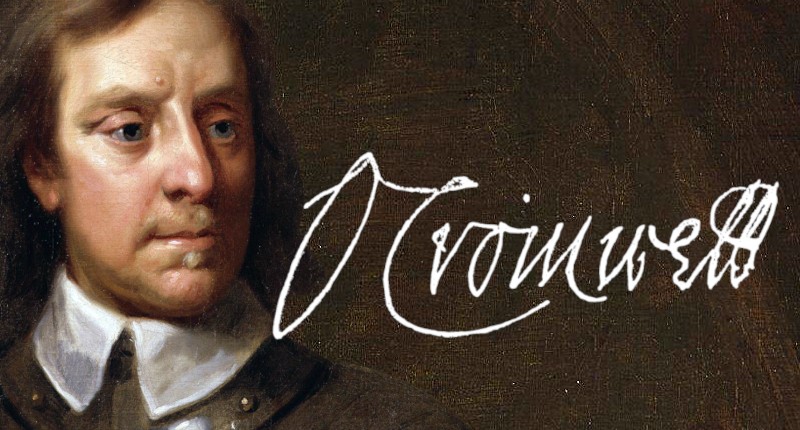 Oliver Cromwell: one of the most notorious and powerful names in English history.
But you'll find owning it can be a difficult task.
Because good examples of Oliver Cromwell's autograph are rare.
He's a key figure in English history, which makes his signature highly sought-after by collectors.
But he lived over 350 years ago, so it's unsurprising so few examples have survived intact.
Only three letters are known to exist from the first 40 years of Cromwell's life.
And most later signed documents are owned by museums.
This is one of the few that isn't.
And what's more...
It's one of the finest Oliver Cromwell signatures I've ever handled.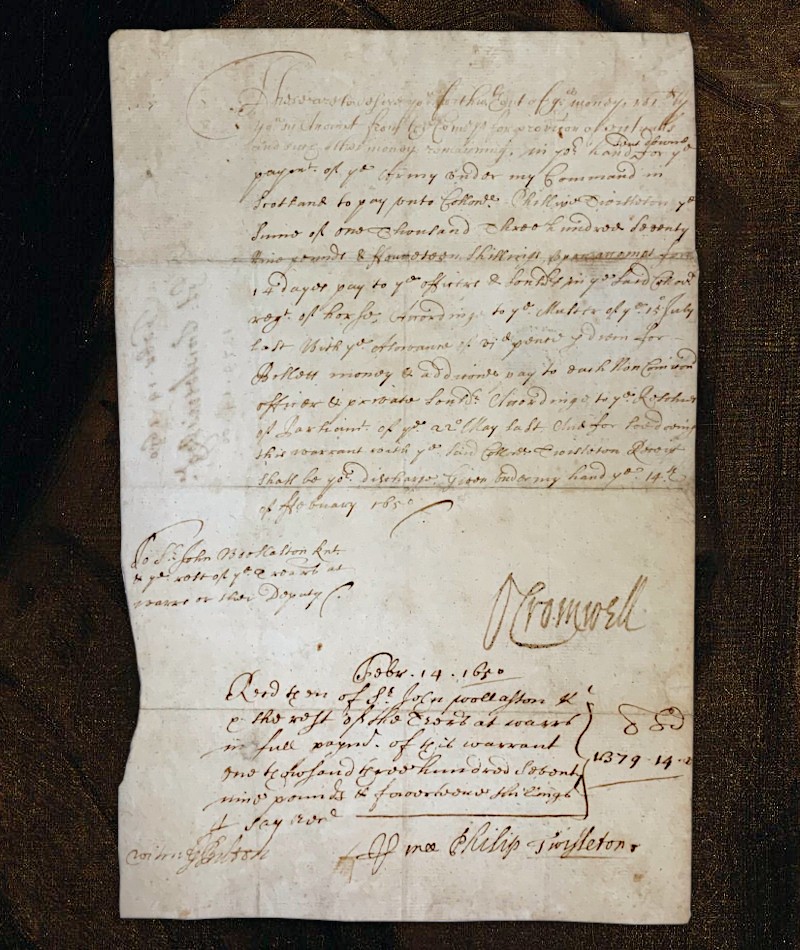 This is a highly impressive document, boldly signed and beautifully preserved after more than 370 years.
This is a large, impressive document in superb condition.
It measures 7.3" by 11.4" (18.5cm by 29cm): the perfect size for display.
And it remains incredibly intact after 372 years, with only folds, toning and minor paper loss to the lower left-hand side.
The document is dated 14 February 1650 and addressed to Sir John Woollaston, Cromwell's Treasurer at War.
It's an order to pay soldiers in a New Model Army cavalry regiment commanded by colonel Philip Twisleton, who Cromwell knighted in 1658.
Cromwell's signature is bold and prominently placed.
It's a large, clear autograph of the highest quality.
And remember: just one year earlier in 1649...
The same hand that signed this page signed the death warrant of Charles I.

Signed by the same hand that signed the death warrant of King Charles I.
Today Cromwell remains the most controversial leader in English history.
A man who overthrew the monarchy.
A Civil War soldier that never lost a major battle
The only person without royal blood to become sovereign ruler of England.
He ruled with brutality, driven by his passionate Puritanical belief.
Was he a republican hero or a fearsome dictator?
It's a question that still divides historians.
But one thing is indisputable...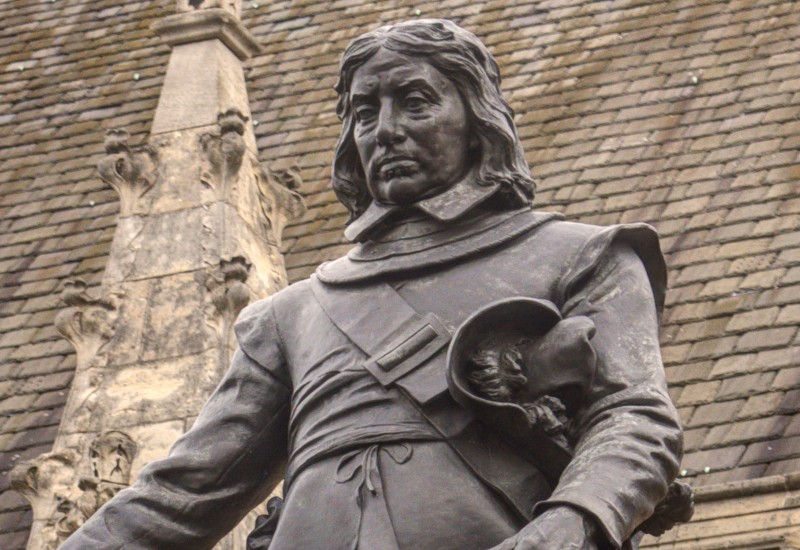 Oliver Cromwell's statue in Parliament Square, London, casts a long shadow in every sense.
Oliver Cromwell is a truly unique figure in English history.
That's why more than 4,000 books have been written about his life.
But reading about history is one thing...
Owning a genuine historic artefact is something much more special.
A document signed by Oliver Cromwell is a major addition to any collection.
It's a feather in your cap. A rare item few other collectors will ever own.
And an important artifact you can preserve and pass down carefully for future generations.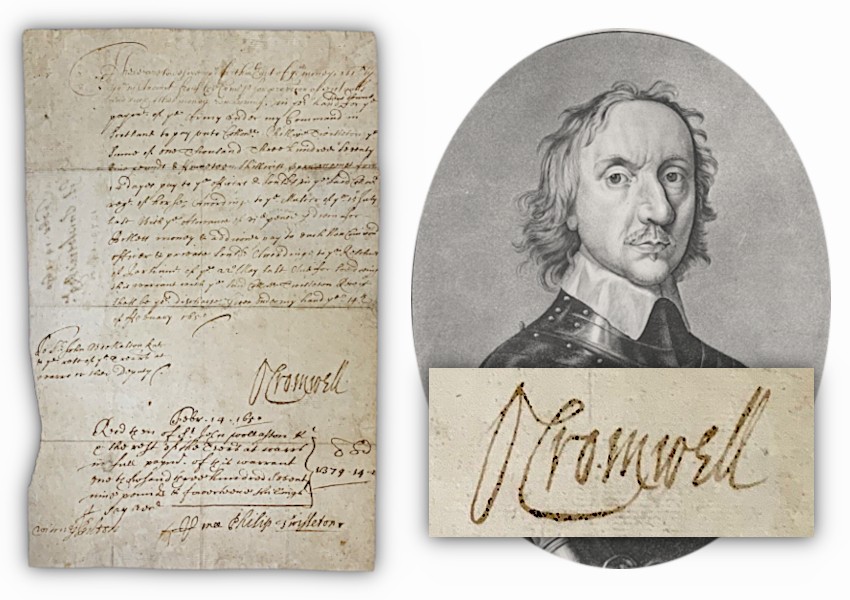 You can own this highly rare Oliver Cromwell signed document now for only £12,499.
This is a key autograph for English history collectors.
And one of the finest Oliver Cromwell signed documents you can possibly own.
A rare example that still remains in private hands.
It's a large and visually impressive display piece
It survives in superb condition after 372 years
And Cromwell's signature is bold and highly prominent
Major pieces like this do not appear on the market very often.
It's one of the very few I've handled in 45 years as a dealer.
So don't miss your chance to add it to your collection.
You can purchase it now for £12,499 ($15,885).
To give you complete peace of mind, this document comes with a Lifetime Moneyback Guarantee and my own personal Certificate of Authenticity.
And delivery is completely free and fully insured.
This is a historic document of the highest order.
Signed by one of the most notorious figures in English history.
Opportunities to own Oliver Cromwell's autograph are few and far between.
So purchase it now, or email me at info@justcollecting.com to secure it for your collection.
You can also call me on +44 (0) 1534 639 998.
I look forward to hearing from you.
Thanks for reading,
Paul Fraser,
Chairman, Just Collecting.