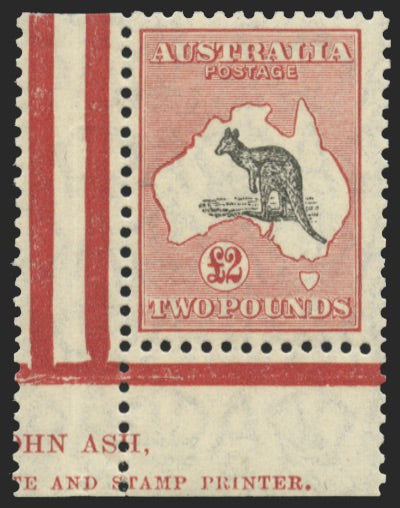 Love it or hate it?
The definitive Australian stamp
When this stamp was issued in 1913 it caused huge controversy.
Some loved it…
Others despised it with a vengeance.
Inevitably, the sensation it caused at the time led to it becoming one of the most famous stamps in the world today.
The design is iconic and effectively defined Australia's identity.
Australia's FIRST stamp
Australia's first stamp celebrated its 109th anniversary this year.
It is a stamp that defined Australia's bold and independent identity. It is so iconic that many hundreds of collectors dedicate their entire collection exclusively to this stamp issue.
The most important is the £2 stamp, which is the highest value denomination of that issue. 
It is one of the hardest to find in fine condition. 
The Australian stamp market has changed considerably in recent years with an increased focus on stamps in fine condition. The price difference between perfect examples and those with condition flaws can be as much as 1,000%.
The example of this famous stamp I have for you today is in superb condition. I doubt you could find a better quality example anywhere.
This is the highest grade of quality you could ever expect to see:
Technical description
Australia 1929-30 £2 black and rose 'Kangaroo', watermark 7, SG114.
Lower left corner mint example with interpane margin at left and large part "ASH" imprint (position R55). Very fine quality with original gum.
A highly attractive and desirable positional example of this key high value stamp. 
PRICE: £4,500
The Kangaroo and Map (also referred to as "Roo and Map") was the first stamp issued by Australia, on the 2nd of January 1913. It has captured the minds and hearts of collectors ever since.
It was issued amidst great controversy…
The controversy of The Kangaroo and Map stamp
It took 12 years from federation for Australia to issue its first stamp.
One of the reasons for such delay was the amount of political debate regarding the design.
In 1911, the Postmaster-General's Department launched a competition to come up with the ultimate stamp design for Australia's first stamp. 
The competition attracted 1,051 designs from 533 entrants.
The first prize was originally awarded to Hermann Altmann from Victoria. He produced a classic design featuring the full-face portrait of King George V. It was customary at the time for all stamps from British Commonwealth countries to include the King's head.
However, a new Postmaster-General called Charles Frazer had different ideas…
He did not want any inclusion of British royal symbols or profiles. He believed: 
"A postage stamp is one of the best advertising mediums the country can have". 
He demanded the design should break tradition to make a bold statement about the new nation. He wanted a symbolic home-grown design. The kangaroo, as the national animal emblem of Australia, needed to feature on the stamp. 
The final approved design amalgamated the coastline map of Australia by the water colourist Blamire Young and the Kangaroo from one of the runner's up from the previous competition, Edwin Arnold (ironically, an Englishman). 
The design was widely criticised… 
One letter to a newspaper said: "The design is delightfully truthful...an empty land with nothing but kangaroos in it." 
The Argus newspaper from Melbourne went even further in its damning criticism, saying: "Our postage stamps go all over the world; they become, in the course of time, a sort of national symbol; and it is therefore very annoying to find that our country is to be represented in the eyes of the world by a grotesque and ridiculous symbol, and that she will be a laughing-stock even to childish stamp collectors of every nation."
With the notable absence of the image of King George V on the stamp, the government was accused of being unpatriotic and anti-British.
Regardless, a determined and modernising Frazer was not to be swayed. He got his way, thus creating the stamp that today is considered iconic and representative of the strong and bold nation of Australia.
The stamp was so successful it remained in circulation for the next 35 years until it was withdrawn in 1948.
The Kangaroo and Map stamps were reissued through to 1946 using different watermarks and perforations. The stamp issue has become a field of specialised philatelic study.
Many famous collectors over the years focussed exclusively on building a whole collection of just the Kangaroo and Map stamps. 
The finest quality example you could aspire to own 
If you are going to buy one of the most famous stamps of the world, you also want to make sure you get one of the finest examples in existence.
That is what I have for you today because:
It is wonderfully fresh, free of any blemishes or marks with vibrant colour
It is in mint condition with its original gum
Its perforations are clear and undamaged
Even more exciting, it is from the lower left corner of the sheet with the interpane margin at the left showing a large part of the printer's "ASH" imprint.
This is the icing on the cake, making this a most desirable and rare positional example.
A strong market
In February 2007, an Australian philatelist Arthur Gray sold his collection at auction in New York - realising over $7 million. There were 849 lots and every single one sold, showing the high level of demand and liquidity for this popular stamp. 
In that sale, the 1913 £2 black and rose set a record for a single Kangaroo stamp, selling for $176,930. The stamp featured the monogram of the printer, J.B. Cooke. 
From my experience, there has always been a healthy number of high net worth collectors active in the market for Kangaroo stamps. Because of that, they have proved a good investment, particularly for top quality examples. 
The history of Stanley Gibbons catalogue values for this stamp makes for interesting reading…
The 20-year growth in value of 200% (10% pa simple annual growth) illustrates the security of iconic stamps as a store of wealth.
This is because price increases are driven by demand from passionate collectors.
Political and economic events do not come into play in the dynamics of prices for rare stamps.
It is interesting though that the price has remained flat for the past five years.
This looks anomalous to me in the context of the enduring strength of the Australian stamp market. 
In general, prices have been rising for other rare stamp issues during this time, particularly for Australian States.
My view is the current SG catalogue value is overdue for a price increase.
Normally, I offer my rare stamps, whenever possible, at a discount to Stanley Gibbons catalogue prices. 
Not today. My asking price is £4,500. Let me explain… 
The Stanley Gibbons catalogue states that prices are for examples in "fine condition". They also state: 
"Superb examples are worth more; those of a lower quality considerably less." 
The example of the £2 black and rose Kangaroo and Map stamp I have is in superb condition. From my experience, it is these exceptional quality examples that can sell for way above catalogue prices when they appear at auction. 
In short, I think it is worth much more than my asking price.
Your chance to own a famous stamp of exceptional quality 
To summarise:
One of the most famous stamps of the world
The highest denomination and most sought-after of the issue
Of exceptional quality, rarely seen
At a fair price
Call me immediately on +44(0)1534 639998. 
Or email me today at mike@paulfrasercollectibles.com. 
The answer to the question is "we love it!". 
Kind regards 
Mike Hall
PS. If you are buying on a smaller budget, I also have a very nice used example available now (NOTE: the interesting printing variety is not factored in the price) …
Australia 1931-36 £2 black and rose, "The Kangaroo and Map", watermark 15, SG138.
A fine used example, very lightly cancelled, showing prominent unlisted frame break opposite "S" of "POUNDS". 
An attractive used example of this key high value stamp.
The Stanley Gibbons catalogue value is £600.
PRICE: £550