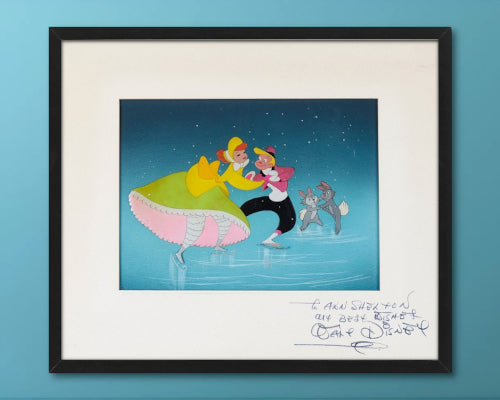 Editor's Picks: 6 rare items you missed
Hi fellow collector
Welcome to Editor's Picks, our round-up of recent emails you may have missed.
It's your second chance to own six remarkable items before they're gone.
These rare collector's pieces are still currently available today.
Each one in superb condition, with a wealth of history behind them.
So to add any of these items to your collection, contact me now.
You can email me at info@justcollecting.com.
Or call me on +44 (0)1534 69 998.
Fresh to the market: Hand-drawn by a great inventor
A signed sketch by the pioneering inventor of the telephone Alexander Graham Bell.
A unique and charming piece of science history with a wonderful backstory.
A piece of Disney magic for your collection
An original 1948 hand-painted Disney animation cel, signed by Walt Disney himself.
A beautiful display piece featuring the world's most famous autograph.
A breathtaking Elizabeth I signed manuscript
A superb Royal manuscript bearing a large, visually stunning Elizabeth I signature.
Remarkably preserved with both original seals intact after more than 430 years.
A brief moment in the life of Charles Dickens
An excellent Charles Dickens hand-written and signed envelope.
A perfect entry-level autograph from one of the greatest authors in literary history.
Charles Lindbergh and the Spirit of St Louis Collection
The only-known original flown parts from the Spirit of St Louis still in private hands.
A museum-quality collection of artefacts from history's most famous airplane.
A "perfect" Audrey Hepburn signed photograph
A highly desirable Audrey Hepburn 'My Fair Lady' signed photograph.
Boldly signed and featuring Hepburn in one of her most iconic roles. A superb collector's item.
View Our Complete Collection >
Every one of these items is fully authenticated, and comes free international shipping as standard.
But remember - the memorabilia market moves fast.
They may not be available for much longer - so don't miss your chance.
Contact me now at info@justcollecting.com.
Or call me directly on +44 (0)1534 639 998.
Thanks for reading,
Paul Fraser,
Chairman, Just Collecting