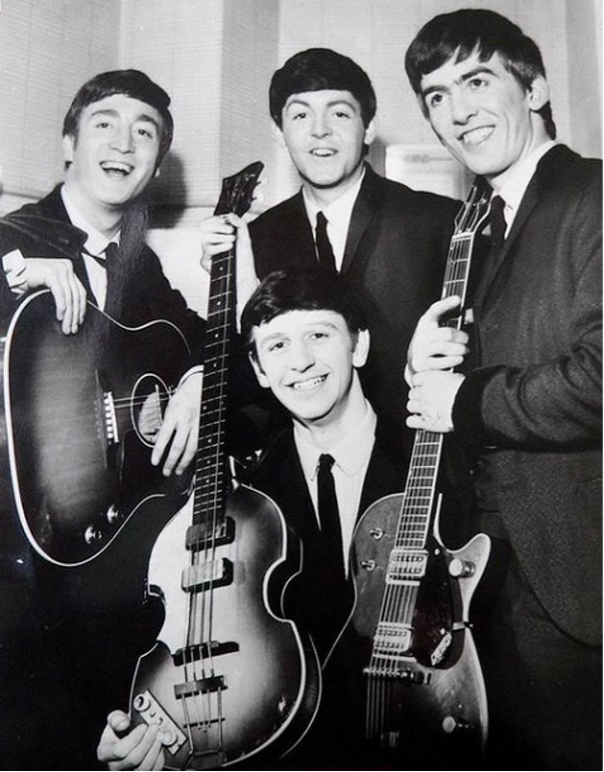 BEATLES GUITARS: THE MOST VALUABLE EVER SOLD
Here's our list of the most valuable Beatles-related guitars ever sold.
15) George Harrison's 12-string Harpitone guitar
(Image: Cooper Owen)
George Harrison acquired this 12-string Harptone guitar prior to the recording of The White Album in 1968. It remained in his personal collection for several years, through the break-up of The Beatles and on into Harrison's solo career in the 1970s.
During the recording of his 1970 triple album 'All Things Must Pass' the guitar was used by members of the band Badfinger, who were amongst a large cast of backing musicians including Eric Clapton, Ringo Starr and Delaney & Bonnie's Friends band.
Badfinger's Tom Evans also played the guitar on stage whilst supporting Harrison at the famous Concert for Bangladesh charity shows at Madison Square Garden. In 1974 Harrison produced the debut album of the vocal group Splinter, and gave the guitar to member Bob Purvis who played it during the recording sessions. Years later in July 2005 the guitar was offered for sale at a Cooper Owen auction, where it sold for £70,000 ($121,870).
14) Paul McCartney stage-used Hofner Violin bass
(Image: Julien's)
This circa 1966 Hofner left-handed bass was rented by Paul McCartney on numerous occasions from a British hire company. These dates included a performance with Bruce Springsteen in Hyde Park, as part of Hard Rock Calling; rehearsals and a video shoot prior to his 2002 World Tour; and an appearance on Ronnie Wood's Somethin' Else TV show.
Having also been rented by Universal Music in 2013, for an exhibition promoting the release of The Beatles, On Air – Live at the BBC Volume 2, the guitar sold at Julien's in 2014 for $125,000.
13) George Harrison's 1962 Gretsch Chet Atkins Tennessean
(Image: Julien's)
Following George Harrison's death in 2001, his friends and family organized a tribute concert for him in 2002 at the Royal Albert Hall. The Concert for George featured Paul McCartney and Ringo Starr, alongside an all-star band featuring Eric Clapton, Jeff Lynne, Tom Petty, Billy Preston, Jools Holland, Gary Brooker and many others, performing Harrison's songs from throughout his career.
Following the concert on November 29, Harrison's widow Olivia and son Dhani sent Ringo a Christmas gift to thank him for his performance – this 1962 Chet Atkins Gretsch Tennessean electric guitar. Formerly part of Harrison's collection, the guitar was accompanied by a card which read "Dear / Richy / Happy Christmas / & Love you loads / 2002 from Oli & Dhani / x".
The guitar was sold at Julien's in December 2015, during an auction of Starr's memorabilia collection, for $179,200.
12) Paul McCartney's presentation Hofner Violin bass
(Image: Julien's)
This Hofner left-handed violin bass guitar was custom-made for Paul McCartney in 1964, as part of a promotional deal with the manufacturer. McCartney became synonymous with the violin bass, known by many as the 'Beatle bass', and the Selmer London Company (UK distributor of Hofner guitars) decided to cash in on this famous endorsement.
They struck a deal to use McCartney's likeness on swing tags for the guitars, in return for royalty payments and a one-off Hofner bass guitar. Bearing no serial number and unique gold pickups, the guitar was presented to McCartney in 1964 and was displayed at the London music trade show at the Russell Hotel. The following year it was then sold to a young bass player by a Bedfordshire music store, and spent years in the hands of various musicians before a guitar dealer discovered its original history in 1994.
After being authenticated by officials at the Hofner factory in Germany, the guitar sold at Julien's in 2013 for $204,800.
11) John Lennon's 1964 Vox V251 Guitar Organ prototype guitar
(Image: Sotheby's)
This prototype white Vox V251 Guitar Organ was built in 1964 by the Vox Company, one of the most innovative electric instrument manufacturers of the era. It featured the standard five-sided Phantom guitar body shape with part of a Vox Continental organ built into the body, making it the first guitar/organ hybrid to hit the market.
The company's chief inventor Dick Denny presented The Beatles with the prototype, as recounted in Andy Babiuk's book 'Beatles Gear': "I took the first one up to John Lennon and Paul McCartney, to the Hammersmith Odeon in London during their Christmas show. When they first saw it they were in awe, but they couldn't suss it out. It was too much trouble to run. But I think they liked it, because John kept it."
Lennon later gave the prototype to his long-time road manager Mal Evans, and it was inherited by his wife following his death in 1976. Lily Evans later wrote to George Harrison with questions about the equipment, and Harrison replied to verify that the guitar had been owned by Lennon. In June 2014, the white Vox prototype sold at Sotheby's for $305,000.   
10) John Lennon's 1958 Hofner Senator guitar
(Image: Christie's)
This 1958 Hofner Senator Guitar was owned by John Lennon during his early years with The Beatles, during which time wrote many of the band's first original songs. It's believed he bought the guitar in Hamburg during one of the band's two stints there in 1961 and 1962, where they performed night after night and honed themselves into a tight rock and roll band.
These two residencies brought the first real money to the band, and several members used the cash to update their instruments whilst in germany (including Paul McCartney, who acquired his first Hofner violin bass). Experts believe Lennon kept the guitar at home for writing purposes rather than using it on stage, but it remained in his vast collection of instruments for many years.
This Hofner Senator was another of the guitars given by Lennon to his friend and road manager Mal Evans, and later identified by George Harrison in his letter to Lily Evans concerning several instruments. With superb provenance, the guitar sold at Christie's in July 2009 for £205,250 ($337,226).
9) Vox guitar played by John Lennon and George Harrison
(Image: Julien's)
This custom-built Vox guitar was owned by John Lennon in the mid-1960s, and was used by both himself and George Harrison.
In September 1967 Harrison was photographed playing the guitar during a rehearsal of 'I Am The Walruss', as part of the filming of the band's 'Magical Mystery Tour' at West Malling Aerodrome in Kent. And two months later in November, Lennon was filmed playing the guitar during the filming of a promotional video for the single 'Hello/Goodbye' at the Saville Theatre in London, although the footage was eventually not used in the final film.
Lennon later gave the guitar as a 25th birthday present to his close friend Alexis 'Magic Alex' Mardas, who worked for Apple as a slightly dubious inventor before leaving the band's circle around 1969.
In 2004 Mardas first sold the guitar at auction from his own collection, and in May 2013 it hit the block again at Julien's in Beverly Hills – where it sold for $418,000.
8) George Harrison's 1969 prototype rosewood Fender Telecaster
(Image: Heritage Auctions)
This prototype rosewood fender guitar was one of just two examples produced by the company in 1969 to promote their new line of instruments. The first – a Stratocaster – was given to Jimi Hendrix, and the second – a Telecaster – was given to Beatle George Harrison.
Harrison went on to play the guitar during the recording session for the Beatles' last studio album 'Let It Be', and at the band's legendary final rooftop performance at the Apple Headquarters in January 1969.
In December 1969 Harrison gave the guitar to Delaney Bramlett of the American singing duo Delaney and Bonnie, after being impressed by their performance at the Royal Albert Hall. After being used by Bramlett on stage and in the studio for many years, it was sold at Heritage Auctions in 2003 for $434,750.
7) George Harrison's 1963 Maton MS-500 Mastersound guitar
(Image: Julien's Auctions)
In May 1963 The Beatles were scheduled to play at the Odeon in Manchester as part of the band's third British tour, following the success of their debut album Please Please Me.
Prior to the gig George Harrison was forced to take his Gretsch Country Gentleman in for repairs at Barretts Music Shop in Manchester, and was loaned a Maton MS-500 Mastersound guitar as a temporary replacement. When the band next returned to Manchester in August Harrison picked up his repaired Gretsch and returned the Mastersound, which was later acquired from the shop by Cruisers guitarist Roy Barber.
The guitar remained in Barber's collection for years, before being sold at auction by Julien's in 2015 for $490,000.
6) John Lennon's 1963 Gretsch 6120
(Image: Tracks Auction)
John Lennon used this orange 1963 Gretsch 6120 guitar to record the hit single Paperback Writer at Abbey Road studios in April 1966. A couple of years later he was visited at his Kenwood home by his cousin David Birch, who cheekily asked if could have one of Lennon's guitars.
"We went up to the music room, and inside that room were two guitars, one was a Fender and the other was the orange Gretsch 6120. While we were there - probably due to an adrenaline rush - I said 'could I have one of your guitars please John?'" said Birch. "I was eyeing up the Fender, but he didn't give me the Fender, he gave me the Gretsch."
The guitar remained in Birch's collection until November 2014, when it went up for sale with Tracks Auction. Despite failing to meet its $600,000 valuation, it was soon snapped up by renowned guitar Beatles guitar collector and Indianapolis Colts owner Jim Irsay, in a private deal worth $530,000.
5) George Harrison's 1964 Gibson SG Standard guitar
(Image: Christie's)
This cherry red 1964 Gibson SG Standard guitar was owned by George Harrison from 1966 until 1969, and played during numerous shows and recording sessions. These included the Beatles' last official U.K performance at the NME Poll Winners Concert in May 1966, and the recording sessions for the band's seventh studio album 'Revolver'.
It was also played by John Lennon during the 1969 recording sessions for The White Album, before being given to guitarist Peter Ham of Badfinger who were signed to The Beatles' Apple label.
After spending years on display at the Rock and Roll Hall of Fame in Cleveland, Ohio, the guitar sold at Christies in New York in 2004 for $567,000.
4) George Harrison's 1962 Rickenbacker 425 guitar
(Image: Julien's)
Before the Beatles' invasion of America in 1964, George Harrison had already visited the birthplace of rock and roll a year earlier. In 1963 he travelled to Illinois to visit his older sister Louise, who had moved there with her husband during the 1950s, and spent some time hanging out with local musicians.
He also managed to pick up a1962 Rickenbacker 425 guitar, custom-painted in black to match John Lennon's similar model, before heading back to the U.K.
Harrison later played the guitar during the band's debut appearances on the TV shows 'Ready Steady Go!' and 'Thank Your Lucky Stars', along with using it to record ''I Want to Hold Your Hand'.
He later gave it to Apple studio engineer George Peckham, who used it on 'Top of the Pops' with his own band The Fourmost in 1964. In 2014 the guitar was sold by Beverly Hills auction house Julien's for a record-breaking $610,000.
3) The guitar on which Paul McCartney learnt to play
(Image: Cooper Owen)
This Rex acoustic guitar was owned by Ian James, Paul McCartney's best friend at school before he joined The Quarrymen in 1957. After bonding over a shared love of rock and roll, the pair spent hours practicing the guitar at each other's houses after school and James was present at the famous moment when McCartney first met John Lennon at the Woolton Church fete.
James was the first person to teach McCartney guitar chords, using his own Rex acoustic, before the future Beatle acquired his own instrument. James also later taught George Harrison a few chords, before forming his own band The Mateys in which he played the same guitar. In 2006 the guitar was offered for auction at Cooper Owen, alongside a rare authentication letter from McCartney himself which read: 
"The above guitar belonging to my old school pal Ian James was the first guitar I ever held. It was also the guitar on which I learnt my first chords in his house at 43 Elswick Street Liverpool."
With such impeccable provenance, and described as "probably the best authenticated Beatles' instrument, or indeed Beatle related item, to ever appear on the auction block", the guitar sold for $633,438, to Craig Jackson, President and CEO of Barrett-Jackson Auctions.
2) Rickenbacker guitar gifted to Ringo by John Lennon
(Image: Julien's)
John Lennon acquired this 1964 Rickenbacker 1996 guitar in December 1964, as a replacement for his Rickenbacker 325 which was damaged during a series of Christmas shows at the Hammersmith Odeon in London.
The guitar remained in his collection until 1968, when the band began to fall apart during the recording of The White Album.
Following a series of tense arguments and difficult recording sessions, it was Ringo that surprisingly quit the band first and went off on holiday with his family. He was only persuaded to return when his band mates pleaded with him, and he arrived back at Abbey Road studios to find his drum kit decorated with flowers.
Lennon then gave him this Rickenbacker guitar, as both a peace offering and as encouragement for Ringo to write more songs himself (after he'd presented them with Octopus's Garden). Starr kept the guitar until the blockbuster sale of his collection at Julien's in 2015, where it sold for $910,000.
1) John Lennon's Gibson J-160E guitar
(Image: Julien's)
In 1962 John Lennon and George Harrison each ordered a Gibson J-160E electric/acoustic guitar, shipped all the way from the U.S. Lennon went on to use his guitar to compose some of The Beatles' biggest early hits, including 'She Loves You', 'I Want to Hold Your Hand' and 'All My Loving', and to record the albums 'Please Please Me' and 'With the Beatles'.
He also played it on stage countless times in 1962-63, before it disappeared following a Finsbury Park Christmas Show. Somehow the guitar managed to make its way across the Atlantic and ended up in the possession of San Diego musician Tommy Pressley, who then sold it to his friend John McCaw.
The instrument's history with the Beatles remained unknown for decades, until McCaw read an article about Harrison's matching guitar – which he realised was similar to his own.
Having consulted Andy Babiuk, the world's leading authority on Beatles instruments, the instrument was authenticated as Lennon's famous 'lost' guitar, described as "one of the most historically important guitars to ever come up for auction".
It sold at Julien's in 2015 for $2.4 million – the highest price ever paid for a guitar or a piece of Beatles memorabilia at auction.