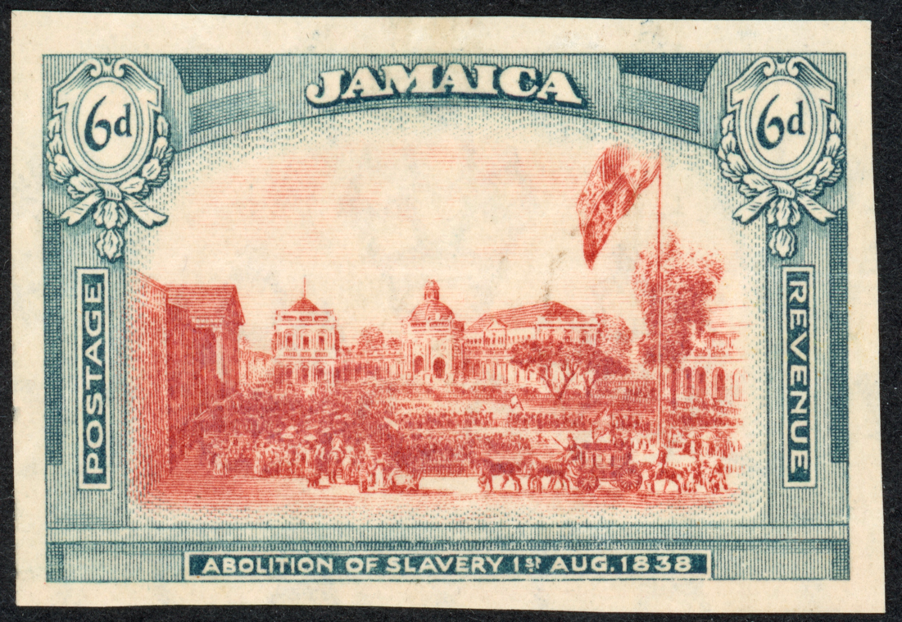 BANNED: For political reasons
The stamp that never was…
Sometimes the greatest of things turn up in the most unexpected of places.
There are times when my hard work can prove completely unrewarding… 
I can spend many late nights digging deep looking through the catalogue listings from the most obscure of stamp auctions in the world.
I turn through pages upon pages of low-value or sub-standard quality stamps. 
The kind I have seen thousands of times in my career. 
But I persevere… 
I am looking for a hidden gem buried deep amongst these pages of uninteresting stamps. 
A top-quality major rarity hidden from view from the major collectors as they won't even look where I am looking. 
Many evenings, I come away empty-handed. 
Just recently, I had a very late evening where finally I struck gold. 
What I found was such a delight it demanded a good single malt to celebrate.
Now is your first and probably only chance to snatch from me my recent victory.
I just know you're going to want this. Let me explain…
It is one of the premier rarities of Jamaica and the West Indies
It was seriously controversial at the time and is certainly topical today
It was banned from being issued and should have been destroyed
It is the finest example of just three surviving examples
It appears remarkably undervalued and extremely good value at the price I am asking
This stamp was never issued for postage. It was banned. They should all have been destroyed.
Yet, here it is…
Technical description
Jamaica 1921 6d red and blue-green 'Abolition of slavery' (the famous stamp prepared for use but not issued for political reasons) IMPERFORATE PLATE PROOF with good to large margins, in issued colours on ungummed watermark MCA paper.
A fine quality proof of this most famous stamp from Jamaica of very fine appearance, despite ironed creases which are barely detectable. Most importantly, it is certainly the best of the three known examples in existence. 
Provenance: Ex De La Rue archives (Robson Lowe Bermuda Dec 1976, lot 654, Robson Lowe Bermuda Feb 1979, lot 590).
The Stanley Gibbons catalogue value of the unissued stamp without the "SPECIMEN" overprint is £60,000 for the normal watermark and £38,000 with the watermark sideways.
PRICE: £6,950
It is amazing how many times throughout history a humble postage stamp has caused major controversy… 
The BANNED Abolition of Slavery Stamp 
Britain is built on sugar. Our national sweet tooth defines us.
Sugar cane was Jamaica's main value to the British empire. Sugar was once a luxury. Slavery made sugar cheaper.
Hundreds of thousands of slaves were brought to Jamaica from Africa where there were subjected to hard labour. Cheaper sugar meant it became more central to the British diet.
Slavery was abolished in Jamaica in 1834 with full freedom being granted in 1838. It wasn't until 1865 when America followed suit, finally outlawing the right to own another human being.
In 1921, Jamaica planned to release a stamp to mark the abolition of slavery.
The stamp was printed as part of the 1919-21 pictorial series and depicts the scene in the main square at Spanish Town on 1st August 1833. This is where the Governor, Sir Lionel Smith, read the "Declaration of the Abolition of Slavery". 
At the time of the proposed stamp issue, sugar prices were falling, leading to unrest among impoverished sugar and dock workers. Most of those workers were black. 
The Governor of Jamaica at the time, Sir Leslie Probyn, decided that it was not appropriate to issue due to the controversial subject matter and political unrest. 
An estimated 416,000 stamps had already been printed. The Governor ordered all copies of the stamp to be destroyed.
As is so often the case, a few of these hardy little paper gems survived the culling.
The printing proof is even rarer than the surviving examples 
As the stamp was so close to issuance, specimens had already been sent to the Universal Postal Union as was normal. These are all overprinted with the words "SPECIMEN".
The specimen stamps would normally then be sent to various post offices to be used as reference, enabling postal workers to spot any forgeries. 
It is estimated around 400 of the specimen stamps survive today. 
Whilst the specimen examples are rare and valuable, they are no match to finding one of the original examples.
These were all destroyed in line with instructions. It was, however, decided to preserve two blocks of four. One of these blocks was gifted to King George V and resides in the Royal Philatelic Collection.
The other block was integrated into the Postal Collection in Kingston. That block mysteriously disappeared from the Post Office's vaults and resurfaced in the market as four singles. 
The printing proof I have is one of just three surviving examples and is therefore even rarer than this. 
The finest example of the three
Owning the finest known example of a premier rarity is the ultimate collecting achievement.
It is an opportunity so rarely found. 
As you would expect, collectors are not likely to part with the biggest prizes in their collection. 
Our printing proof is in fine quality and of very fine appearance with lovely colour.
Creases have been ironed, which is barely detectable and does not detract in any way from the overall quality. Regardless, this is inconsequential since it is the finest of the three known examples. 
It is a wonderful showpiece item of this famous stamp. 
Important Provenance
This printing proof originated from the De La Rue archives, which is famous in philatelic history. 
De La Rue were originally based in Guernsey in the Channel Islands. They moved to London in 1821. 
They were awarded their first printing contract in 1853 and went on to become one of the most iconic of stamp printers. 
They preserved printing proofs and other important philatelic items throughout their printing history. 
These were meticulously written up and photographed and preserved.
De La Rue decided to sell the collection in the 1970s.
The collection was sold through Robson Lowe, one of the greatest philatelists of all time. 
This famous Jamaican abolition of slavery printing proof was sold in February 1979 through one of their auctions.
The De La Rue collection is documented in a six-volume series of books produced by the Royal Philatelic Society. 
Items originating from the De La Rue archives are considered amongst the most desirable to philatelists. 
Extremely Good Value 
The Stanley Gibbons catalogue value of the unissued Abolition of Slavery stamp without the "SPECIMEN" overprint is £60,000 for the normal watermark and £38,000 with the watermark sideways. 
There are eight known examples of the unissued stamp, four of which reside in the Royal Philatelic Collection. 
There are only three examples of the printing plate proof. 
The proof is also in the colour ultimately approved for issue.
Despite being rarer than the issued stamp, you can buy it today for a fraction of the price.
Today, it's yours for just £6,950. 
Your chance to own this jewel of Caribbean philately
To recap, this is your opportunity to own:
A rare printer's proof of one of the most famous stamps in the world
Being the finest example of the three in existence
A philatelic showpiece with significant historical relevance
To add to your collection:
Or email me today at mike@paulfrasercollectibles.com.
You can also call us on +44(0)1534 639998.
This is probably the only chance you are going to get to own this premier rarity from Jamaica.
Kind regards
Mike Hall
PS. It is amazing that this stamp is still causing controversy today, all because it was banned from issue. I read recently the following in an article online:
"Perhaps the most extreme example of slavery denying was the pressure put on the Jamaican government not to issue the Abolition of Slavery stamp" 
This just shows the wonder of stamps and how they often symbolise so much more than just their practical use to pre-pay the cost of posting letters!