Hi fellow collector
It's not always easy being an autograph collector.
You spend hours, days, and weeks searching for the right piece...
Hoping it's the genuine article...
And everyone wants the most iconic names. So competition is fierce.
You often find yourself missing out and cursing your luck.
I've been collecting for over 40 years – so I know how difficult it can be.
But not today.
Today it's incredibly simple.
Three iconic names. Three superb signed photos.
All ready for you to own right now – with the click of a button.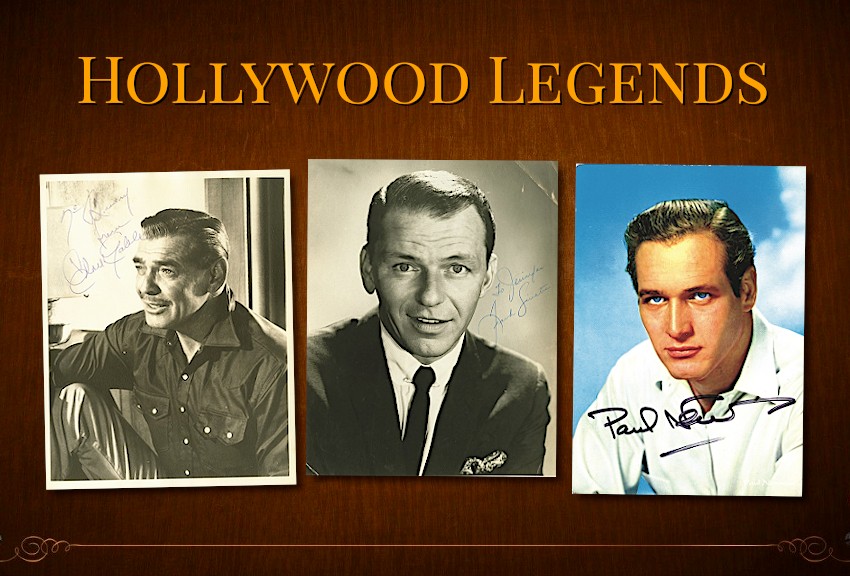 Clarke Gable. Frank Sinatra. Paul Newman.
Three of the biggest stars in Hollywood history.
Three men who prove the old saying "They don't make 'em like they used to".
Their films are classics. Their appeal is timeless.
And their signed photographs don't come much better than these.
If you love old movies, each of these photos would make a perfect addition to your collection.
They all feature excellent signatures.
They're all in wonderful condition.
And they're all available for under £2,000 each.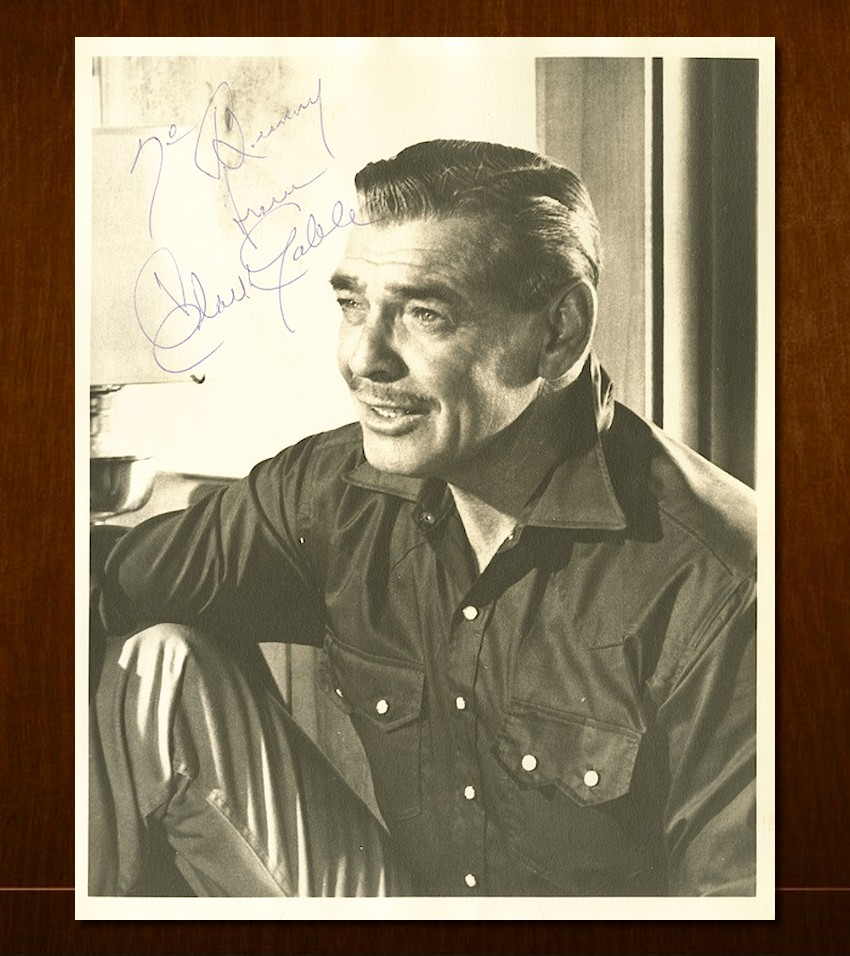 Clarke Gable was known simply as "The King of Hollywood".
As Rhett Butler in Gone With the Wind, he uttered one of the most famous lines in cinema history:
"Frankly my dear, I don't give a damn."
He starred in classics including Call of the Wild, It Happened One Night, Mutiny on the Bounty and Mogambo.
And he also served in WWII, flying combat missions in Europe whilst making films for the First Motion Picture Unit.
As the actress Joan Crawford famously said, "he was the most masculine man that I have ever met in my life. Gable had balls."
This glossy 8" by 10" photograph depicts Gable in The Misfits (1961), in which he starred alongside Marilyn Monroe.
It features a superb signature, signed clearly in blue ink above his portrait.
And the condition of the piece is excellent.
Gable regarded his performance in The Misfits as the finest of his entire career.
And it was sadly his last – as he died just 12 days after production ended.
(It was also Monroe's final completed film, before her death in 1961).
That means this photograph is highly rare, and was likely signed just days before his death.
Today The Misfits is considered a masterpiece – and a fitting tribute to a remarkable actor.
Just like this photograph.
You can purchase it right now for only £1,995 ($2,610).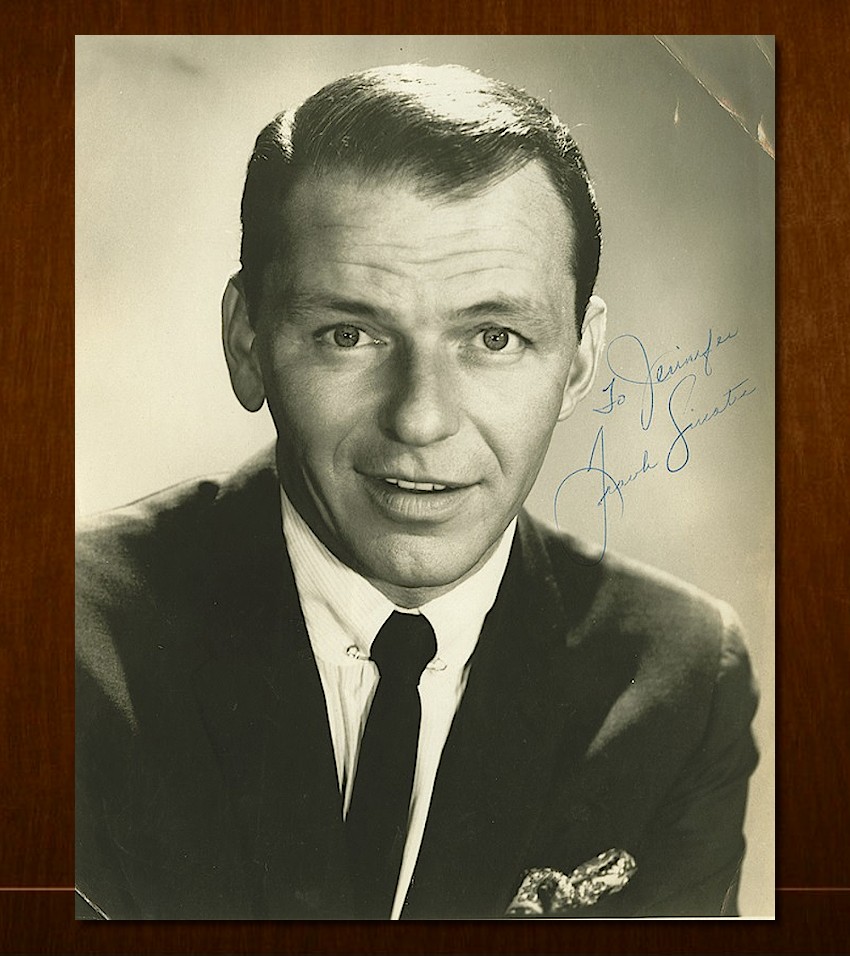 Frank Sinatra has been called "the greatest singer of the 20th century".
And who would argue?
After all, the man sold over 150 million records worldwide.
But he was also a great actor, as comfortable in front of the camera as he was behind a microphone.
He won the Oscar for Best Supporting Actor Oscar in 1953 for From Here to Eternity, and followed it up with a string of classics such as The Man with the Golden Arm, Guys and Dolls, and (my own personal favourite) The Manchurian Candidate.
This fantastic glossy 8" x 10" publicity photo dates from the 1950s, during his Hollywood heyday.
Sinatra has signed the photo in blue ink "To Jennifer, Frank Sinatra".
The signature is crisp and clear. And the portrait is one of the most striking I've come across.
Frank Sinatra was simply one of the most important performers of the 20th century.
He belongs in every good autograph collection.
And you can add him to yours now for just £1,995 ($2,610).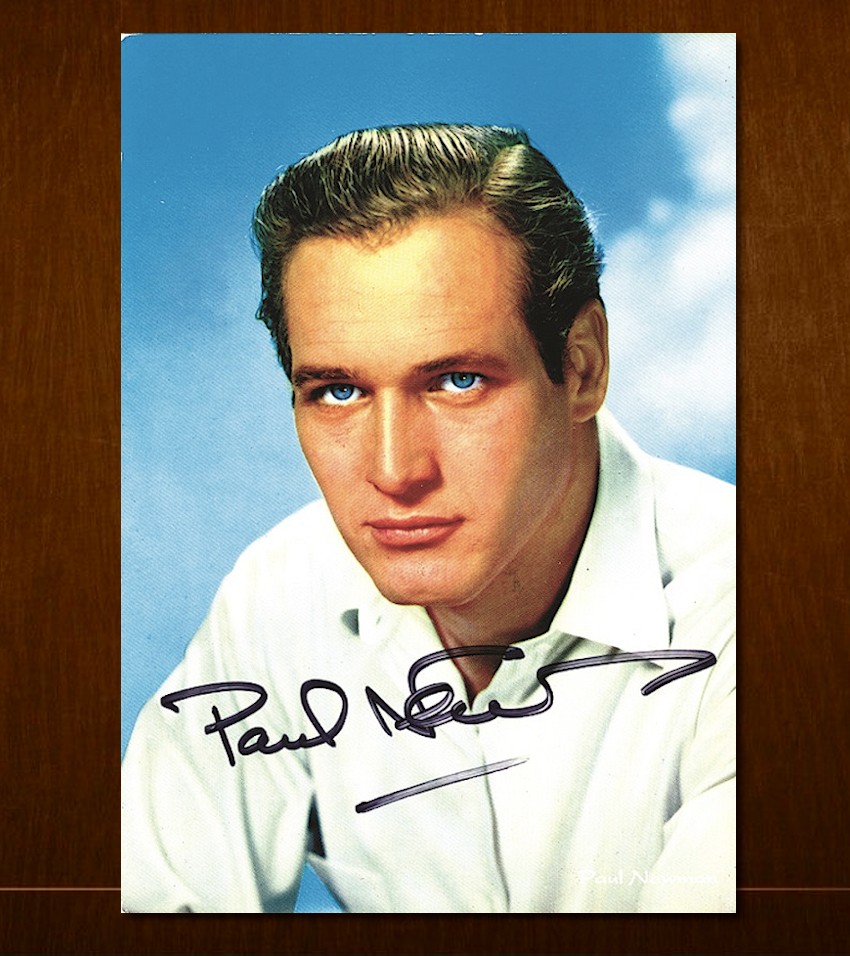 Paul Newman is one of the most iconic leading men of all-time.
Just look at this list of classic movies.
Cat on a Hot Tin Roof , The Hustler, Cool Hand Luke, Butch Cassidy and the Sundance Kid, The Sting, The Towering Inferno, The Color of Money...
And that's before you add in his remarkable achievements as a professional racing driver, and the more than $500 million he raised for charity.
He was one of the greats in every sense of the word.
And he'll make a great addition to your collection.
This Italian promotional postcard dates from the mid-1950s, and features a highly striking colour portrait of Newman.
This is a truly scarce item. It's the only signed example I've ever seen.
It features a bold signature in blue marker pen that likely dates from the late 1990s.
Between the mid-1970s and the mid-1990s Newman famously refused to sign autographs.
So his autograph is far rarer than most Hollywood stars of his era.
And that makes this signed postcard a special item indeed.
You can buy it right now for only £1,500 ($2,085).
So there you have it.
Gable. Sinatra. Newman.
Three true Hollywood legends ready to add to your collection right now.
All 100% genuine.
And all for under £2,000.
I told you it was easy sometimes.
Each of these photographs comes with a Certificate of Authenticity and my personal Lifetime Moneyback Guarantee.
I've examined them myself - so I know they're the real deal.
I've done all the legwork.
All you have to do click 'Purchase Now' – and they're yours.
You can also email me to reserve them at info@justcollecting.com.
Or call me on +44 (0) 1534 639 998.
I look forward to hearing from you.
Thanks for reading,
Paul Fraser,
Chairman, Just Collecting