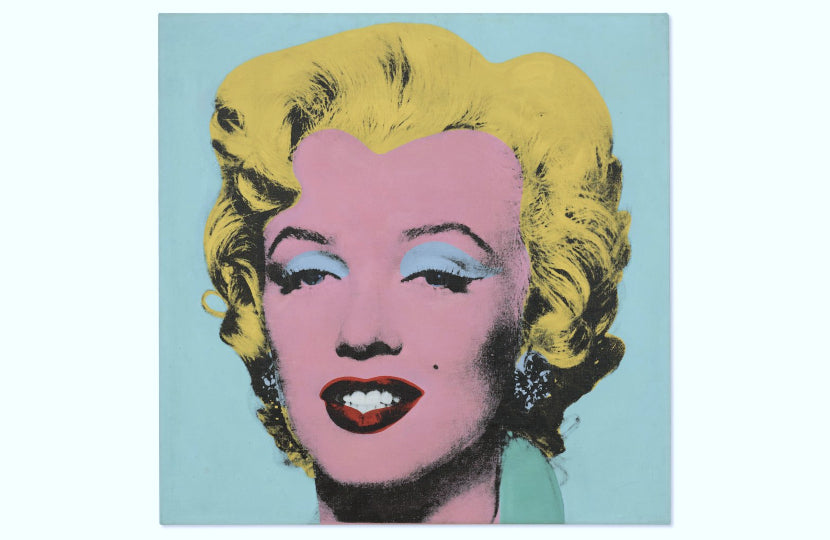 A $195 million masterpiece signed by the artist
Hi fellow collector
This is the world's most valuable modern artwork.
Shot Sage Blue Marilyn. Painted by Andy Warhol in 1964.
Sold at Christies in May for a world record $195 million.
It's an image so iconic it's been called "the modern day Mona Lisa".
It's regarded as Warhol's masterpiece.
So how would you like to own a copy signed by the artist himself?
Shot Sage Blue Marilyn (1964) by Andy Warhol, sold at at Christie's in May 2022 for a world-record $195 million (Image: Christie's)
Here's the background:
In February 1971 Andy Warhol had his first major U.K exhibition at the Tate Gallery in London.
He was already a superstar of the art world. And his arrival in London caused a sensation.
Crowds flocked to the show, which featured his Campbell's Soup Cans and celebrity portraits.
Warhol was there in person at the gallery, enjoying his celebrity status and signing copies of the exhibition catalogue.
And on the front cover of the catalogue was Shot Sage Blue Marilyn.
Andy Warhol signing copies of his exhibition catalogue at the Tate Gallery in February 1971 (Image: Neil Libbert)
This is an original cover from that 1971 Tate Gallery exhibition catalogue.
Signed in person by Andy Warhol.
The condition is superb
The autograph has no personal inscription
The placement is perfect
And it's signed on the defining artwork of his career
If you're an autograph collector, this is a very special piece.
It's the finest Warhol signed item I've handled in years.
It features an excellent example of Warhol's autograph.
Signed clearly and boldly in black marker pen against the white section of the catalogue cover.
And the portrait of Marilyn Monroe is the very definition of 'iconic'.
The most famous woman of the 20th century in all her glory.
Warhol's painting transforms her into a timeless beauty with an enigmatic smile. Just like the Mona Lisa.
The exhibition cover has been professionally framed and mounted along with a photograph of Warhol himself.
Together they form a large visually stunning display measuring 20.5" by 14".
It's a real eye-catching centrepiece for your collection.
This is far more than an autograph.
It's a modern masterpiece, signed by the hand that created it.
A work of art you can hang on your wall for years to come.
And in the future? It could be a valuable asset for your portfolio as well.
Because as long as people collect art, they'll collect Andy Warhol. His name will always be in demand.
He's America's most important artist. And this portrait, featuring his greatest muse Marilyn Monroe, is the defining image of his career.
That's why the original sold for $195 million.
But don't worry if you're not a billionaire...
Because you can buy this rare signed copy now for just £6,995 ($8,585).Purchase this item now
This Andy Warhol signed display is fresh to the market.
But the demand for his autograph is higher than ever.
(The last example I offered sold within a matter of hours.)
Record-breaking sales enhance his legacy within the history of art.
And with every one his signature becomes more popular with collectors.
If you want to own Warhol's autograph, this is as good as you'll find.
So purchase it now, or reserve it for your collection by emailing me at  info@justcollecting.com.
You can also call me on +44 (0) 1534 639998.
I look forward to hearing from you.
Thanks for reading,
Paul Fraser,
Chairman, Just Collecting.