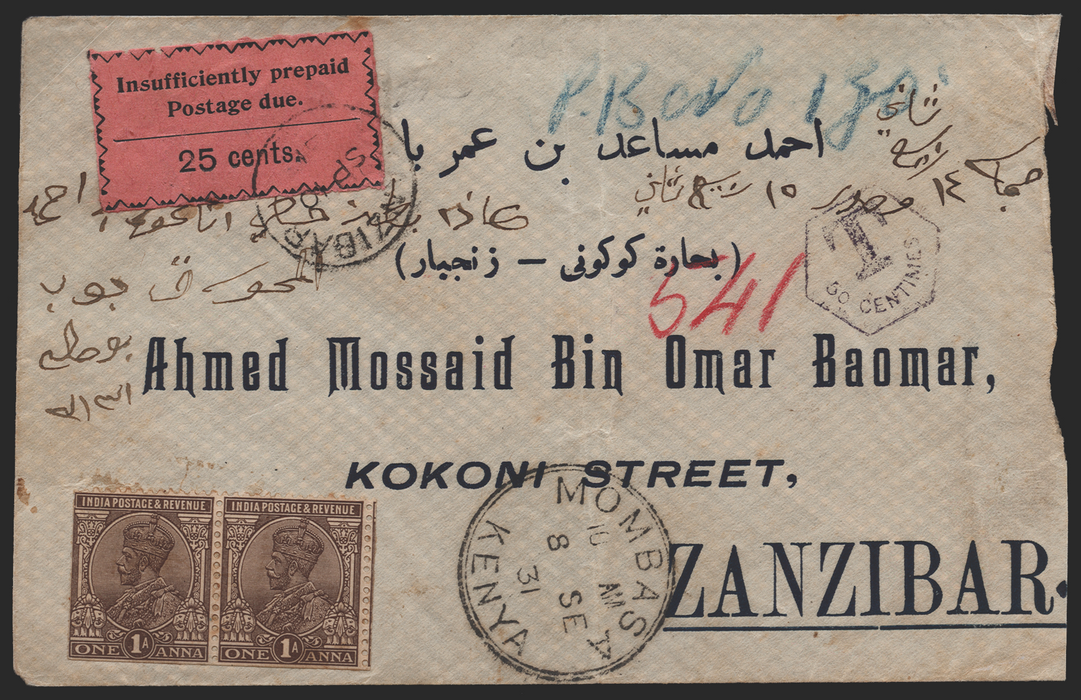 Zanzibar 1931 25c black/rose Postage Due Cover, SGD23
Zanzibar 1931 (SP 10) incoming underpaid printed cover to "Ahmed Mossaid Bin Omar Baomar, ZANZIBAR", probably posted on a ship from India via Mombasa but with India 1926-33 1a chocolate pair disallowed and uncancelled, showing on face.
Very fine MOMBASA transit (?) circular date stamp of "8 SE 31" and hexagonal "T/50 CENTIMES" due mark. On arrival in Zanzibar (backstamp "SP 9 31"), the deficiency was recalculated as 40 (gold centimes) and paid by 1930-33 25c black/rose postage due, SGD23 (first setting, R2/2), tied by "SP 10 31" type D8 circular date stamp.
A fine quality cover despite some small faults (vertical fold).
A rare and interesting usage, unusually showing P.O. register number in RED crayon (rather than blue).
Provenance: Ex Griffith-Jones (discussed on pp.302-3 of his book, with illustration Fig.11.21 ; census F.119).
BUY NOW: Order online, by phone +44 (0)1534 639 998, or via email info@paulfrasercollectibles.com
Payment & Security
Your payment information is processed securely. We do not store credit card details nor have access to your credit card information.