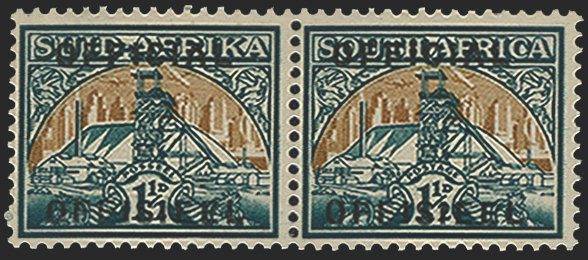 SOUTH AFRICA 1944-50 1½d blue-green and yellow-buff Official, error, SGO34var
South Africa 1944-50 1½d blue-green and yellow-buff "Gold Mine" Official, HORIZONTAL type O2 overprint (11-12mm space, as used for ½d value in vertical format), horizontal pair, SGO34var.
A very fine unmounted mint pair with full original gum.
A most interesting and rare philatelic item from the Union of South Africa, which is of unclear status. It is mentioned as a footnote in the SG British Commonwealth & Empire catalogue below SGO35, (King George VI CW catalogue number: O19b.)
The article "1½d Official, Horizontal Overprint" (Bob Hisey, The Springbok, vol 52/4 (Oct/Dec 2004), pp 112-4 makes a case for this having been issued in error, rather than a clandestine printing.
BUY NOW: Order online, by phone +44 (0)1534 639 998, or via email info@paulfrasercollectibles.com
Payment & Security
Your payment information is processed securely. We do not store credit card details nor have access to your credit card information.