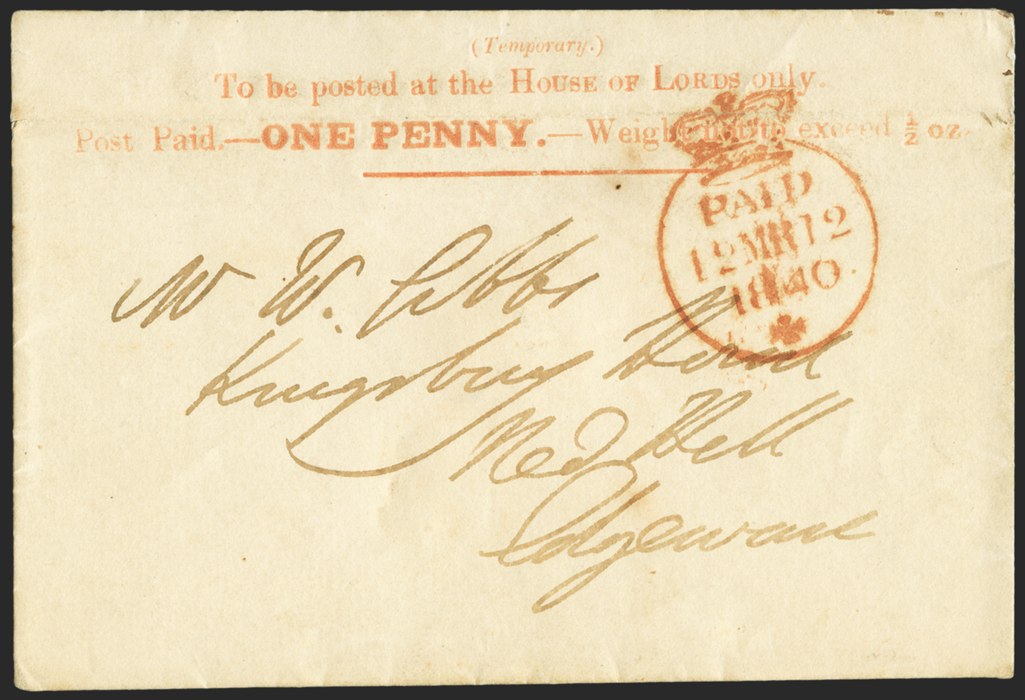 Great Britain 1840 1d "House of Lords" Envelope, SGPE6
Great Britain 1840 1d "Houses of Lords" Envelope, SGPE6.
Very fine used example of this rare envelope printed in vermilion on unwatermarked yellowish wove paper (120 x 82mm). Sent locally within London, neatly cancelled by a London "PAID" Crowned circle date stamp for MR.12.1840.
Light horizontal filing crease at top as often seen. A very attractive example of this rare Parliamentary envelope, written in the hand of the Duke of Wellington.
A fascinating piece of pre-stamp postal history made even more appealing with the historic significance being sent by the Duke of Wellington during the time when he was leader of the Conservative Party in the House of Lords.
When the Uniform Penny Postage was introduced on 10 January 1840, the free franking privileges of Members of Parliament were abolished. During the same month, these special envelopes were created for mail posted from the Houses of Parliament and remained in use until the introduction of stamps and the Mulready stationery in May 1840.
GB Specialised Catalogue Number: PE6.
The Stanley Gibbons Great Britain Queen Victoria Specialised Catalogue, last published in 2011, lists a value of £25,000.
Click here to discover more about this item.
BUY NOW: Order online, by phone +44 (0)117 933 9500, or via email info@paulfrasercollectibles.com
Payment & Security
Your payment information is processed securely. We do not store credit card details nor have access to your credit card information.