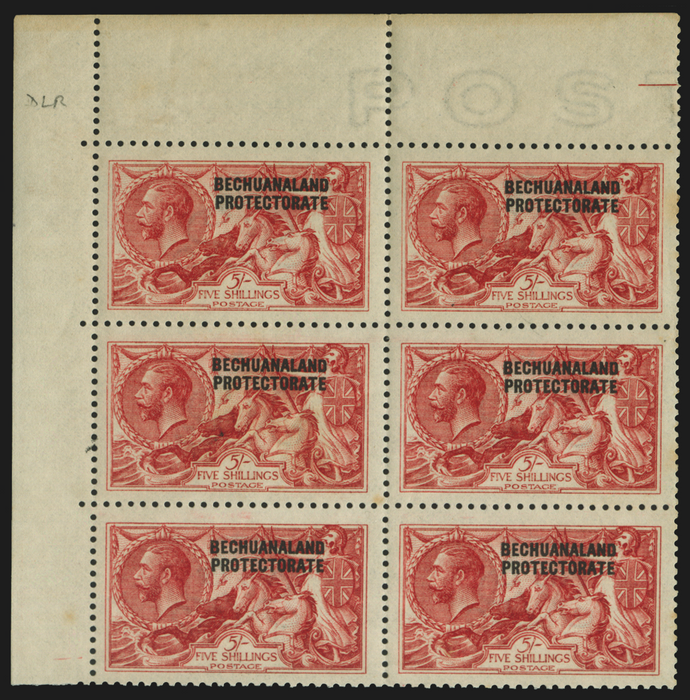 BECHUANALAND 1913-24 5s bright carmine (UNUSED) SG87
Bechuanaland 1913-24 5s bright carmine, "King George V Seahorses" SG87, De La Rue printing, upper left corner block of 6 (2x3).
Very fine unmounted mint with full original gum, (characteristic slightly patchy gum). Odd minor tone marks, mostly apparent on upper right stamp, still a fine multiple.
The left frame line shows 'doubling' mimicking the effect of a re-entry, particularly at R1/1.
Such was the success and popularity of the famous Seahorses stamp issue in Great Britain that it was overprinted and used in other countries in the British Empire including Morocco, Offices in the Turkish Empire, Bechuanaland and Ireland. The stamp is considered a miniature piece of propaganda in response to the German threat posed to Britain at sea on the eve of World War I. The Seahorses boldly claimed Britain's naval domination and reputation of being "ruler of the seas".
A rare and spectacular multiple.
The Stanley Gibbons catalogue value is £1,800+.
BUY NOW: Order online, by phone +44 (0)1534 639 998, or via email info@paulfrasercollectibles.com
Payment & Security
Your payment information is processed securely. We do not store credit card details nor have access to your credit card information.