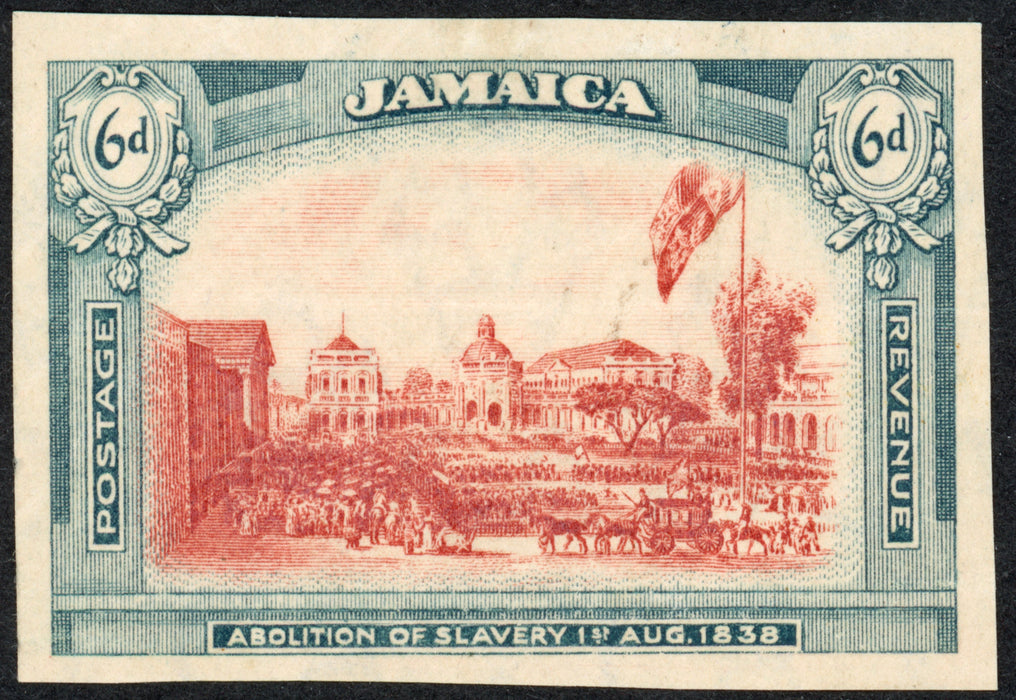 Jamaica 1921 6d red and blue-green 'Abolition of Slavery' imperforate plate proof
Jamaica 1921 6d red and blue-green 'Abolition of slavery' (the famous stamp prepared for use but not issued for political reasons) IMPERFORATE PLATE PROOF with good to large margins, in issued colours on ungummed watermark MCA paper.
A fine quality proof of this most famous stamp from Jamaica of very fine appearance, despite ironed creases which are barely detectable. Most importantly, it is certainly the best of the three known examples in existence.
An important and highly desirable printing proof and just as rare as the few surviving perforated examples without 'SPECIMEN'. A wonderful showpiece item of this famous stamp.
The 6d stamps were prepared and sent out to Jamaica, but for political reasons were not issued, and the stocks were destroyed. 'SPECIMEN' examples of both watermarks were distributed by the Universal Postal Union (UPU) in the normal way, but only 1 example exists with the normal watermark and four examples with the watermark sideways in private hands without the overprint.
Provenance: Ex De La Rue archives (Robson Lowe Bermuda Dec 1976, lot 654, Robson Lowe Bermuda Feb 1979, lot 590).
The Stanley Gibbons catalogue value of the unissued stamp without the "SPECIMEN" overprint is £60,000 for the normal watermark and £38,000 with the watermark sideways.
The Abolition of Slavery Jamaican stamp was prepared for issue in June 1921. It caused political unrest because of its subject matter and was cancelled shortly before it was due for issue.
An estimated 416,000 stamps were printed and subsequently destroyed. Two blocks of four were, however, preserved and one block was added to The Royal Collection of King George V.
The other block was integrated into the Postal Collection in Kingston. That block mysteriously disappeared from the Post Office's vaults and resurfaced in the market as four singles.
Click here to discover more about this stamp.
BUY NOW: Order online, by phone +44 (0)1534 639 998, or via email info@paulfrasercollectibles.com
Payment & Security
Your payment information is processed securely. We do not store credit card details nor have access to your credit card information.