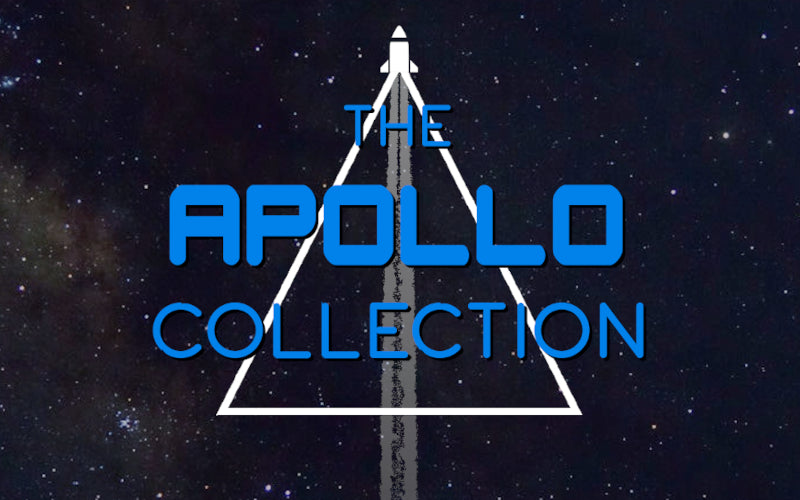 The Apollo Collection
Collecting space memorabilia is one of the most exciting and rewarding hobbies you can imagine.
And this is a truly singular collection. You won't find another one like it anywhere in the world.
The Apollo Collection contains some of the most significant items of space history still in private hands.
These unique objects, historic documents and rare signatures tell the story of mankind's first step into a wider universe.
A journey that will define human history for centuries to come.
Today the achievements of the early Apollo astronauts still inspire us.
And this collection gives you a direct connection to that bravery and adventurous spirit.
Owning it will give you years of pride and pleasure. And it could also add rocket fuel to your portfolio.
Because the space memorabilia market is soaring.
In 2000 a set of autographs by the 12 Apollo Moonwalkers would have cost you around £2,000 ($2,785). Today that same set is now valued at £20,000 ($27,850) - and rising.
Back in 2011 the record auction price for an item of Apollo space memorabilia was $218,000. In March 2022 the record is now $2 million - an increase of 814% in 11 years.
In recent years the hobby has seen an influx of collectors with serious spending power, from retiring Baby Boomers to Millennial tech entrepreneurs.
And right now NASA is preparing to return to the Moon, and then make the next giant leap to Mars.
A new generation of collectors will be inspired. So the future of the space memorabilia market has never looked so exciting.
Now is the perfect moment for you to get involved.
The Apollo Collection is available to purchase for a price of £225,000.
It offers you a unique opportunity to acquire some of the finest space artefacts in private hands.
The items in this portfolio have been specially selected for their high quality, extreme rarity and future investment potential.
Every piece has been extensively researched and examined by our team of experts - and each is supplied with a Certificate of Authenticity, and a Lifetime Moneyback Guarantee.
To purchase this remarkable collection or find out more, contact us today.
Our experts are ready to speak to you and answer your questions. You have four easy ways to get in touch.
Call us on +44 (0)1534 639 998
Email info@justcollecting.com
Text/Whatsapp: +44(0)7700 881001
Discover the Apollo Collection below...

A complete set of 12 signed Moonwalker photographs
A collection of signed photographs featuring all 12 Apollo astronauts to have walked on the Moon.
The NASA Apollo missions operated from 1968 until 1972, during which time 12 men walked on the lunar surface.
To this day they remain the only humans in history to have stepped foot on another celestial body other than the Earth.
This superb collection features signed photographs of all 12 Apollo 'Moonwalkers': Neil Armstrong, Buzz Aldrin, Pete Conrad, Alan Bean, Alan Shepard, Edgar Mitchell, David Scott, James Irwin, John Young, Charles Duke, Eugene Cernan and Harrison Schmitt.
Eleven of the photographs are signed without personal dedications.
Neil Armstrong's photograph bears the dedication "To Chris James, very best wishes from Apollo 11".
Apollo 15 astronaut Jim Irwin and Apollo 16 astronaut John Young are pictured on the lunar surface next to the American flag.
The other 10 Moonwalkers are photographed in their iconic white NASA space suits.
As of January 2022, only four of the 12 survive: Buzz Aldrin, Dave Scott, Charlie Duke and Harrison Schmitt.
A rare and superb collection of signatures.
Buzz Aldrin's personally owned NASA flight training suit
Buzz Aldrin's personally owned and worn NASA flight training suit from the Gemini 12 and Apollo 11 missions
This flight training suit was worn by Buzz Aldrin during training for both of his spaceflights: Gemini 12, where he conducted three successful space walks and Apollo 11, when he and Neil Armstrong took the first steps on the moon.
The bright orange coverall, which was manufactured by L.W. Foster Sportswear Co Inc, was supplied to NASA on 3 May 1961, five years before Aldrin's first spaceflight aboard Gemini 12 and eight years before the launch of Apollo 11.
It has been boldly signed by Aldrin above the left chest pocket: "Buzz Aldrin, Apollo 11, July 20th 1969".
The suit originates from Buzz Aldrin's personal collection, and was consigned to auction at Superior Galleries in November 1991.
Though not flown, this suit was integral in the training for the spaceflight and is therefore an historically significant piece of Apollo 11 memorabilia.
This suit is one of the few major items relating to the Apollo 11 mission that remains in private hands.
It's well known that the Smithsonian Museum has first refusal on all astronaut suits and flight training suits owned by NASA.

And over the past 20 years, only three comparable suits have ever been publicly offered at auction.
• Neil Armstrong's Gemini flight training suit, which sold in 2018 for $110,000

•Neil Armstrong's A5L Apollo training spacesuit, which sold in 1999 for $178,000

• Alan Shepard's unworn Gemini 3 space suit, which sold in 2010 for $187,200
This flight training suit is one of the few major items relating to the Apollo 11 mission that remains in private hands.

As such, it offers you a unique opportunity to own a truly museum-quality artefact with impeccable provenance.
Neil Armstrong's flight log from the Apollo LLTV (Lunar Landing Training Vehicle)
This is the official NASA operation log for the Lunar Landing Test Vehicle (LLTV), an experimental aircraft designed to train the astronauts of the Apollo Program.
Titled "LLRV/TV Operation Log - NASA MSC", with twelve NASA stamps and sixteen Bell Aerosystem stamps.
The partially printed single page document measures 11" x 8.5", and is in exceptional condition.
The LLTV was flown by Armstrong as part of his training prior to the historic Apollo XI Lunar Landing on July 20, 1969.
This flight log documents his final three test flights at Ellington Air Force Base in Texas on June 16, 1969.
Armstrong has signed the document a remarkable six times - twice for each of the test flights.
This report also contains a wealth of information including vehicle flight times, engine time, inspection status, service performed, lift pocket operation, vehicle condition, jet fuel, helium, and oxygen levels, etc.
Neil Armstrong's LLTV training was vital to the success of the Apollo 11 mission.
Without it he would have been unable to pilot the Eagle lunar landing vehicle, and would not have been the first man on the Moon.
This historic flight log is one of most important Apollo 11 signed documents still in private hands.
An Apollo 11 crew-signed photograph
A colour photograph featuring the official NASA portrait of the Apollo 11 crew in their iconic white space suits.

The photograph bears the signatures of all three Apollo 11 crew members: Neil Armstrong, Buzz Aldrin and Michael Collins.

All three signatures are in bold black felt-tip pen ink.

The photograph measures 10" by 8", and is in fine condition, with tiny marginal spots and slightly irregular adhesion to Armstrong's signature.
An Apollo 11 crew-signed postcard
A vintage postcard featuring an aerial photograph of the Apollo 11 Saturn V rocket, captured prior to take-off on the launchpad at the Kennedy Space Center.

The postcard features the signatures of all three Apollo 11 crew members: Neil Armstrong, Buzz Aldrin and Michael Collins.
All three men have signed the card in black felt-tip pen ink.

The postcard measures approximately 3.5" by 5.5", and is in pristine condition, with a tiny corner bend and a few minor surface marks.

A rare and highly sought-after set of autographs.