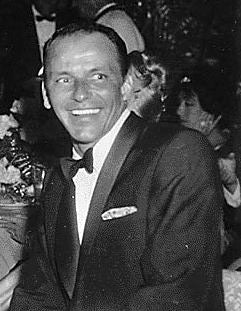 Top 5: Frank Sinatra's cars
1) 1989 Jaguar XJ-S V12 Coupe - $178,500
In August 1998, Christie's, Los Angeles sold a racing green 1989 Jaguar XJ-S V12 Coupe, which once belonged to Ol' Blue Eyes, Frank Sinatra, for $178,500.
Sinatra registered himself as the owner of the car in 1989 in Beverly Hills. He scarcely used the car and it is believed that he later returned it to the dealership on the premise that he could drive it under dealer plates whenever he was in Palm Springs.
2) 1956 Ford Thunderbird - $164,160
A grey 1956 Ford Thunderbird that was owned by Sinatra was sold for $164,160 at a Barrett-Jackson auction in 1999.
The car was factory invoiced to Frank Sinatra who sold it in 1958.
3) 1970 Lamborghini Miura P400S - $150,500
A Christie's sale in New York in June 2003 featured a 1970 Lamborghini Miura P400S which sold for $150,000.
In 1969, Sinatra made an unexpected visit to the Lamborghini factory where he purchased the car. It was painted in Arancio Metallico and trimmed with wild boarskin leather with orange shagpile carpeting. The dispatch date recorded for the vehicle is 12/12/69 which was Sinatra's 54th birthday.
At the time, it was a little known fact that Sinatra owned the car and it is unknown how long he kept it for. It is thought that the Miura was given or sold to Sinatra's friend Gloria Kent who traded it for a new Countach model.
4) 1958 Cadillac Eldorado Brougham - $122,500
In August 2009, a 1958 Cadillac Eldorado Brougham which was owned by Sinatra was sold at a Bonhams auction in California. It sold for $122,500. Only 504 examples of this car were built between 1957 and 1958.
One previous owner of the car, a former California Highway Patrol officer, has spoken of how he stopped Sinatra in the vehicle back in 1958 for speeding. Years after this incident, the officer's half brother bought the car at auction and gave it to the officer as a gift on the condition that he drive and enjoy it.
5) 1976 Rolls-Royce Silver Shadow - $56,350
A peacock blue 1976 Rolls-Royce Silver Shadow once owned by Frank and Barbara Sinatra was sold at a Christie's auction in New York in 1997 for $56,350. The sedan was a wedding present from Frank to Barbara.
At the time of the auction, the car still retained a windshield sticker for use at the Palm Springs municipal airport due to Frank and Barbara's frequent travelling.