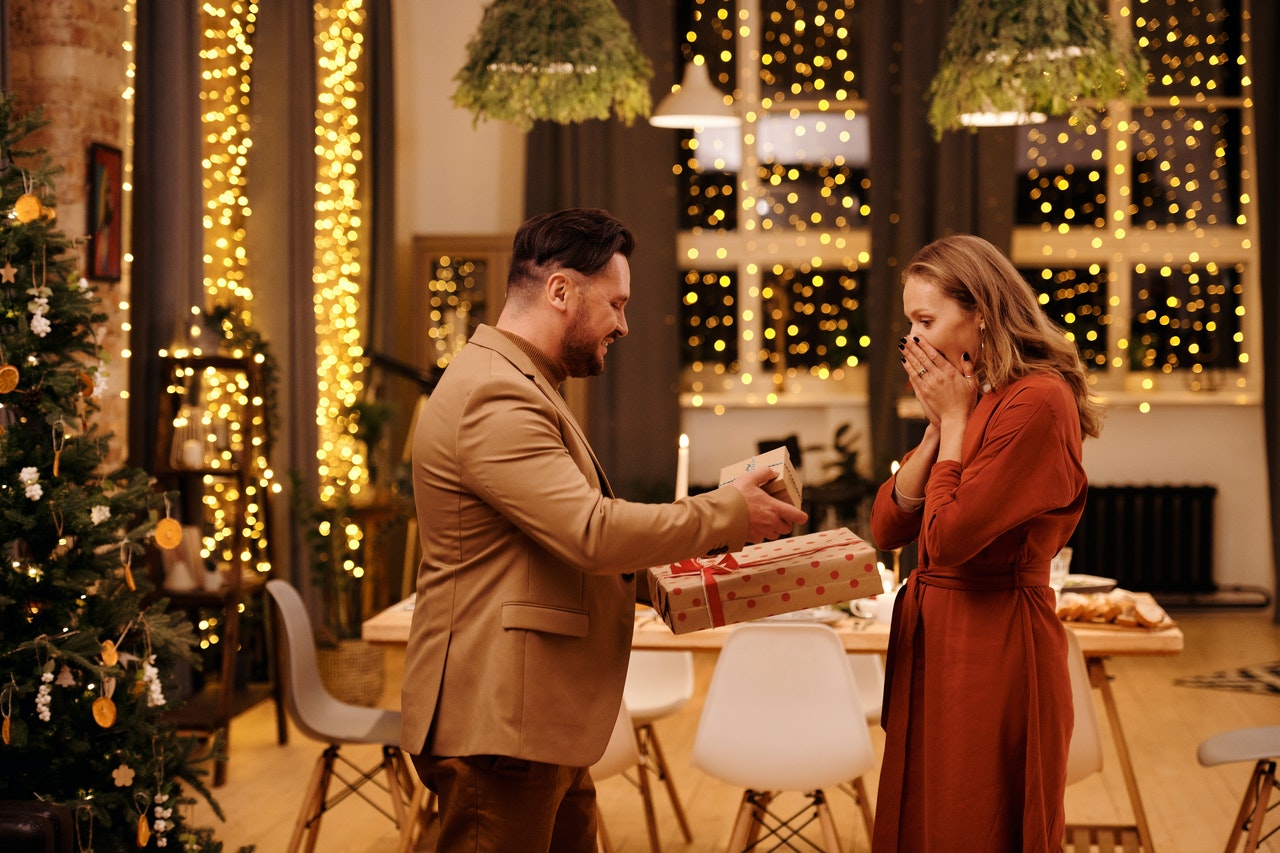 Top 10 best jewellery websites for Christmas presents
Good thinking, Reader.
Buying a loved one jewellery for Christmas is always a great idea.
But which website should you shop from? How to choose with so many out there, each claiming they're better than the next?
Above all, how do you make sure you get your loved one a present they'll adore and cherish?
Help is at hand. We've scoured the internet's leading jewellery websites to bring you the 10 best for Christmas.
10. Rosie Fortescue
Why we love it: The Made in Chelsea star's jewellery line is all about affordable luxury - proof that Rosie has more to her than just the withering put downs we loved in MIC.
Get the look: These Silver Pastel Rainbow Emerald Cut Hoops are delicate yet vibrant, thanks to their sparkling cubic zirconia stones. £120. 
https://rosiefortescuejewellery.com/
9. The Diamond Store
Why we love it: If you're new to buying jewellery, the Diamond Store is a great entry point. Why? Because Gary Ingram founded the company in response to his confusion when buying an engagement ring.
So expect lots of layman's explanations, guides and straightforward product descriptions. And some sumptuous jewellery. 
Get the look: Tanzanite is surging in popularity. This elegant Tanzanite Pendant in 18K White Gold is £483.
https://www.thediamondstore.co.uk/
8. Astrid and Miyu
Why we love it: Korean heritage meets London innovation. Astrid and Miyu love pushing the boundaries of jewellery design, even utilising 3D printing.

Get the look: Does it get any daintier than this tennis bracelet in rose gold? £55. 
https://www.astridandmiyu.com/
7. ChloBo
Why we love it: Chloe Moss - the woman behind ChloBo - believes each piece of jewellery should have meaning to you. We couldn't agree more. And with pieces this unique, wearing ChloBo jewellery will always resonate with the wearer.
Get the look: Personalised Pearl Sparkle Disc Bracelet. So stackable. £85.
6. Pandora
Why we love it: Does your loved one love to customise their jewellery? On a daily basis?! Us too.
Pandora's celebrated customisable charm bracelet remains the gold standard for those of us who just can't make up our minds.
Get the look: This twinkling turtle is the perfect first charm for their customisable bracelet. £35.

5. Swarovski
Why we love it: Swarovski crystal is a byword for elegance. Be it bracelets, earrings or necklaces. But of course, our favourites, now and forever, will always be the crystal animal figurines. Dogs. Birds. Even hedgehogs.
Get the look: This crystal replica mouse will look great on their window sill. £45.
https://www.swarovski.com/en_GB-GB/
4. Missoma
Why we love it: Missoma speak our language. "We aim to create contagious confidence for everyone, every day." With designs this classic your loved one will be bubbling with confidence all Christmas season.
Get the look: Lucy Williams Legion Coin Choker. £165. 
3. Carrie Elizabeth
Why we love it: Into the top 3, and Carrie Elizabeth is a woman on a mission. A mission to bring wearable, ethically-sourced and affordable jewellery to like-minded women.
And she's got guts too - giving up a well-paying job in 2015 to go it alone with her jewellery line. Kate Moss is a fan.
Get the look: Star Set Diamond Band In Sterling Silver. Attractive. Simple. Stackable. £85. 
https://carrieelizabeth.co.uk/
2. Sif Jakobs
Why we love it: Nordic brilliance is at number 2. Born in Iceland, Sif trained as a goldsmith in Sweden, and since 2000 has been creating her beautiful pieces in Copenhagen, Denmark.
"I love to design jewellery that makes women shine," says Sif, who takes inspiration from her childhood in Iceland. Katy Perry, Nicole Scherzinger and Miley Cyrus all wear Sif's designs. 
Get the look: Vamp it up. Black zirconia looks so good on these 18k gold plated earrings. £85. 
1. JewelStreet
Why we love it:
Do you adore...
Ethically-made jewellery? 

Supporting independent designers?

Handmade, unique pieces? 
We do. It's why JewelStreet is our clear number 1 this Christmas. The site features over 600 independent designers from around the globe, including the US, UK, Hong Kong, Korea and Egypt to name but five. With designs and price points as varied as the locations. 
Plus, JewelStreet has a terrific Christmas gift collection to give you inspiration.
And not content with bringing the world unique jewellery designs, JewelStreet is now branching out with complementary products from independent designers, including fashion, handbags and cosmetics.
Get the look: Where to start? With so many styles and designs it's hard to choose just one. Here's one of our affordable favourites: Yellow Gold Plated Cath Ring by Coco & Kinney. £45. 
Do you agree with our top 10? Did we miss off your favourite jewellery website? Let us know at info@justcollecting.com.