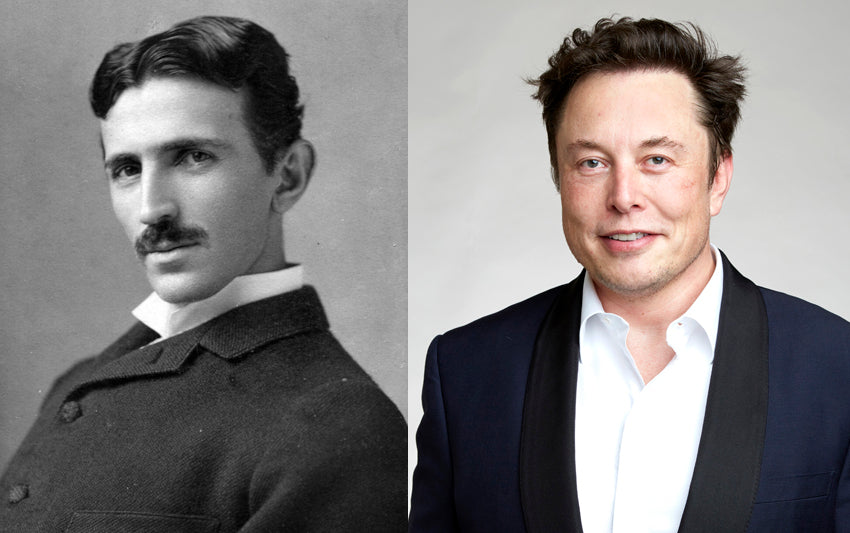 These autographs are booming thanks to Bitcoin
Hi fellow collector
I've had a few people ask me the same question this week:
"Elon Musk. Really?"
It follows on from my email last week, in which I named him in my 'Top 5 Tips' for 2022. I think it raised a few eyebrows.
Now I know he's a divisive figure at the best of times. But you can't deny it.
He's the Thomas Edison of his generation.
His inventions will power the 21st century, just as Edison's powered the 20th century.
(And just like Musk, Edison also had a brash genius for self promotion that rubbed people up the wrong way).
So why did I tip his signature to become valuable this year? Because it's part of a wider trend you really need to keep an eye on.
Historic science memorabilia is one of the fastest-growing markets in rare collectibles. And it's only going to get bigger.
Nikola Tesla's memorabilia is now fetching record-breaking sums. But could modern tech pioneer Elon Musk follow in his footsteps?
A major auction result came in this week that illustrates my point.
An important handwritten letter by the renowned inventor Nikola Tesla sold for $341,000, smashing its estimate of $125,000.
That's the same Tesla that Musk named his electric car company after.
And that's an unprecedented price for a Tesla letter. A world record many times over.
Whilst I have my own theories on who the winning bidder may be (I'm looking at you Elon)...
The truth is there are more people collecting this material than ever before.
According to a report this week, 23 auction lots relating to the history of science and technology sold for over $1 million in 2021.
In previous years, the average figure has been less than five.
Just look at some of the remarkable science and technology results from the past 12 months:
This NFT of the original source code that created the internet sold in 2021 for a stunning $5.43 million.
• In September 2021 an original unsigned print of Buzz Aldrin on the lunar surface, as taken by Neil Armstrong, sold for $125,000 – a world record for a NASA photograph.
• In August an Apple II computer manual signed by Steve Jobs sold for $787,500, more than 30 times its estimate.
• And in March a letter written by Jobs when he was 18, regarding his search for spirituality, sold for $500,000.
(To put those prices into perspective, until 2018 the auction record for a signed Steve Jobs item was just $50,000.)
• One of Charles Darwin's original microscopes sold at Christie's in December for $791,000.
• An NFT of the first tweet ever sent by Jack Dorsey, one of the inventors of Twitter, sold in March 2021 for $2.91 million.
The winning bidder was Sina Estavi, CEO of blockchain company Bridge Oracle, who paid using the cryptocurrency Ethereum and later said:
"This is not just a tweet! I think years later people will realize the true value of this tweet, like the Mona Lisa painting."
• An NFT featuring Tim Berners Lee's original source code for the World Wide Web – essentially the digital 'manuscript' that created the internet – sold at Sotheby's in June for $5.43 million.
• And a 54-page Albert Einstein handwritten manuscript, featuring the foundations of his Theory of General Relativity, sold at Christie's in November for $13 million.
The document smashed its estimate four times over, and set a new record as the world's most valuable scientific document.
Rare scientific manuscripts, such as this handwritten set of Einstein's calculations we sold in 2021, are in huge demand from collectors.
These results are just the tip of the iceberg.
The same report also showed that 150 historic science and technology lots sold for over $100,000 – a rise of more than 50% on 2020.
So why is the market booming?
You just have to follow the money. Or in this case, the '1's and '0's...
In January 2020 there were around 15,000 registered Bitcoin millionaires. Now there are more than 100,000.
A recent survey showed that 83% of millennial millionaires own cryptocurrencies; and more than half of them store at least 50% of their wealth in crypto.
In short: The rise of bitcoin has made a lot of people exceptionally wealthy. Especially those who bought into the cryptocurrency boom as it was taking off.
These were the 'early adopters', with a passion for new technology. They're the innovators leading the digital revolution we find ourselves in today.
Now they suddenly have a lot of disposable income, and they want to enjoy it. They've started collecting in a BIG way. They're highly competitive by nature.
And their heroes are geniuses like Einstein, Edison, Nikola Tesla, Richard Feynman, Stephen Hawking and Steve Jobs.
And yes, Elon Musk.
So if you're looking for a potential growth area in the rare collectibles market, you don't need a microscope to spot this trend and take advantage.
I expect signatures from science and technology's greatest innovators to continue soaring in 2022 and beyond.
If you're interested in adding some of science history's greatest names to your collection, I can help.
Contact me now at info@justcollecting.com.
Or call me directly on +44 (0)1534 639 998.
Thanks for reading,
Paul Fraser,
Chairman, Just Collecting.