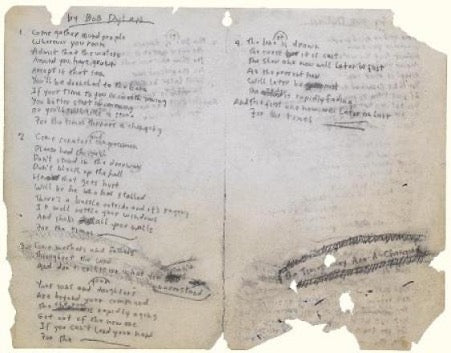 THE TOP 10 MOST EXPENSIVE ORIGINAL SONG LYRICS
Here's the top 10 most expensive sets of original handwritten song lyrics ever sold at auction.
10) USA for Africa - We Are the World
In 1985, a group of American musicians came together to record a charity single in aid of African famine relief. The project was inspired by Harry Belafonte, with the song 'We Are the World' written by Michael Jackson and Lionel Richie. Featuring performances by stars including Bob Dylan, Bruce Springsteen, Diana Ross, Ray Charles and Tina Turner, the single sold more than 20 million copies worldwide. In 2011 a large promotional poster for the 1987 Michael Jackson album 'Bad', featuring the lyrics to 'We Are the World' handwritten by Jackson himself, sold for a remarkable $275,600 at a Julien's Auction sale in Beverly Hills. (Image: Julien's Auctions)
9) The Beatles - While my Guitar Gently Weeps
Written in 1968, 'While my Guitar Gently Weeps' was heavily influenced by George Harrison's interest in Eastern philosophy. Inspired by the idea that all things are connected, he decided to write a song based on the first words he read upon opening a random book. These turned out to be "gently weeps", and the song was recorded for the Beatles' classic 'White Album' featuring an uncredited guitar solo by Eric Clapton. Harrison's original handwritten lyric sheet sold at Cooper Owen Auctions in 2007 for $300,000. (Image: Cooper Owen)
8) Bob Dylan – The Times They Are a-Changin'
Written in the autumn of 1963, The Times They Are a-Changin' was Bob Dylan's attempt to write an 'anthem for change' based on traditional Scottish and Irish ballads. It has since been described as "the archetypal protest song", which helped unite the civil rights movement and the folk music movement – song which still resonates more than 50 years later. Dylan's original handwritten lyrics for the song were sold at Sotheby's in December 2010 for $422,500. (Image: Sotheby's)
7) Elton John - Candle in the Wind
Following the death of his close friend Princess Diana in August 1997, Elton John and his song-writing partner Bernie Taupin revised their original lyrics to the 1973 song 'Candle in the Wind' as a tribute. The new lyrics of the song, originally written about Marilyn Monroe, featured changes such as "Goodbye England's rose" instead of "Goodbye Norma Jean", and most lines were adapted to match the circumstances of Diana's death. Released on September 13, the song became the biggest-selling single of all time with worldwide sales of 33 million copies. The original handwritten lyrics to the new version were auctioned for charity at Christie's in 1998 for a record-breaking $442,500. (Image: Christie's)
6) The Beatles - Nowhere Man
'Nowhere Man' was a turning point for both the Beatles as a band and John Lennon and a songwriter. Written in 1965, it was the band's first song unrelated to love or romance and marked Lennon's move towards more philosophical song writing. It appeared on 'Rubber Soul', an album voted the 5th greatest record of all time by Rolling Stone Magazine. Lennon's original lyrics sold for $455,500 at a Christie's auction in 2003. (Image: Christie's)
5) Plastic Ono Band - Give Peace a Chance
'Give Peace a Chance' was written and recorded by Lennon and Yoko Ono during their famous 'Bed-In' honeymoon in Montreal, Canada in May 1969. It was Lennon's first solo single, released under the guise of the 'Plastic Ono Band', and it became an anthem for American anti-war protesters throughout the 1970s. A sheet of lyrics hand-written by Lennon, large enough for the crowd in the room to read during the recording of the track, sold at Christie's in July 2008 for £421,250 ($833,653). (Christie's)
4) The Beatles - A Day in the Life
'A Day in the Life', the final track on 'Sgt. Pepper's Lonely Hearts Club Band' was voted the greatest Beatles song of all time by Rolling Stone magazine. The song features two sections, written individually by Lennon and McCartney, along with the most famous final musical chord in history – an E major lasting over 40 seconds. Lennon's handwritten section of the lyrics sold for $1,202,500 at Sotheby's in 2010. (Image: Sotheby's)
3) Don McLean – American Pie
McLean's handwritten lyrics to American Pie auctioned for $1,205,000 at Christie's in April 2015. The 16 pages included McLean's original handwritten manuscript complete with explanatory notes and deletions, in addition to typed drafts. A previously unknown final verse was also included. The eight-minute song was number one in the UK for four weeks. The song's lyrics have been the subject of continual debate, with many differing interpretations. It is hoped these 16 pages will now settle the issue, if the new owner chooses to share them with the world. 
2) The Beatles - All You Need is Love
The song was originally written for 'Our World', the first live international satellite TV show which included segments from 19 different countries. The Beatles were asked by the BBC to write a song and perform it live during the British section, to an international audience of more than 150 million people worldwide. John Lennon's original hand-written lyrics for the song sold at a Cooper Owen auction in 2005 for $1.25 million. (Image: Cooper Owen)
1) Bob Dylan - Like a Rolling Stone
The lyrics to Bob Dylan's Like a Rolling Stone sold for $2m at Sotheby's New York in 2014, setting a new world record. The era-defining song was released in 1965, at the height of the decade's social and political upheaval. (Image: Sotheby's)