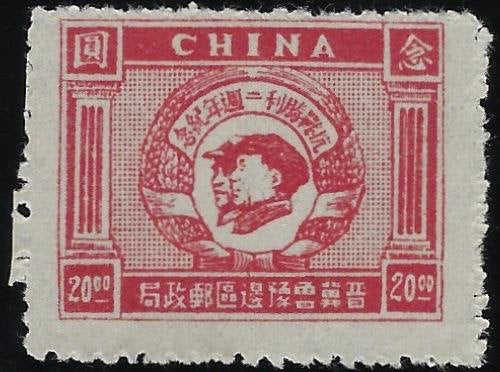 The pot of gold at the end of the rainbow
Realise your stamp dreams today
The pot of gold at the end of the rainbow is about finding what you really want and desire. 
The saying, however, comes from a cautionary tale in Irish folklore.
The story warns us of the folly in trusting luck, magic and greed to achieve your goals.
Instead of wasting your time on such dreams, achieving your goals is all about strategic thinking and hard work. 
Speaking of hard work…
I've really worked hard for you today to find you what I think are 7 wonderful stamp rarities covering the colours of the rainbow. 
I have also thought strategically to ensure you are buying stamps I believe have a strong chance of rising considerably in value in the next five to ten years. 
So, you may just find your pot of gold at the end of the rainbow…
RED – The Lucky Colour of China
CHINA (North China: Shanxi-Hebei-Shandon-Henan Border area) 1947 $20 rose-red, 'Second Anniversary of Victory over Japan', perforated, SGNC137a.
In China, the colour red represents happiness, beauty, success and good fortune
This bold stamp issued by China in 1947 celebrated the second anniversary of victory over Japan in World War II
The stamp features Zhu De, one of China's greatest military leaders and founder of the Communist Army alongside Tse-tung (Chairman Mao), the founding father of the People's Republic of China
The example I have is of a quality hardly ever seen, in very fine mint condition. Most examples found were used for postage.
The Stanley Gibbons catalogue value is £900
PRICE YOU PAY: £850
ORANGE – Britain's Most Audacious Stamp
Great Britain 1882 £5 Orange Plate 1, white paper, SG137var.
The £5 orange is certainly the most famous orange stamp in the world. It is big, bold and beautiful.
There was little demand for the £5 orange since the face value in 1882 was the equivalent to more than £500 in today's money and today it is one of the most iconic stamps of the world
This is a very fine and fresh mint example with original gum, well centred and with lovely colour
This example is particularly rare since it shows the major frame break printing variety in the top left hand corner
The Stanley Gibbons Great Britain Specialised Queen Victoria catalogue, last published in 2011, quotes a value of £17,500 
PRICE YOU PAY: £11,500
YELLOW – The Majestic Swan
Western Australia 1902-11 2d yellow, variety with watermark V over crown UPRIGHT, perforations 11 line, SG130a.
The iconic Swan issue of Western Australia was used for the first stamps as it was the emblem of the Colony and a reminder of when it was known as the Swan River Settlement
This is a very fine used example neatly cancelled by large part "LENNONVILLE" circular date stamp
Despite a couple of short perforations, it is an extremely fine example for this notoriously difficult stamp to find without material condition flaws
The watermark variety is extremely scarce with few examples being recorded making this a major rarity
The Stanley Gibbons catalogue value is £500, which seems too low for such a scarce stamp 
PRICE YOU PAY: £425
GREEN – A Star Exhibition Piece
Great Britain 1911 £1 deep green, SG320.
The King Edward VII "Long One Pound" stamp is the most distinctive and memorable stamp design of its era
The stamp caused controversy at the time because of its unusual shape and size. It is now argued by some as being the most attractive definitive stamp issue of King Edward VII's short reign.
A stunning exhibition quality example being pristine unmounted mint with full original gum
It is even more special as a right hand marginal block of four and is, without a doubt, the best quality example I have ever handled
It is very scarce and quite spectacular to find in such exquisite condition
The Stanley Gibbons catalogue value is £16,000 
PRICE YOU PAY: £12,500
BLUE – Low Priced Hottie from the Hottest market in stamps
 Indian Convention States Jind 1885 2a dull blue 'JEEND' Official, SGO9.
Six states had a postal convention agreement with "British India" to use the regular issues of British India overprinted for use in their states
The popularity of rare Indian States stamps and their value has skyrocketed in recent years with high numbers of new avid collectors entering the market
A rare early Indian States stamp used solely by Government Officials with only 720 originally being printed
It is a fine mint example with large part original gum and with fresh colour
The Stanley Gibbons catalogue value is £150 and remarkably cheap in the context of its rarity
PRICE YOU PAY: £125
INDIGO – Unique and Spectacular
 North Borneo 1892 '8/Cents.' on 25c indigo, surcharged as type 23, COMPLETE SHEET OF FIFTY (10x5), SG65
Surcharged stamps were required in North Borneo between 1890 and 1894 because of stamp shortages. Up until 1890, stamps of North Borneo were only valid for sending to nearby countries and then only if sent by direct steamer.
In 1894, the British Protectorate issued a new definitive series, putting an end to the need for surcharges
Stamps from North Borneo with surcharges are highly desirable amongst collectors of this area due to the limited number remaining in existence.
Because of the warm and humid climate, finding stamps in fine condition is a real challenge for the discerning collector.
The sheet available today is of superb quality with each horizontal pair neatly cancelled by a "Sandakan" circular date stamp, dated 12 November 1894
The stamps have been surcharged with "8 cents". Only six sheets with this surcharge were issued (just 300 stamps).
The piece also includes the Postmaster's signature in the right margin
This is the only entire sheet of all 50 stamps in existence and therefore unique
The Stanley Gibbons catalogue value is £10,000+
PRICE YOU PAY: £6,950
VIOLET – The end of the rainbow
USA 1909 3c "George Washington" Deep violet (Experimental printing on bluish "rag" paper.) SG366.
A rare George Washington stamp printed in 1909
Comes from a scarce experimental printing with approximately only 4,000 printed by the Bureau of Engraving and Printing
A very fine quality mint example, well centred, fresh and with original gum. The centring is very important as the US market pays much higher premiums for well centred stamps than anywhere else in the world.
The stamp comes with a 1964 Philatelic Foundation, New York (PF) certificate of authenticity, the recognised expert authenticators of US stamps
The Stanley Gibbons catalogue value is £3,000
PRICE YOU PAY: £2,500
The 7 colours of the rainbow stamp collection
The total catalogue value of the seven stamps in the collection is £48,050. The whole collection is available at the price of £34,850, a 27.5% discount to catalogue values. 
To secure the whole collection today, or any of the specific stamps featured, you can email me at mike@paulfrasercollectibles.com.
Alternatively, you can call us on +44(0)1534 639998. 
I look forward to helping you find your pot of gold! 
Kind regards
Mike Hall
PS. As these are 7 glorious stamp rarities, very attractively priced and with strong investment merit, you will need to get back to me quickly to secure the stamps you would like to add to your collection. As a subscriber to our e-mail service, you are, as always, the first to hear of this colourful collection.