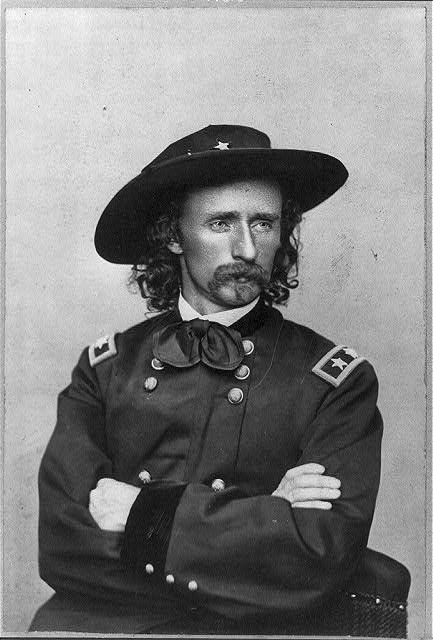 The most mysterious man in US history
Dear fellow collector
When they found General Custer dead.
It wasn't his mutilated body that most shocked the hardened US soldiers.
It was the look on his face.
A smile.
Why a smile as he faced death?
Was it rueful? Contented? Even in some strange way, triumphant?
It is just one of the mysteries that surround General Custer. And his last stand against the Lakota at the Battle of the Little Bighorn.
General Custer: celebrated during his life, a fascinating enigma todayHere's another puzzle that has long perplexed historians:
Was Custer a brave hero who fought valiantly against the odds? Or a reckless maniac who led his men to death?
Visit the site of the battle in South Dakota today. Look out from Last Stand Hill.
And you can decide for yourself.
But today I'm writing about a third mystery:Why is General Custer's autograph so rarely for sale?
After all, Custer was an enormous celebrity in his lifetime.
His flowing locks, talent for self-promotion and eye-catching battlefield wins saw to that.
And yet. For a man of such fame.
There are so few genuine General Custer autographs out there.
Surely if you had received a letter from General Custer you would have kept it in a safe place?
Yes, you would have.
But perhaps the scarcity of Custer's autograph is not such a mystery after all.
Here's why:
Custer was not a prolific letter writer – except to his beloved wife Libbie
Most of the letters that have survived now live in university library collections
Custer died aged just 36 – few years to write letters or sign his name for admirers
That rarity helps partly explain why I'm so excited to offer you the General Custer autograph below.
There's another key reason too.
And when you become this autograph's new owner, you'll understand it.
Because when you hold this autograph in your hand…
…It talks.
You hear the battlefield shouts of the 7th Cavalry. You hear General Custer's desperate exhortations. The heavy thud of galloping hooves and the incessant rifle fire.
You hear too Custer's groan as he slumps to the floor. The victorious cries of the Lakota. And the quiet sobbing of a young wife, hundreds of miles away.
You hear all this when you own this signature.
The full details
Rare. Haunting. Yours.Custer has handsomely signed "G.A. Custer" in flowing black ink.
The signature is wonderfully fresh, even though Custer died 146 years ago.
Custer has signed above an unidentified signature. 
The attractive 3.5 x 1.5 inch paper likely has been clipped from a letter.
Value for money
I've seen Custer-signed cheques sell for $15,000+.
Yet you can own this piece for just £3,995 ($5,445) today.
Why is my Custer autograph so attractively priced?
Because I do everything I can to keep my buying costs down – so I can pass on the savings to you. I did well on this piece.
Discover the mystical aura of this Custer signature.
The debate over General Custer will continue.
Yet this item holds an inarguable truth.
Because c.150 years ago, General Custer - the real man - left his mark on this piece of paper.
And because of that, it has an aura all of its own.
You may need to be quick on this one.
Thank you for reading,
Paul Fraser, Chairman, Just Collecting
PS. You also receive my Certificate of Authenticity. My Lifetime Moneyback Guarantee. Free global delivery. And 28-day no-quibble returns.
PPS. Why do you think Custer was smiling? I'd love to hear your take on it.