The most iconic error of colour in GB philately
Hi fellow collector
The story behind the discovery of the 1935 2½d "Prussian Blue" is one of the most well known in GB philately.
 The story goes as follows…
 King George V (known as the "Stamp King") was a passionate stamp collector. So, on June 6th 1934, when he was asked for his permission for a commemorative stamp issue to celebrate the 25th Anniversary of his Accession to the Throne, he was delighted to say "yes".
 The designers put forward 12 different design ideas but the King was not impressed by any of them. So, on October 2nd 1934 the designers were sent back to the drawing board…
 On October 25th 1934, a further 22 designs were submitted. Finally, the design of Mr Barnett Freeman was accepted.
 On January 7th 1935, the King approved the final design. Just one question remained… what colour did he want the stamp to be?
 Given the choice of "Prussian blue" or "blue", the King opted for the latter.
 But, all didn't go to plan…
 Why this stamp is so rare
 The printers, Harrison & Son, printed some sheets in the "Prussian blue" colour in error.
 They realised their mistake and quickly destroyed the erroneous sheets, except for six sheets sent to the Post Office Stores for inspection.
 The Superintendent Warehouseman was asked to destroy the six sheets apart from a block of four to be retained for reference purposes.
 However, a further mistake was made and only two of the sheets were destroyed. The other four were accidentally placed with the correct colour sheets by a busy worker.
 Three of these sheets were sent to the Edmonton Post Office in North London. The other sheet was issued to an unknown Post Office.
 As a result, we know that only 480 of these stamps ever existed in the first place.
 A Profitable Trip to the Post Office
 On June 2nd 1935, a collector, Mr A J Stavridi, sent his secretary to buy the new Silver Jubilee stamps from the Post Office in Upper Edmonton.
 On inspecting the stamps, Mr Stavridi noticed that some of the stamps were different from the others.
 Some were blue… others were "Prussian blue".
 Mr Stavridi quickly returned to the Post Office and purchased the remainder of the "Prussian blue" stamps.
 Of the 360 stamps at Edmonton Post Office, 41 had already been sold. Mr Stavridi bought the remaining 319 stamps.
 He mailed some of the stamps to his friends as souvenirs.
 Of the 41 sold copies, 10 were used on magazines sent to Australia, of which one survived; two were sent to a collector in Tonbridge. One other was used on a letter sent to Holland and was discovered in 1937.
 In total, there are only 54 recorded used copies of the "Prussian Blue".
 To this day, the 2½d Prussian Blue remains one of the rarest and most famous stamps from Great Britain. Quite simply, it should not have been printed.
 Due to its rarity and desirability, the value of this stamp as an investment is well proven.
 This may be your one and only chance to own a genuine used Prussian Blue
 I am delighted to be in the rare position today where I can offer you the chance to own a genuine used Prussian Blue.
 Take a look below…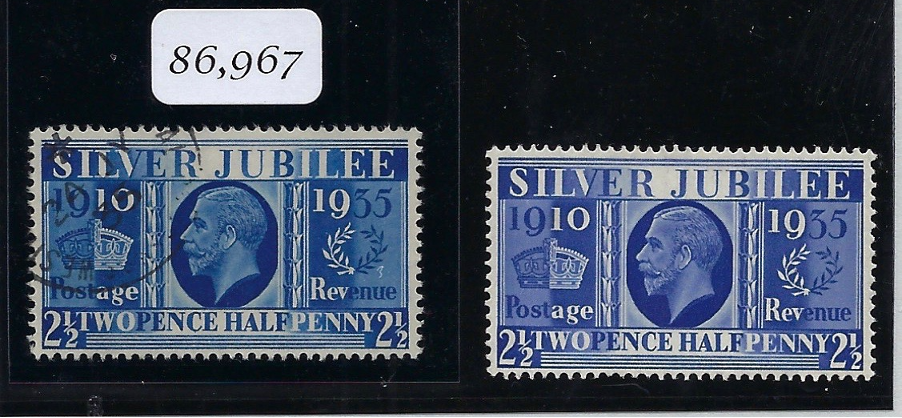 Great Britain 1935 Silver Jubilee 2½d Prussian Blue, SG456a.
It is certainly the finest used example I have ever handled and is appropriately graded as "superb used".
 It shows a beautiful cancellation by a crisp Westmead Corner Carshalton/Surrey circular date stamp for 24.7.1935.
 The Prussian Blue error stamp is accompanied by the normal 2½d blue for comparison, which, incidentally, is worth less than £10.
 PRICE: £14,000
Authenticity Guaranteed
 As you will be aware, all purchases from Paul Fraser Collectibles come with a certificate providing you with a lifetime guarantee of authenticity.
 Your purchase also comes with an independent certificate of authenticity from the British Philatelic Association.
 This will likely sell quickly
 The Prussian Blue is one of those stamps which always sells straight away.
 It is, after all, considered one of the most iconic stamps in the world.
 I very rarely get my hands on a used example, and this is the first time I have handled one of "superb" quality.
 The last used example I managed to purchase was on January 12th 2018. It sold the same day.
 So, you will need to respond quickly to ensure you grasp this opportunity to secure Britain's most famous stamp error.
 It is the equivalent of the US Inverted Jenny stamp, of which there are 100 examples. Single examples of the Inverted Jenny have sold at auction for over £1 million in the past.
 A Sound Investment
 It is a rare privilege indeed to have the opportunity to buy the famous Prussian Blue.
 It is one of the most sought-after stamps in the world.
 I have only enjoyed the privilege a small number of times in my career in stamps.
 The problem is every time I am lucky enough to acquire one, it is sold almost instantly. My relationship with the Prussian Blue has been, sadly, all too brief!
 An interesting point…
 Used examples of the Prussian Blue are much rarer than mint examples. Yet, they are priced in the Stanley Gibbons catalogue at a lower price than mint examples.
 The catalogue value of a used Prussian Blue 20 years ago was £5,000. The current value of £14,000 today means it has increased in value by 180% (9% pa).
 That increase occurred gradually each year regardless of all the economic and political events which unfolded between 2002 and 2022.
 In 2008, when most traditional investments collapsed in value, the Prussian Blue delivered growth in that year of 6%.
 Today, inflation is running at a 40-year high… for the 5th straight month.
 Rare stamps have a long term track record of showing the strongest periods of growth during periods of high inflation.
 So, not only is this an opportunity to own Britain's most coveted stamp error, it is a solid tangible asset investment as well.
 What you need to do to secure this Prussian Blue
 You will need to be fast on the trigger to secure this rare opportunity to own the famous King's error.
 You can go directly to our website and purchase it from our online store…
 Or contact me at mike@justcollecting.com. I will let you know promptly whether you have been successful.
 Alternatively, you can call us on +44(0)1534 639998 to secure the stamp.
 Britain's most famous error could be yours today – good luck!
 Kind regards
  Mike Hall
PS. If you only collect mint stamps, you are still in luck. Just by chance, I also have a mint example of this most famous of errors available right now…

Great Britain 1935 2½d Prussian Blue, SG456a
Very fine and fresh unused original gum example of this ever popular 'error of colour'.
Offered with the normal 'blue' shade for comparison.
PRICE TODAY: £12,500 (NB. Previously priced at £13,750)