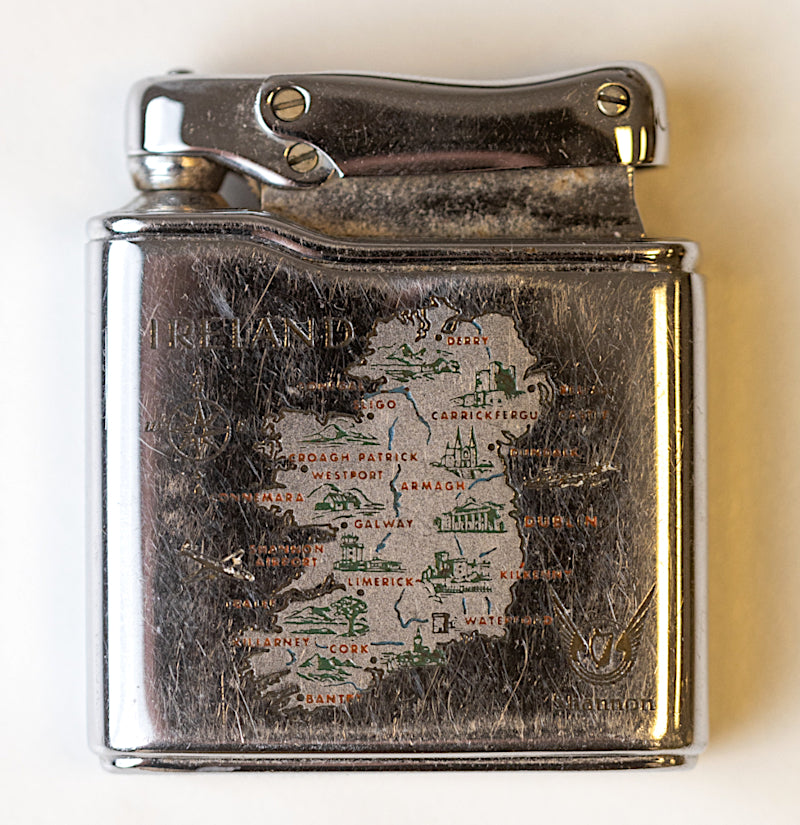 The amazing untold story of a lucky lighter
Hi fellow collector
Do you have a lucky charm?
An object you keep with you at all times. Just in case.
It could be anything. A pen. An old coin. Even the classic rabbit's foot.
You know it might seem silly to some, but you always feel more confident when it's sat in your pocket.
How about an old lighter like this?
It's not stylish or expensive, but it has character. And it meant something special to the man who owned it.
It's well used. Well travelled. Scuffed and scratched from a hundred adventures.
This is definitely a lighter with a story to tell.
Well-worn and well-travelled. A trusty lighter with an incredible story to tell.
And what a story it is...
Because from a small airport in Ireland, to the heat of Havana, Cuba...
Guerilla warfare in the Congo and secret safe-houses in Prague...
This lighter was part of a remarkable journey.
It lit a thousand cigars. And it witnessed incredible moments in history.
As a lucky charm sat deep in the pocket of this man.
Ernesto 'Che' Guevara.
Che Guevara is simply one of most iconic figures of the 20th century.
The story of how Che Guevara came to own this lighter began more than 200 years earlier.
His legend may have been written in Latin America, as a leader of the Cuban Revolution.
But his family roots lay in Galway, Ireland as a descendent of Patrick Lynch, who travelled to Argentina in 1749 and became a wealthy landowner.
Guevara's father, Ernesto Guevara Lynch, later wrote: "My son's veins flowed with the blood of the Irish rebels...
There was something in his nature which drew him to distant wanderings, dangerous adventures and new ideas".
And on March 14, 1965, fate brought Che Guevara down onto Irish soil.
On his return to Cuba following an international tour, Guevara's flight from Prague made an emergency stop at Shannon Airport in Ireland.
And it was there, whilst killing time in the duty-free store, that Che Guevara bought himself this lighter.
A lucky souvenir from the land of his ancestors.
Che Guevara's lucky Irish lighter, purchased at Shannon Airport on March 14, 1965.
From then on, the evening became the stuff of local legend.
As the plane underwent repairs, Guevara and his group set off for nearby Limerick, telling reporters at the airport "We want to see the nightlife".
But as the Limerick Leader newspaper noted, "Bingo, dancing or ballad singing had no interest for the revolutionary".
Local journalist Arthur Quinlan suggested Guevara visit Hanratty's Hotel, where he drank late into the night in the resident's bar known as the 'Glue Pot'.
According to Quinlan, Guevara was "three sheets to the wind when he got back to the airport... and festooned in shamrock".
And for years after, drinkers would tell the tale of when the world's most famous revolutionary walked into their pub.
But hardly anyone ever believed them.
Limerick locals still tell the story of the night Che Guevara came into town - and got seriously drunk at Hanratty's Hotel.Surely nursing a heavy hangover, Guevara returned to Cuba the next day.
But from then on, his movements were shrouded in mystery.
Castro was furious with Guevara's speeches denouncing the Soviet Union. And for months he refused to reveal where his second-in-command had disappeared to.
The answer lay almost 7,000 miles away in the Democratic Republic of Congo.
In April 1965 Guevara travelled in disguise to the war-torn country, to join the cause of the Simba Rebellion.
He taught fighters guerilla warfare techniques, in an attempt to export the revolution.
But in November 1965, suffering from dysentery and facing certain death, he was forced to flee in defeat.
He spent the next several months in hiding, first at the Cuban Embassy in Tanzania, and then in a secret safe house near Prague.
And all through this dramatic time, he carried this lighter in his pocket.
Che Guevara's attempt to export the revolution to the Democratic Republic of Congo ended in failure, and he barely escape with his life.
Guevara was disheartened, and had severed all his ties with Cuba. He no longer had a home to return to.
But in July 1966 Guevara secretly flew to Havana for the final time. He was there to say goodbye to his family.
He had grown apart from Castro, and hated Cuba's links to the Soviet Union.
His restless nature meant he was still drawn to "distant wanderings and dangerous adventures".
Guevara's dream was to spread his revolution across South America. And 15 months later it cost him his life, as he was caught and executed by the Bolivian army.
Just before he left Cuba, he gave the lighter as a personal memento to Castro's mistress Natty Revuelta Clews.
Clews kept the lighter in her private collection, along with many important artefacts from the revolution, for almost 50 years.
And when she passed away in 2015 it was acquired directly from her estate by the present owner.
Che Guevara's lucky Irish lighter has never been seen outside of Cuba until now. You are the first to hear the full story behind it.
It's completely fresh to the market. The provenance is perfect.
And you have the opportunity to become its next owner.
Imagine how many times Che Guevara pulled this lighter from his pocket and lit one of his trademark cigars...
Just think how many cigars Che Guevara lit with this lighter.
Imagine the situations he found himself in, as he clicked the button and sparked the flame.
That crazy night in Ireland, drinking with the locals in Limerick
Under fire in the Congo, aiding rebels in their fight against oppression
His final tense meetings with Castro, before his last mission to Bolivia
And do you know what?
After all these years, it still works.
So Che Guevara's lucky lighter could now become yours. Displayed proudly on your desk, or even tucked away in your own pocket.
A genuine piece of history with an incredible story to tell.
There's only one way for you to own this lighter. It's up for auction on my website right now.
It's a very special item indeed. So don't miss out.
This lighter is part of The Fidel Castro and Che Guevara Personal Property Collection.
It features 39 lots from one of the finest private collections of historic memorabilia I've ever handled.
The full catalogue is available to view online here. Bidding is now live, and closes on Thursday June 23.
For more information on the lighter, or any other lot in the auction, email me at info@justcollecting.com.
Or call me on +44 (0) 1534 639 998.
I look forward to hearing from you.
Thanks for reading,
Paul Fraser,
Chairman, Just Collecting.