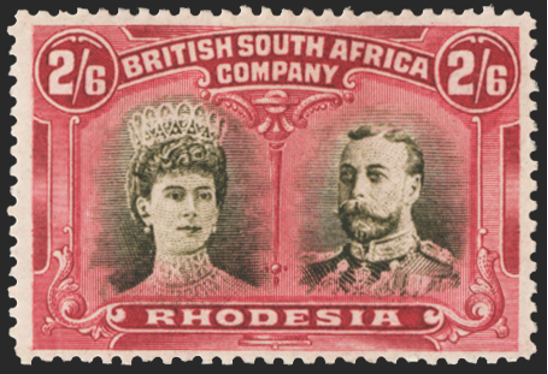 The 5 Golden Rules to buying stamps
Follow these rules to build a valuable family heirloom
There are 5 golden rules I follow when buying stamps.
Normally, I refer to these rules when talking to investors in rare stamps, but the same rules apply to collectors too.
The only difference is collectors sometimes need to compromise on these rules to fill the elusive gaps in their collection.
Price realisations throughout history have proven these rules to work if you want to see the stamps you buy worth much more than you paid for them in the future.
The rules are simple and obvious, yet many collectors ignore them.
And, when they or their descendants come to sell, they get back less than they invested in their collection over the years.
I urge you not to ignore these rules.
I have selected, after very careful consideration, 5 rare stamps I think represent the pinnacle of what you could hope to find for each of my golden rules.
The first rule is probably the most obvious…
Rule Number 1 – RARITY
It is fairly obvious, but I will say it anyway… 
Rare stamps are worth much more than common stamps.
The rarer the stamp, the much more likely it is to be valuable. It is simple economics.
If there are only three examples of a rare stamp in existence, you don't need a big market for demand to exceed supply. 
In fact, you only need a very small number of buyers for prices to rise.
Collectors can sometimes pay way over the odds to get their hands on what they need to fill the elusive gap in their collection.
Sometimes, they have no choice. Competition to secure a key rarity, always out of reach, will inevitably lead to big price hikes when it finally appears on the market.
However, you don't always need to pay a huge price to get your hands on an extremely rare stamp, as I have uncovered for your today…
Leeward Islands 1921-32 £1 black/red, local "SPECIMEN" overprint (type LI1), exceptionally showing variety "Break in scroll" (R1/12), SG80a.
PRICE: £650
This key stamp is almost certainly unique with the break in the scroll printing variety and overprint "SPECIMEN" combined, yet remains very affordable.
Specimen examples were used solely by postal administrations for reference purposes to help spot any attempted forgeries.
The concept of a variety in specimen form is almost unheard of, making this King George V stamp very special indeed.
It is a handsome high value stamp with the red and black proving a striking combination to really bring out the best in the attractive ornate design.
It is also of brilliant mint quality and with its original gum, making it a quite spectacular find.
Despite its unique status, it is available at only a small fraction above the Stanley Gibbons catalogue value of £550, which is the price for the variety alone without the unique 'SPECIMEN' overprint.
Rule Number 2 – CONDITION
If rarity is the backbone to profitable stamp buying, then condition is the heart.
It is not merely enough to focus on rare stamps. I only purchase the finest quality examples you could ever hope to find.
The fact is the best quality rarities can, and often do, sell at auction for premiums to Stanley Gibbons catalogue values.
Poorer quality examples, however, can often sell at significant discounts.
The reason for this is simple…
The most discerning collectors, with the deepest pockets, are only interested in buying the best. They are dedicated to their pursuit of excellence.
And, excellence requires great effort and also a willingness to pay the price to get the best. 
Here is what I mean by "the best"…
Great Britain 1911 £1 deep green, right hand marginal block of four printed at Somerset House, SG320.
PRICE: £12,000
This stunning exhibition quality example of the famous King Edward VII "Long One Pound" stamp is the best example in a block of four I have ever handled.
It is in pristine unmounted mint condition with its full original gum, the highest condition grade possible. 
It is a very scarce stamp, particularly as a right marginal block of four, and quite remarkable to find in such exquisite condition.
The "Long One Pound" stamp design caused controversy at the time because of its unusual shape and size. It is now argued by some as being the most attractive definitive stamp issue of King Edward VII's short reign.
The Stanley Gibbons catalogue value is £16,000. My price is at a 25% discount to catalogue value.
Rule Number 3 – LIQUIDITY
The first two rules focus on the economics of supply.
The third rule is all about demand.
Those stamps appealing to the largest base of collectors are always more likely to show higher growth in value over time.
What we are looking for is areas of the market where demand far outstrips supply.
A good example of where liquidity alone can prove a highly rewarding buying strategy is highlighted with China's most famous stamp, the 1980 Year of the Monkey.
Despite a 5 million print run of these stamps, the level of demand from the avid Chinese collectors alone far outstrips total supply.
They are considered rare because most owners of this stamp don't want to part with their beloved Monkey stamp. 
The result is that it has increased in value by about 300% in the past 10 years alone.
We have such a long waiting list for this stamp, we never have one in stock for more than a day! 
Whilst, the 1980 Year of the Monkey stamp is an extreme example, the rule we can derive from this is the importance of focusing buying on areas of the market where there are a large number of active collectors. 
There are certain stamp issues which have become iconic over the years and attract a huge number of collectors.
This stamp is one of the most desirable from the British Commonwealth & Empire…
Rhodesia 1910-13 2s6d sepia and deep crimson, variety 'long gash in ear' (position 2), SG156var.
PRICE: £1,100
This stamp issue is probably the most popularly collected from Rhodesia.
They are known affectionately as the "double heads", featuring Queen Mary and King George V. They are also widely considered in philatelic circles as being amongst the most attractive stamps ever issued in the world.
One of the main reasons there is such a large and avid base of collectors for this stamp issue is because of the complexity the issue provides to a philatelist.
The issue contains a large number of different printings, colour shades and varieties. The depth of the issue as a collecting area makes it an all-consuming area of study.
The particular example I have for you shows a very scarce printing variety.
Printing varieties, such as this fine rarity, represent the spice of collecting this stamp issue and are highly sought-after.
The gash in the Queen's right ear variety only occurred on position 2 of the printing plate. The gash changed progressively as the printing plate was modified or electros were taken off.
Not only is it a very scarce and interesting variety, it is also a brilliant quality mint example with lovely fresh colour and most of its original gum still intact.
The Stanley Gibbons catalogue value for this key "Double Heads" variety is £1,275+.
Rule Number 4 – PROVENANCE
In some ways, provenance is the icing on the cake.
A high profile history of ownership of a rare stamp will add to its value and desirability.
The primary purpose of assessing provenance when buying is a short-cut way of establishing authenticity through tracking the chronology of previous ownership.
When esteemed philatelists and respected stamp dealers have handled the stamp in the past, the stamp can become even more of a trophy prize.
Sometimes the power of the provenance can be so great as to almost overshadow the value of the stamp in terms of its value…
New Zealand 1898 5s vermilion, Waterlow printing, exceptionally showing the R6/7 re-entry at the foot of the stamp, SG259var.
PRICE: £350
The provenance and presentation of this fine stamp is what makes it most remarkable.
It once belonged to Michael Burberry, the recognised authority on varieties of the New Zealand pictorial stamps.
He has presented it professionally with his enlarged drawing.
It is also accompanied by a 1949 signed letter from R.J.G Collins to its originally owner, confirming its status as the "discovery" example. Collins is responsible for the definitive reference book on New Zealand stamps and postal history.
The stamp is a fine mint example with large part original gum, lovely colour and with an exceptionally rare variety.
These stamps represented the first pictorial series from a major British colony. It was customary at this time for the monarch's head to form the basis of most stamp designs. As such, this first pictorial definitive series, issued in 1898, caught the public's attention.
The designs stemmed from a public design competition launched in 1895, offering cash prizes for the best designs. This approach was to support the government policy of encouraging new settlers and promoting tourism at that time.
The superb engraved views of New Zealand's scenery, with Mountains and water proved the most popular subjects among the competition winners. They captured the imagination of the Victorians at the time and have remained ever-popular with collectors as they were ground-breaking at the time.
This stamp with the attractive design featuring Mount Cook was from the London printing. A year later, the decision was made to switch production of the stamps to Wellington.
It is a lovely little piece of philatelic history with impeccable provenance and available at a remarkably low price considering its philatelic importance. 
Rule Number 5 – PRICE
For the reasons already explained, I'd rather pay a bit more for the finest quality than less for a poorer quality example.
That said, I never overpay for quality. The aim is always to buy quality examples of rare stamps at below fair value, giving a margin of safety.
When I achieve this goal, you are the ultimate winner…
Great Britain 1876 8d orange Plate 2 imprimatur, SG156var.
PRICE: £7,500
This major British stamp rarity is one of a maximum of only 24 possible examples, many of which are tied up in institutional collections.
The Stanley Gibbons Great Britain Queen Victoria Specialised Catalogue, last published in 2011, lists a value of £11,000.
I am able to offer it to you today for a price of £7,500, a discount of 32%. 
It is very fine quality being a mint example with its original gum and is particularly rare being from what is known in philately as an "abnormal" printing plate.
As an imprimatur, it came from the final approved printing sheet. However, the stamp was never issued due to changes in postal rates.
This value was issued to prepay the rate at that time to India via Marseilles and to Australia via Brindisi. Two printing plates (1 and 2) were prepared and registered.
Plate 2 was never put to press. Plate 1 was used for a printing of 10,000 sheets in purple-brown. These were later almost all destroyed. As a result, examples of plate 2 were never issued for postage.
Pride of ownership 
In my view, all 5 of the rarities featured today should give immense pride of ownership.
They represent some of the finest philatelic items you could own at fair prices.
You can purchase directly from our website by clicking on the links against each item. Alternatively: 
I look forward to hearing from you.
Kind regards 
Mike Hall
PS. I almost forget one rule, although it goes without saying… 
Authenticity
Everything you purchase from us comes with a contractual lifetime moneyback guarantee of authenticity. We have you covered in this most important rule of them all.