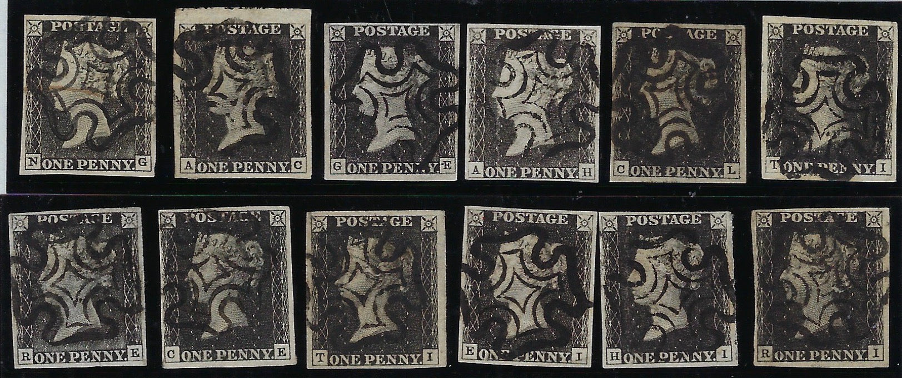 The 12 British Stamps I Always Want to Have in Stock
The Most Desirable Stamps of Great Britain
Every British stamp dealer has the same problem…
There are certain stamps you know you just need to have in stock at all times.
The problem is these are the stamps every dealer finds much easier to sell than to buy.
That is if, like us, you are focused on only buying premium quality examples. 
Keeping them in stock is a never-ending task made much more difficult because finding fine quality examples is like finding a needle in a haystack. 
There's good reason why these stamps are so important:
They are the most popular stamp issues from Great Britain and therefore in highest demand
Because of this, they are very easy to sell
They represent the defining stamps of Britain's postal history
Today, I would like to share with you the 12 British stamps I want to have in stock at all times. There are others I could have included, but I think these are probably my top 12.
Despite my best efforts, two of the 12 stamps are currently out of stock. 
I present to you the 12 most prized stamps of Great Britain…
1. The Penny Black  
Obviously, I must have a penny black in stock. In fact, I generally try to have as many fine quality examples as I can possibly get my hands on.
You can never have too many penny blacks…
Being the world's first postage stamp, pretty much every stamp collector in the world wants to own one.
There are over a million surviving examples, but most of them are not in fine condition. 
You can even pick one up on eBay for £10. Bear in mind though it won't look nice and it will never be valuable.
Keeping a stock of fine quality, four margin used examples is hard work. At most auctions, we won't win against collectors who will be willing to pay more.
So, it is a real special treat when we manage to secure a complete collection of all the printing plates of the penny black…
Great Britain 1840 1d Black Plates 1a-11, SG2/3.
A superb used set of 12 four margin examples from all printing plates including 1a & 1b. Each stamp is beautifully cancelled by crisp black Maltese Crosses.
A couple of very minor faults, nevertheless an exceptional set which is extremely difficult to replicate in this quality.
SG catalogue value: £9,875.
Our Price: £8,950
2. The Tuppenny Blue 
I find the 2d blue stamp, issued at the same time as the penny black, probably around 20 times harder to find in fine condition.
Most examples I see have condition flaws and precious few fine quality examples come on the market for sale.
Sadly, because of this, I don't currently have one in stock.
Here is the last used example we sold so you can see what you are missing…
Great Britain 1840 2d Blue, Plate 1, SG5.
A very fine used close to good four margin example lettered MK, neatly cancelled by a crisply struck black Maltese Cross.
Lovely fresh colour and one of the most startlingly bold examples of the black Maltese Cross cancellation I have ever seen.
The Stanley Gibbons catalogue value is £975.
Our Price: £750
SOLD OUT
3. The Victorian Embossed Stamps 
The Queen Victorian Embossed stamps are sought after because they are the stamp issue which brought about the worldwide postal communications revolution. 
They are also fascinating to philatelists because the printing methods employed techniques unique to British philately. 
It is the hardest British stamp issue to find in fine condition.
We sold a very fine mint example recently for £16,000, which is a major philatelic rarity. We still have a fine quality used example available at a much more affordable price…
Great Britain 1854 1s Green (Die W.W.2), SG55.
A very fine used example with four large margins, neatly cancelled by a crisp London City "22" numeral.
Most attractive, particularly with such large margins.
The embossed postage stamps from Great Britain were issued during the reign of Queen Victoria between 1847 and 1854. They were a very important part of the communications revolution taking place at the time. 
They included three stamp values - 6d, 10d and 1 shilling. The 1 shilling rate was for postage to the USA, the 10d to Europe, including France and Italy, and the 6d covered the rate to Belgium. These higher value embossed stamp issues opened up postal communication worldwide. It brought about staggering growth in international trade as the perfect partner to the steamship and railways of that time. 
Embossed British stamps are particularly interesting as they include three features that are unique to British philately – the method of die production, the method of printing and the use of silk thread paper. 
Britain's experimentation with embossed stamps only lasted seven years when they were replaced by new surface printed definitive postage stamps.
The embossed printing process was ridiculously laborious. Stamps were printed one at a time on silk thread paper. The design was raised and recessed to create a rough surface. The working die had to be used to apply each impression individually to the printed sheet by hand. As a result, the impressions were usually poorly spaced, either being too close together or too far apart. It was quite common for stamps to overlap. 
Postal workers would then often cut around the octagonal design before they were sold. In short, the process was totally ineffective. Few quality examples were produced from the printing process. Because of this, good quality examples are very desirable to collectors, but difficult to find.
Finding a clean square-cut example with four clear margins is extremely difficult. 
The Stanley Gibbons catalogue value is £1,000.
Our Price: £850
4. The £5 Orange 
The 1882 £5 orange is considered Britain's boldest stamp. It is also one of the most coveted of British stamps, but a sad gap in the albums of most collectors.
With such a high face value (equivalent to nearly £600 in today's money), its larger than life size and startling colour, it was always going to stand out as something special.
Because they are so popular, and very difficult to find in fine condition, we handle precious few examples. I am delighted to be in the position at the moment to offer you this delightful used example…
Great Britain 1882 £5 Orange Plate 1, SG137.
A very fine used example lettered CC, neatly cancelled by a Middlesbrough circular date stamp for 'NO.4.1902' with a second part circular date stamp at base.
A very high quality used example of Britain's boldest stamp design and particularly scarce so fine.
Because of the high face value, there was no postal need for this stamp issue.
It was first introduced as a Telegraphs stamp to account for payment of bulk telegrams and for those of individual high cost.
Telegraphs were withdrawn in 1881 and the same plate design was adapted for use as a postage stamp. Postal packages that warranted a £5 stamp were obviously going to be very few and far between. 
That is why so few of these stamps exist. Dr. John Horsey's book, aptly entitled "The £5 Orange", analysed 3,534 examples of the £5 Orange and he calculated that number to be nearly half of the £5 Oranges that still exist.
Our Price: £4,000
5. The King Edward VII 1911 £1 Deep Green 
The stamps issued during the short reign of King Edward VII (1901-1910) have long been a very popular area of British stamp collecting.
The Long One Pound stamp is considered by many the most famous issue of the reign.
It is exceptional because of its unusual shape and size and it is most eye-catching. We have a stunning pristine mint example for you…
Great Britain 1911 £1 Deep Green, SG320.
Very fine and fresh unmounted mint example, with full original gum, printed at Somerset House.
This most distinctive and memorable stamp design caused controversy at the time because of its unusual shape and size. It is now argued by some as being the most attractive definitive stamp issue of King Edward VII's short reign.
Our Price: £3,000
6. The King George V Seahorse stamps 
The King George V Seahorse stamps, in issue during World War I, are perhaps the most defining stamps ever issued by Great Britain.
The imagery of the stamp made a bold statement to the world as a miniature form of propaganda. One noble piece of paper that encapsulated the meaning of being "proud to be British".
It is such a popular stamp issue and, with so many varieties to collect, it is the obsessive and sole study of some specialist British stamp collections.
Whilst most examples are not especially rare, finding them in fine quality is getting harder and harder as they become tied in long term collections, lost, damaged and destroyed. 
Finding a perfect example of the rarest printing shade of this divine stamp is the holy grail…
Great Britain 1915 10s Deep Blue "Seahorse", SG411.
A very fine, unmounted mint example with full original gum of the rarest deep blue shade, printed by De La Rue. Full perforations and superb centring.
The Stanley Gibbons catalogue price is £5,500.
Our Price: £5,000
7. The 1925 Wembleys 
The two stamps issued to mark the British Empire Exhibition held at Wembley Park mark the golden era of quality British stamp design.
The stamps received huge praise for their stunning design, quality engraving and printing at the time. 
Despite their large print runs, they are actually more difficult to find in Post Office fresh unmounted mint quality than you would expect. 
Even more difficult is finding both stamps on a cover posted on the very first day the stamps were issued for postage use…
Great Britain 1925 British Empire Exhibition first day cover, SG432/3.
A very fine used set of two tied to a clean envelope by a crisp Empire Exhibition, Wembley Park slogan machine cancel for MY.09.1925, the first day of issue.
A most attractive first day cover and very rare.
The British Empire Exhibition stamps were the first ever commemorative stamps issued by Great Britain. These became affectionately known as "The Wembleys".
The British Empire Exhibition was a hugely ambitious colonial exhibition to raise the country's spirits after the First World War. It opened at Wembley in 1924 and ran for two summer seasons showcasing goods and produce from the Empire countries and attracted 27 million visitors.
To mark the opening of the Exhibition in 1924, the British Post Office issued two commemorative stamps, the 1d scarlet and the 1½d brown. As the stamps proved so popular, they were re-issued the following year when the exhibition reopened for the second summer.
The design remains one of the most iconic and attractive of Britain's stamp issues amongst collectors. The designs were produced by the artist Harold Nelson, who was also responsible for the design of the 1929 PUC £1 stamp.
The design of the 1925 British Empire Exhibition stamps featured the British Lion (later known as the Wembley Lion) with rising sun.
The stamps were also produced to very high standards employing recess printing methods. It was customary at the time to use the much less costly photogravure process for low value definitive stamps. 
They were engraved and printed by Waterlow & Sons in the best intaglio style normally reserved for the highest GB stamp denominations. The quality of workmanship that went into producing these 1d and 1½d values resulted in huge praise and adoration from the general public.
Our Price: £1,700
8. The Legendary 1929 P.U.C. £1 
The 1929 P.U.C. £1 stamp is now considered Britain's greatest ever stamp design.
So, needless to say, it is one of the most popular and desirable stamps in the world. It is such a striking stamp, with an intricate design and beautiful engraving.
The print run was very low for this stamp compared to most other stamps at the time. Only 61,000 were ever printed. Compare this to the 68 million stamps printed for the Penny Black!
Fine quality mint examples are hard to find, particularly with full original gum. My example is not only pristine unmounted mint, it is also a right hand marginal example and therefore above SG catalogue quality…
Great Britain King George V 1929 £1 Postal Union Congress (P.U.C.) black, SG438.
A superb right hand marginal unmounted mint example. A stunning quality example of what is widely considered the most popular King George V stamp issue. 
The Stanley Gibbons catalogue price is £1,100.
Our Price: £850
9. The 1935 Prussian Blue 
The King George VI Prussian Blue is the most iconic stamp error in all of British philately. It is the error everyone wants to own. Yet, owning one is a privilege to only a select few.
Known affectionately as "The King's Error", I would go so far as to say it is the easiest British stamp rarity to sell. It is so iconic and with such a good back story linked to the King himself, it is a trophy purchase to more than just stamp collectors.
I have only enjoyed the privilege a small number of times during my 23 years in the stamp business.
So, whenever I get the opportunity to acquire one, I snatch it up…
Great Britain 1935 2½d Prussian Blue, SG456a
Very fine and fresh unused original gum example of this ever popular 'error of colour'.
Offered with the normal 'blue' shade for comparison.
The Story
King George V (known as the "Stamp King") was a passionate stamp collector. So, on June 6th 1934, when he was asked for his permission for a commemorative stamp issue to celebrate the 25th Anniversary of his Accession to the Throne, he was delighted to say "yes".
The designers put forward 12 different design ideas but the King was not impressed by any of them. So, on October 2nd 1934 the designers were sent back to the drawing board…
On October 25th 1934, a further 22 designs were submitted. Finally, the design of Mr Barnett Freeman was accepted.
On January 7th 1935, the King approved the final design. Just one question remained… what colour did he want the stamp to be?
Given the choice of "Prussian blue" or "blue", the King opted for the latter.
But, all didn't go to plan…
Why this stamp is so rare
The printers, Harrison & Son, printed some sheets in the "Prussian blue" colour in error.
They realised their mistake and quickly destroyed the erroneous sheets, except for six sheets sent to the Post Office Stores for inspection.
The Superintendent Warehouseman was asked to destroy the six sheets apart from a block of four to be retained for reference purposes.
However, a further mistake was made and only two of the sheets were destroyed. The other four were accidentally placed with the correct colour sheets by a busy worker.
Three of these sheets were sent to the Edmonton Post Office in North London. The other sheet was issued to an unknown Post Office.
As a result, we know that only 480 of these stamps were ever issued.
This is the maximum possible number in existence. The actual number of surviving examples is much lower. 
To this day, the 2½d Prussian blue remains one of the rarest and most famous stamps from Great Britain. Quite simply, it should not have been printed.
Our Price: £12,500
10. The 1948 Royal Silver Wedding 
This stamp issue in 1948 to commemorate the Royal Silver Wedding anniversary of King George VI and Queen Elizabeth proved the most popular issue of all time.
On the day of issue on 26th April, 1948 they sold like hot cakes. Stocks were practically exhausted by the close of business on the first day.
The £1 stamp, which was issued specifically for collectors, proved the most popular. There were several reports of offices selling out completely within an hour of opening.
Today it remains a very popular commemorative stamp and one I would always strive to have available. As you know, I always try to go one up on just a "normal" example. Take a look at this stunning marginal block of four…
Great Britain 1948 2½d-£1 Royal Silver Wedding, SG 493/4.
Very fine unmounted mint, with full original gum, set of two bottom left hand corner marginal cylinder blocks. The 2½d block of six, cylinder 4 no dot & £1 block of four, cylinder 1 no dot.
Scarce in this positional form and in such pristine condition.
Our Price: £200
11. The 1951 Festival of Britain Stamps 
We find the 1951 Festival of Britain issue the most popular set of modern British stamps and struggle to always have them in stock.
I can see why they are so popular as the designs are very attractive and stand out in any stamp album…
Great Britain 1951 2s6d-£1 "Festival" High Values, SG509/12.
Very fine unmounted mint, with full original gum, set of four.
This beautifully designed set of King George VI high value stamps was issued on 3 May 1951 to celebrate the centenary of the Great Exhibition of 1851.
The Festival of Britain in 1951 aimed to illustrate the British contribution to civilisation past, present and future in the arts, science and technology, and industrial design.
Pressure was put on the Post Office to issue a special set of stamps to celebrate the event.
12 artists were invited to submit their ideas for the designs. The four stamps finally chosen depicted HMS Victory (2s6d), White Cliffs of Dover (5s), St. George and the Dragon (10s) and the Royal Court of Arms (£1).
They are a lovely set of stamps. It is not surprising they have become one of the most popular sets of British commemorative stamps ever issued. 
The Stanley Gibbons catalogue price is £100.
Our Price: £50
SOLD OUT
12. The 1993 Britannia £10 stamp 
I absolutely love the final stamp on my list of stamps I simply must have in stock. I've never held one in stock for long.
It is Britain's highest value ever stamp.
The current SG catalogue value for this stamp seems ridiculously under-valued in my opinion at just £40.
I managed to secure a pristine unmounted mint example of this glorious stamp recently…
Great Britain 1993 £10 Britannia, SG1658.
A superb unmounted mint example with full original gum.
The paper used for the £10 Britannia stamps contains fluorescent coloured fibres which, together with the ink used on the shield, react under U.V. light. 
The £10 Britannia is one of the finest modern stamp issues from Great Britain and the UK's highest value ever stamp. It was introduced on 2nd March 1993, replacing the £5 stamp as the UK's highest-value stamp. 
The higher value was required because of a need for a stamp to cover the cost of postage for heavy packages going by air.
It was phased out after just a few years and has become increasingly hard to acquire because they are so popular and held in private collections.
It is also known as Britain's most secure stamp ever released as it employs an array of state of the art printing techniques to protect it against forgery: 
The stamp is the only definitive stamp ever to incorporate Braille embossed dots. These were less to help the blind, and more to act as a deterrent to the would-be counterfeiter.
Furthermore, the £10 Britannia included two pairs of elliptical holes at the top and bottom. Previously this curious feature had been confined to savings, television, national insurance and telephone stamps. After the £10 stamp it became the norm for the Machin definitives as well.
Our Price: £40
A Final Word
You can purchase any of the featured stamps above by clicking on the link and completing your order via our online store.
Alternatively, you can reserve any of the stamps if you let me know by e-mail at mike@paulfrasercollectibles.com. 
Alternatively, you can give us a call on +44(0)1534 639998. It's always a pleasure to speak to you.
Finally, if I've missed out your favourite British stamp, let me know. I would be interested to hear about your favourite British stamp. 
Thanks for taking the time to read to the end. It means a lot to me.
Kind regards
 Mike Hall
PS. If you are interested in starting a collection, or looking at building a selection of rare stamps as an investment or family heirloom, please get in touch with me. I would be delighted to help you get started and to ensure you only buy the finest quality.
PPS. If you have fine quality examples of any of the stamp issues listed above and are interested in selling, I would be interested in making you a good offer.