Stunning Stamps at Great Prices
10 favourites from my own collection
I would like to share with you today some of my favourite stamps. 
I have examples of each of these stamps in my own collection. 
When I turn the pages of my albums, these stamps stand out from all the rest. 
The indelible beauty of their design and quality of production are what attract me most to them. 
They epitomise the quality of stamps issued from countries across the British Empire. 
All 10 stamps I have selected are offered to you at a discount to catalogue values.
The total value of the collection is £11,726+.
All 10 stamps can be yours today for just £9,795, a discount of 16%.
Let's turn to the first page of the album… 
1   WILDLIFE OF NORTH BORNEO
Description: North Borneo 1897-1902 10c brown and slate-lilac 'Sun Bear', perforations 14½-15, SG104.
Condition: A fine and fresh mint example with large part original gum.
From 1894, North Borneo was responsible for issuing some of the most attractive and innovative pictorial stamps of the late 19th century.
The Stanley Gibbons catalogue value is £150.
PRICE: £130
2   A NATIONAL EMBLEM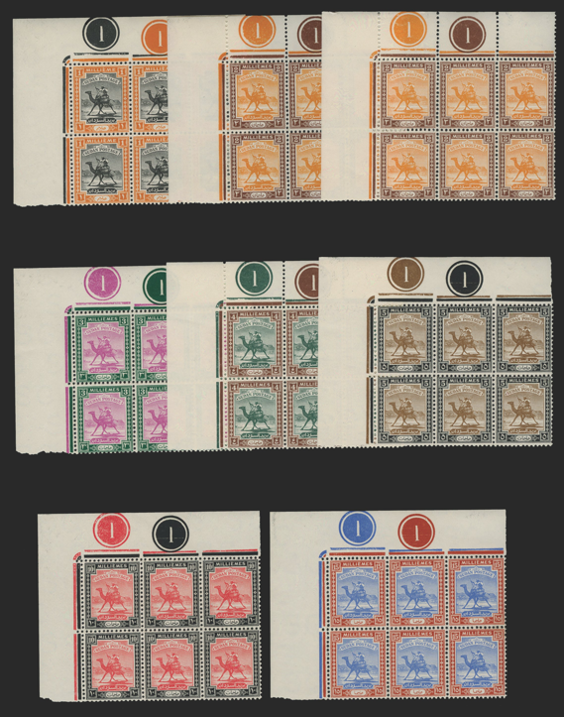 Description: Sudan 1948 New Arabic six values (1, 2, 3, 5, 10, 15m), matching upper left corner blocks of 6 (3x2) with plate numbers '1' (x2), each with R2/3 'nun' flaw, plus additional matching 2m and 4m blocks of 6 showing R2/3 without the 'nun' flaw, SG96a/102a.
Condition: A fine unmounted mint set in blocks of six with full original gum. There are a few insignificant blemishes, as to be expected, (wrinkles and a few shortish perforations), but certainly still fine quality and a most attractive and interesting group.
A splendid philatelic display piece of the famous "Camel Postman" stamps.
The "Camel Postman" stamps of Sudan are considered by the famous printers De La Rue as the "most satisfactory" in their long history of stamp production.
They were first issued in 1898 and were so successful they continued until 1931 and effectively became the country's symbolic emblem. 
Stanley Gibbons catalogue value: £236+.
PRICE: £195
3   A PLACE OF NATURAL BEAUTY
Description: New Zealand 1936-42 4d black and sepia 'Mitre Peak', SG583c, watermark 98, perforations 14 (line), block of 4.
Condition: A brilliant quality block of four of this wonderful stamp design, unmounted mint with full original gum.
A particularly scarce stamp, rarely seen as a multiple.
The Stanley Gibbons catalogue value is £260+.
PRICE: £225
4   PAYING HOMAGE TO THE KING

Description: Newfoundland 1910 (15 Aug) "Guy" set of 11 to 15c (the 6c type "A"), litho printing, perforations 12, SG95/105.
Condition: A fine mint set with part to large part original gum. Odd small faults as often seen (9c bend, 15c tiny thin and wrinkle), but, overall, an attractive set with fresh colours.
A most appealing stamp issue, with the highest value denomination in the set being reserved to pay homage to the current reign at the time, King George V. Beautiful classic designs as follows:
1c green - King James I
2c rose carmine - Arms of Colonisation Co
3c olive - John Guy
4c violet - Endeavour (Immigration Ship), 1610
5c bright blue – Cupids
6c claret - Sir Francis Bacon
8c bistre brown - View of Mosquito
9c olive green - Logging Camp, Red Indian Lake
10c purple slate - Paper Mills, Grand Falls
12c purple red brown - King Edward VII
15c black - King George V
The Stanley Gibbons catalogue value is £475.
PRICE: £350
5   AN ICONIC LANDMARK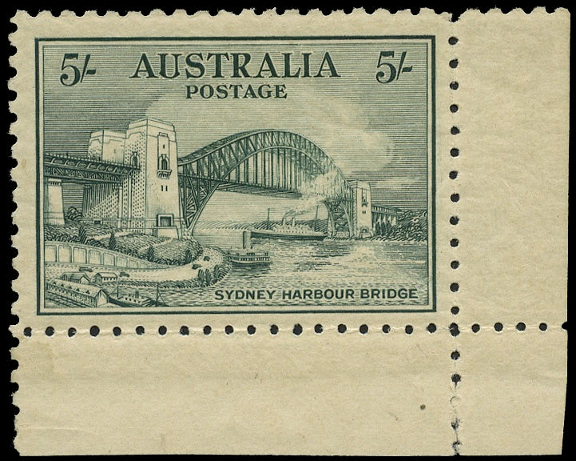 Description: Australia 1932 5s blue-green 'Sydney Harbour Bridge' lower right corner example, SG143.
Condition: A very fine unmounted mint positional example with full original gum. Some minor wrinkling, mentioned purely for accuracy as it is a most attractive example with particularly good perforations. 
The 'Sydney Harbour Bridge' stamp is considered one of Australia's most popular stamp designs.
It was issued on 14 March 1932 commemorating the opening of the iconic landmark, the Sydney Harbour Bridge.
The bridge took eight years to build using 53,000 tonnes of steel.
The design features the bridge from the South-East with a large liner, R.M.S Orford, passing beneath to provide a perspective of size.
The opening of the bridge was a momentous occasion. It is estimated that up to 1 million people gathered around the harbour to witness the grand opening.
The task of designing the stamp to commemorate this epic moment in Australian history was given to the Note Printing Branch. The bridge was only partly constructed at the time and they were expected to come up with their design based on drawings of the proposed bridge.
The stamp designers became avidly interested in monitoring the bridge's construction, ultimately enabling them to come up with a design capturing the spirit of the new bridge.
It truly is a stunning stamp and a masterpiece, with incredible complexity encompassed within the design held on a tiny piece of paper.
Stanley Gibbons catalogue value: £425.
PRICE: £395
6   THE REVERED DOUBLE HEADS OF RHODESIA
Description: Rhodesia 1910-13 2s6d sepia and deep crimson, variety 'long gash in ear' (position 2), SG156var.
Condition: A brilliant quality mint example with large part original gum. A few slightly shortish perforations, mentioned purely for accuracy, and further benefiting from lovely fresh colour.
A very scarce variety.
This is probably the most popularly collected area of stamps from Rhodesia, known affectionately as "the double heads", featuring Queen Mary and King George V. They are also widely considered in philatelic circles as being amongst the most attractive stamps ever issued in the world. Some go as far as to call them "the greatest stamp of the British Empire".
The printing varieties, such as this fine rarity, represent the spice of collecting this stamp issue and are highly sought-after. The gash in the Queen's right ear variety only occurred on position 2 of the printing plate. This gash changed progressively as the printing plate was modified or electros were taken off.
The Stanley Gibbons catalogue value is £1,275+.
PRICE: £1,100
7   THE APOSTLE OF IRELAND
Description: Ireland 1937 "St Patrick" set of 3 (2s6d emerald-green, 5 shilling maroon, 10 shilling deep blue), watermark 10, SG102/4.
Condition: Unusually well-centred upper left (5s) or lower right corner blocks of 4, fresh original gum. Two stamps in each block are unmounted mint. The 5s has a slight internal crease (affecting upper pair only).
A handsome and rare set of positional multiples.
An iconic Irish stamp issue with the design of these stamps featuring an artistic depiction of St. Patrick and the Paschal Fire.
The Stanley Gibbons catalogue value is £1,800+.
PRICE: £1,250
8   THE ARABIAN SEA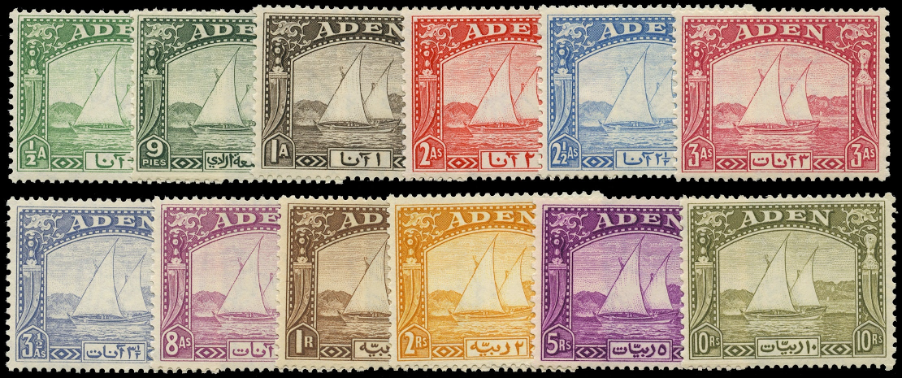 Description: Aden 1937 (1 Apr) Dhow set of twelve, Watermark Multiple Script CA sideways, perforations 13x12, SG1-10, SG11a, SG12.
Condition: A very fresh and fine unmounted mint set with full original gum. The 5r is from the rare bright aniline purple printing.
A very popular King George VI set, being the first stamps issued from the former capital of the People's Republic of South Yemen. Aden was only a British Crown Colony from 1937 to 1963.
Stanley Gibbons catalogue value: £1,605.
PRICE: £1,450
9   ELEPHANTS AND HOWDAH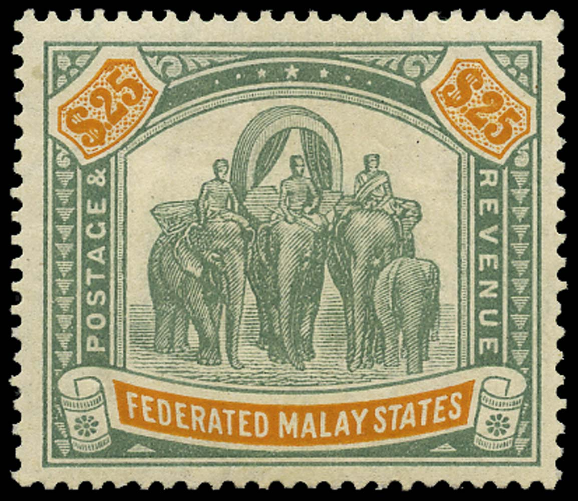 Description: Malaya - Federated Malay States 1904-22 $25 green and orange, watermark MCA, SG51.
Condition: A well-centred mint example with good colour and large part original gum. Despite a minor bend and tiny surface mark, it is still a really fine example of this key stamp, being the highest value in the set.
An imposing and classic design of British Empire philately featuring elephants with the Howdah (the ornate carriage on the elephant's back).
The stamp has strong provenance, once belonging to the collection of the famous racing driver Sir Gawaine Baillie and sold through Sotheby's Auctions on 16 November 2006 (lot 754).
The Stanley Gibbons catalogue value is £2,250.
PRICE: £1,750
10 THE KING PENGUIN
Description: Falkland Islands 1933 Centenary 5s black and yellow-orange 'King Penguin', SG136a.
Condition: A fine mint example with lovely colour and with original gum and only a trace of a mark from a previous stamp hinge. Minor gum wrinkle mentioned for accuracy, which does not detract in any way as it is a very fine example.
This is the scarce and distinctive shade from the small second printing of 1,320 stamps (which were mostly destroyed in 1934).
The stamp features the Gentoo Penguin, the most famous bird of the Falkland Islands. Gentoo Penguins nest in colonies adjacent to sandy or shingle beaches at over 80 locations around the Falkland Islands. Its adorable looks have led to its adoption as an emblem of the Islands.
Accompanied with a clear Sismondo certificate of authenticity (2009).
Stanley Gibbons catalogue value: £3,250.
PRICE: £2,950
How to place your order
These 10 classic stamps of the British Empire will bring your stamp collection to life. 
Miniature works of art to be admired and treasured.
That's how I feel about them anyway!
If you are interested in the complete collection, you will need to contact me quickly so I can reserve them all for you. 
The collection is available for the price of £9,795, a discount of 16%.
Otherwise, the collection will break up as collectors snap them up online. 
To secure the collection, email me today at mike@paulfrasercollectibles.com. 
Alternatively, call us on +44(0)1534 639998. 
I'm back off to the London 2022 Stamp Exhibition now to look for more stamps! 
Take care.
Kind regards
Mike Hall
PS. Please contact me quickly if you are interested in securing any of these stamps to avoid disappointment.