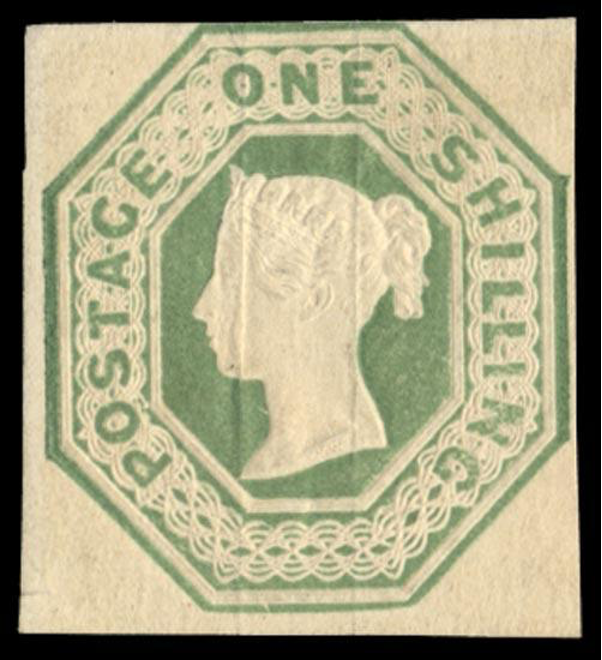 Secure an £8k immediate up-front gain
The most challenging British stamp issue to find in fine condition
The classic Queen Victorian stamp rarity I present to you today is, without a doubt, the hardest stamp to find in fine condition. 
There's good reason for that… 
You see, the printing methods used for this stamp were not only unique, they were also terrible for quality control. 
The example I have for you today, however, is better than Stanley Gibbons catalogue quality and one of the finest examples you could ever hope to find. 
Because the production technique for this stamp issue is unique to British philately, it is one of the most desirable of the Victorian era.
What's more… 
I am able to offer you an exceptional deal on the price.
The catalogue value of this stamp is currently listed at £24,000. 
The example I have for you, which is better than catalogue quality, can be yours today for just £16,000.
That's the equivalent to securing an immediate capital gain of 50%.
This was the first British stamp to bear a value above 2d.
It is also a stamp which played a major historical role as it opened up postal communication worldwide for the first time.
It brought about staggering growth in international trade as the perfect partner to the steamship and railways of that time.
It was first issued on September 11, 1847…
Technical description:
Great Britain 1847 1 shilling green "embossed" (Die WW), SG55.
The 1 shilling postage rate was used for postage to the US.
An exceptionally fine and fresh close to large four margin unused original gum example with very crisp deep embossing. Superb colour and gum, very rarely seen in such fine quality.
Accompanied with a Brandon certificate of authenticity (2005).
Price: £16,000
Why fine quality examples are so elusive 
The embossed stamps were the first stamps to follow the penny black, penny red and two penny blue.
They were an experiment at the time. 
The embossed printing process used for this issue was particularly interesting because it included three features unique to British philately: 
The method of production of the dies used for printing
The use of silk threaded paper
The method of printing (one stamp at a time)
This resulted in a ridiculously laborious printing process, with stamps being printed one at a time. 
The process required the design being raised and recessed to create a rough surface. This was considered the key element to prevent forgeries. 
The working die was then used to apply each impression individually to the printed sheet by hand. 
They were normally placed so close together by the operatives that wide clear margins were the exception rather than the rule. It was quite common for stamps to overlap.
To make matters even worse, postal workers would often cut around the octagonal design before they were sold.
In short, the process meant fine quality mint examples with clear margins could hardly exist from the printing process itself. 
1 shilling (equivalent to 12p) was a huge amount of money back then… more than two weeks' pay for most Victorians. 
So, as you would expect, most were used for postage. 
The embossed printing process was scrapped after just seven years, being replaced by new surface printed definitive stamps.
What makes the example I have so special? 
For all the reasons explained, very few mint examples survive today. 
The example I have is considered "exceptionally fine" because: 
It is cut-square with all four margins present
It benefits from very crisp deep embossing, which is the most important factor in defining a premium value example
The colour is superb and remarkably fresh (probably the most attractive I have ever seen)
It still retains its original gum, which remains clean
In short, it is an enigma of a stamp…
Surviving the production process, benefiting from such attractive embossing and keeping all four of its margins made it an immediate rarity. 
The fact it has retained its original beauty and perfection 147 years on from when it was first printed is even more remarkable. 
Normally, collectors would expect to pay a premium for such exceptional quality, yet… 
Available at 33% discount to catalogue value 
Firstly, you should be aware that Stanley Gibbons catalogue quality for the Queen Victorian embossed stamps represent cut-square examples with merely "average to fine" embossing.
The current SG catalogue value for the 1847 1 shilling green "embossed" is £24,000. 
The catalogue also states: 
"…stamps with exceptionally clear embossing are worth more".
The embossing on this example is exceptional and therefore potentially worth more than catalogue value. 
It is a "must have" rarity for any serious Queen Victorian collection.
The last example we handled of this famous stamp sold two years ago for £28,000.
You can take it home today for the price of £16,000.
The finest examples of the most famous Victorian stamps can provide a defence against inflation
It feels at the moment that the economists and financial media are concerned more about the impact of rising inflation than anything else in the world. 
I read today an article quoting gasoline prices in the US are 50% higher than a year ago. Scary stuff…
Inflation is also quoted as being the number 1 concern for retirees right now… and that is shocking when you consider the risk to their health the coronavirus poses.
History tells us that, in times of high inflation, you want to own hard assets. 
Throughout history, rare stamps have always proved their value the most in those high inflationary times.
Even in recent history, where inflation has been low, this rarity shows an impressive track record. Take a look at the table below tracking the catalogue values in 5-yearly intervals since 2001…
The 20-year growth in value demonstrated of 586% (29% pa simple annual growth) is testament to just how rare and desirable the Queen Victorian embossed stamps are.
In the past 5 years growth has been subdued somewhat, but long term historical pricing trends tell us this is likely a "blip" rather than a long term trend.
My view remains the same as it ever was… 
The rarest and finest quality examples of key Queen Victorian stamps provide the opportunity to both build a wonderful collection and provide wealth protection and growth in the long term.
You won't find another like it
You could search the internet all day…
Trawling through every stamp dealer and auctioneer in the world.
You still won't find a better quality example of this major rarity available anywhere else (for any price).
And that's because there aren't any.
This truly is a remarkable stamp rarity and the most difficult to find in fine quality, let alone "exceptional quality". 
To summarise:
A postage stamp which changed the world, being a key catalyst for huge economic international growth in trade
Produced using three unique elements to the production process never to be seen again
A remarkable example in exceptional condition for this most difficult of stamps to find in even fine condition
Available at a price giving an immediate 50% capital gain
With a strong and very long historical track record of appreciating in value
Call me immediately on +44(0)1534 639998.
Or email me today at mike@paulfrasercollectibles.com. 
Let me know as soon as possible if you want me to reserve this stamp for you.
Kind regards
Mike Hall
PS. Interesting fact: The original master die did not show the pendant curl at the back of the hair and was not used in this form on postage stamps, although it was used at the Royal Mint for coinage.