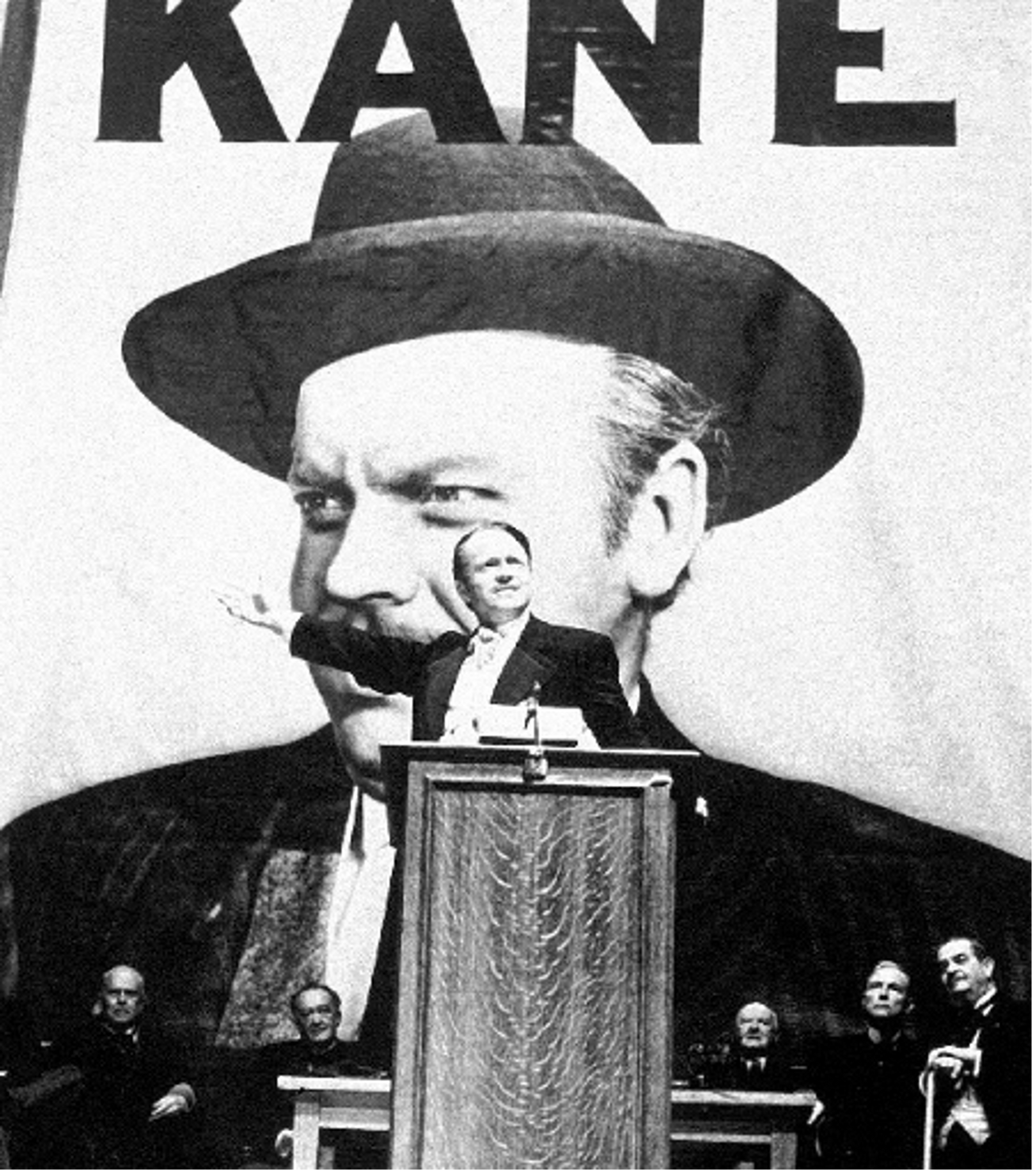 ROSEBUD! 10 RARE PIECES OF CITIZEN KANE MEMORABILIA
May 6 marks the 100th birthday of the celebrated actor, director and writer Orson Welles (1915-1985).
Welles was responsible for some of the most groundbreaking creative endevours of the 20th century, from his pioneering Broadway production of Julius Ceasar in 1937 to his historic 1938 radio broadcast of 'War of the Worlds', and of course his masterpiece: Citizen Kane.
Welles' 1941 directorial debut was years, perhaps decades ahead of its time and remains acclaimed as one of the greatest movies ever made. So to celebrate what would have been Orson's centenary year, here are 10 pieces of historic memorabilia from his iconic cinema classic.
10) Orson Welles' typewriter
(Image: Nate D. Sanders)
This Underwood Standard Portable Typewriter, built in 1926, belonged to Orson Welles throughout the 1930s and 40s and bears his signature. It's believed he used the typewriter to help create his masterpiece 'Citizen Kane', for which he won the 1941 Academy Award for best screenplay, along with the script for his infamous 'War of the Worlds' radio play which terrified audiences in 1938.
During this period he also wrote a controversial Hollywood column in the 'New York Post', a number of literary adaptations including a version of 'Around the World in 80 Days', and the scripts for the classic films 'The Magnificent Ambersons', 'The Lady From Shanghai' and 'Journey Into Fear'. The typewriter originated from an auction of Welles' estate in 1992, and sold at Nate D. Sanders in 2012 for $33,378.
9) Working copy of the screenplay
(Image: Sotheby's)
This working draft of the Citizen Kane screenplay is one of the few personal mementos Welles kept from the production of the film. The first draft of the script, entitled 'American', was produced by Herman J. Mankiewicz and sent to Welles in April 1940. This initial version was a far more literal reworking of the life of publishing magnate William Randolph Hearst, and Welles set about restructuring the screenplay to make it more focused and less libellous.
Having given his extensive notes to Mankiewicz, a second draft was then produced and it was this version that studio heads were presented with in May 1940. They suggested a change to the title and the script became 'Citizen Kane', before going through several more revisions during pre-production, and by the time the cameras rolled the screenplay was onto its seventh draft.
This copy of the second draft contains Welles' own handwritten notes as he sought to shape the film into the classic it became. As one of only two copies of the script he ever kept for himself, this rare document sold at Sotheby's in 2014 for $164,692.
8) Screen-worn 'podium' jacket
(Image: Profiles in History)
This dark blue wool suit jacket with pale grey pinstripes appears in one of Citizen Kane's most iconic moments: worn by Welles in the giant poster behind himself, as Charles Foster Kane campaigns from a podium. Welles also wears the jacket on-screen during a later scene in which his second wife rehearses for her disastrous debut as an opera singer.
Designed by Edward Stevenson, the jacket was labelled with Welles' name by the Western Costume Company in Hollywood. As one of only a handful of surviving costumes from the film, it sold at Profiles in History in 2014 for $85,000.
7) Screen-worn 'opera' tailcoat
(Image: Guernsey's)
Another of Welles' surviving screen-worn costumes appears in Following his marriage to Susan Alexander, Kane attempts to turn her into a star by building a $3 million opera house and casting her as the lead in its first production. Following her terrible debut performance, Kane stands amongst the audience and gives her a loud standing ovation which continues long after everyone else has stopped clapping.
During this famous scene Welles wore this tailcoat, made from navy-blue wool with a cut-away front, peaked lapels, and a large "K" embroidered on either cuff. Also labelled with his name by the Western Costume Company, the tailcoat sold at Guernsey's Auctions in 2008 for $27,000.
6) Original 1941 movie poster
(Image: Heritage Auctions)
This one-sheet 'Style B' Citizen Kane poster dates from the film's original release in 1941. The poster's artwork, featuring portraits of Orson Welles, Dorothy Comingore and Ruth Warrick differs from most of the film's publicity material making it a highly rare example. Described as "one of the 'holy grails' for movie poster collectors", the poster sold at Heritage Auctions in 2006 for $57,500.
5) Screen-worn 'bedroom destruction' suit
(Image: Profiles in History)
The most valuable costume from the film is this suit designed by Edward Stevenson. Welles wears it during the major scene in which his second wife Susan leaves him, and Kane violently destroys her bedroom – smashing furniture and tearing down shelves - before the sight of a snow globe stops him in his tracks, and he slowly walks out past his stunned house staff and through a hall of mirrors.
The screen-worn three-piece suit sold at Profiles in History in 2013 for $110,000. 
4) Kane's 'Welcome Home' trophy
(Image: Nate D. Sanders)
Just three truly significant props from Citizen Kane have ever appeared on the market: two Rosebud sleds and this large silver-plated trophy. It bears the inscription "Welcome Home / Mr. Kane / From / 467 Employees / of the / New York / Inquirer", and is presented to Welles by his staff upon his return from Europe.
The scene signifies the character's growing obsession with accumulating possessions, from silver cups to the employees themselves, and Kane grabs the trophy at his 'Welcome Home' party then leaves with barely a word of thanks. This pivotal scene was considered by the film's Oscar-winning cinematographer Gregg Toland to be the proudest achievement of his career.
The trophy appears once again at the end of the film, amongst Kane's endless collection of treasures at Xanadu, as the reporter and Kane's butler stand over it and talk about the meaning of Rosebud. The trophy is the antithesis of the sled, a glittering prize which means nothing compared to a childhood toy which meant everything. The screen-used trophy sold at Nate D. Sanders in for 2012 for $275,544.
3) The Rosebud sled
(Image: Christie's)
In 1982 director Steven Spielberg paid $60,500 for Rosebud, the cherished childhood snow sled of Charles Foster Kane that provides his enigmatic final word in the opening moments of Citizen Kane. It was one of three versions produced for the final scenes of the film, and was believed to be the only sled to survive production. "Rosebud will go over my typewriter to remind me that quality in movies comes first" he stated after the auction.
But 14 years later another Rosebud sled appeared, this time the hardwood version used at the beginning of the film. It belonged to retired helicopter pilot Arthur Bauer, who had owned it for over 50 years having won it in a competition in 1942. Then a 12 year old movie buff, Bauer won an RKO Pictures publicity competition and was given the choice to pick his own prize by the studio. He chose Rosebud, was presented prop sled RKO actress Bonita Granville in the office of Will Hayes, author of the Hays Code for film censorship that had stifled Welles during production of Citizen Kane.
Despite his mother's desire to paint it and use it as a plant stand, the sled remained stored away safely in Bauer's collection for decades before being rediscovered in 1996. Regarded as one of the most iconic props in cinema history, the sled sold at Christie's for $233,500.
2) Herman Mankiewicz's Academy Award
(Image: Nate D. Sanders)
Despite today being lauded as one of the finest films ever made, back in 1941 the members of the Academy didn't quite share the opinion of Citizen Kane. When it came to the 14th Annual Academy Awards, the film was nominated for nine awards and expected to clean up – but came away with just one for Best Screenplay.
According to legend, the audience booed each time a different winner was announced and many suggested William Randolph Hearst – the publishing magnate on whom Kane was based – had used his considerable influence to make sure the film was not triumphant.
The sole winners were Orson Welles and Herman J. Mankiewicz, a former newspaper reporter turned script writer who worked on classics including Horsefeathers, Duck Soup, The Wizard of Oz and Gentlemen Prefer Blondes. Some believe that Welles played no real part in writing the film's screenplay, but was listed as a screenwriter due to his contract with RKO to write, direct and star in a picture. Whatever the truth, Mankiewicz's contribution to one of cinema's greatest achievements is undoubtable.
Following the record-breaking sale of Welles' own statue at Nate D. Sanders in 2011 (see below), the Oscar presented to Mankiewicz was offered at the same auction house less than 12 months and sold for $588,455. 
1) Orson Welles' Academy Award
(Image: Nate D. Sanders)
Welles won just a single Academy Award during his remarkable career, sharing the Best Screenplay Award with Herman Mankiewicz in 1941. However, for years the Oscar statuette presented to Welles at the 14th Academy Awards was declared missing and the Academy even issued a replacement to Beatrice Welles, Orson's youngest daughter and sole heir.
The in 1994 the original reappeared in the possession of cinematographer Gary Graver, who stated Welles had given it to him years before. Graver had worked for free on some of Welles' final films, including F For Fake and The Other Side of the Wind, and claimed that after using the statue as an on-screen prop, Welles had given it to him as a gift in lieu of payment. Graver sold the Oscar to a company which then attempted to auction it, but Beatrice Welles took legal action and eventually had the statue returned to her family.
After another legal battle, this time with the Academy itself, and a cancelled auction in 2003, the original statue was eventually sold in 2011. Described as "the finest and most desirable item in Hollywood collecting", Welles' sole Oscar crossed the block at Nate D. Sanders for a record price of $861,542.