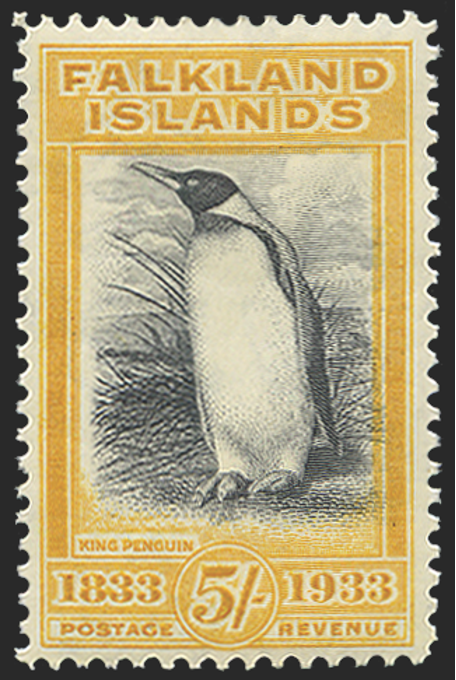 Quite simply a masterpiece in design
One of my Top 10 Favourite Stamps of all time
The first time ever I saw this stamp…
I was hooked.
It stands out proudly in any stamp album.
First off, it's larger than a normal stamp.
Secondly, the black and yellow colour combination is particularly striking.
But, most importantly, its design is a masterpiece and its protagonist is incredibly endearing.
So, it is no surprise to learn it is one of the most iconic stamps of the British Commonwealth & Empire.
Most philatelists agree it is one of the great classics of stamp design.
It is also extremely rare as very few were printed. 
It is getting more and more difficult to find one in fine quality.
It has been three years since I last managed to find this stamp in fine condition.
That one sold straight away. I didn't get to enjoy it for long.
This one, I have held onto for a couple of months, simply to cherish. 
But today, I release it into the wild…
Falkland Islands 1933 Centenary 5 shillings black and yellow-orange "King Penguin", SG136a
Where this iconic stamp comes from
This stamp was issued in 1933 by the remote Falkland Islands in the South Atlantic…
Despite being such a remote outpost in the British Commonwealth, the Falkland Islands has one of the most active and passionate collector bases.
The Falkland Islands Philatelic Study Group celebrated its 50th anniversary last year and is one of the most active philatelic societies in the world.
Historically, settlers were attracted to the islands for whaling. Cattle and sheep farming took precedence later.
The islands were first discovered on 14 August 1592 by one of the chief navigators of Queen Elizabeth I of England, Captain John Davis.
Despite being discovered by the Brits, the French were the first to settle there in 1764.
They were soon claimed back by the British and then the Spanish took them over in 1770. 
The first permanent British settlement of the islands was established in 1833.
Argentina and Chile also tried to claim the Falklands as their own. 
This led to the 10-week Falkland Islands war in 1982. The Falkland Islands remains a British overseas territory to this day.
The 1933 Centenary Commemorative Issue
In 1933 the Falkland Islands issued a stunning set of 12 bicolour pictorial stamps with quality engraved designs conveying the diversity of the islands. 
The issue was to celebrate the centenary of the permanent occupation of the islands as a British colony.
In 1933, using two colours required two runs through the printing press. This made them a more expensive stamp to produce than single colour. 
The stamps were designed based on the work of an amateur photographer on the island, George Roberts and were printed by the London firm, Bradbury Wilkinson.
The pictorial designs selected from photographs, coupled with quality engraving, created the most beautiful and immediately recognisable of all British Commonwealth sets issued in the 1930s. 
The masterpiece in the set was, without a doubt, the 5-shilling King Penguin stamp.
The stamp features the Gentoo Penguin, the most famous bird of the Falkland Islands.
Gentoo Penguins stand 3 feet tall. They nest in colonies adjacent to sandy or shingle beaches at over 80 locations around the Falkland Islands. Its adorability has led it to become an emblem of the islands.
The stamp was an immediate hit with collectors and remains so to this day.
The high value of the stamp meant relatively small numbers were printed because of limited demand for postal purposes. 
Just 110 sheets of 60 were printed, from which a total of only 5,577 were actually sold.
The rare colour shade
The King Penguin stamp I have for you today is even rarer than this…
It is from the small second printing of only 1,320 stamps. 
This second printing was in a distinctive yellow-orange shade, rather than yellow. 
Many of these were destroyed in 1934.
It is famous in philatelic circles.
Every stamp collector hopes to find one in this different shade, but few succeed.
Superb Quality
Not only is this stamp always an exciting one to find…
Most I see have condition faults and are not good enough for my clients. 
I am delighted to report this one is more than good enough…
It is the finest example of this rarer printing shade I have ever handled:
With lovely fresh and vibrant colour 
Well-centred with perfect and large perforations
With its original and fresh gum. Most examples I have seen in the past have toned gum.
Such quality in something so scarce is where the real rarity factor comes in.
High demand and low supply
Continuous demand for this great classic of stamp design, with a diminishing availability of fine quality examples, has caused its price to rise steadily over the years.
It is currently listed in the Stanley Gibbons catalogue at a value of £3,250. 
If we look back at the catalogue value 15 years ago, it stood at £1,400.
So, it shows decent and solid long term price appreciation of 132% (9% pa).
But, for me, the current price looks undemanding for such an iconic rarity. 
It is obviously a key stamp to collectors of the British Commonwealth and the surprisingly large number of collectors specialising in solely collecting stamps from the Falkland Islands.
It is, however, also the key stamp thematic collectors of birds on stamps would want to own. Birds are the most popular thematic with over 30,000 bird stamps to collect worldwide. 
The King Penguin Could be Yours Today
To summarise:
A masterpiece in stamp design
From a rare printing plate, with few surviving in this quality
A hugely popular stamp issue in a very popular area of collecting
The current Stanley Gibbons catalogue value is £3,250 for a fine quality mounted mint example.
Exceptional quality examples can sell at auction for more.
Despite this example being of exceptional quality, I am selling it at the basic Stanley Gibbons catalogue value. 
You can secure this major rarity today for the current Stanley Gibbons catalogue value of £3,250…
Call me immediately on +44(0)1534 639998.
Or email me today at mike@paulfrasercollectibles.com.
I look forward to hearing from you.
Stay safe, and thanks for reading.
Kind regards
Mike Hall
PS. It could take years before I ever have the chance again to offer this key stamp in such exceptional condition.