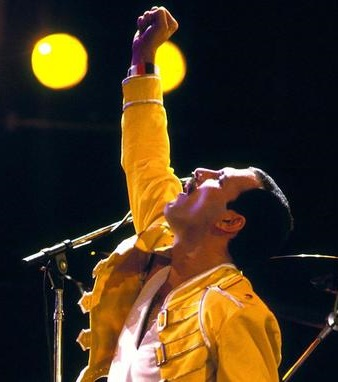 QUEEN MEMORABILIA: FIVE CLASSIC ITEMS
British band Queen are one of the biggest-selling rock bands of all time, with a string of classic albums, singles and legendary live performances throughout their history. Here are five pieces of memorabilia from their remarkable career.
Hyde Park ballet pumps
(Image: Bonhams)
In September 1976, Queen played one of their most famous gigs to a crowd of 150,000 people in London's Hyde Park – still a record attendance figure almost 40 years later.
The concert followed a remarkable year for the band, during which they'd found international success with the albums Sheer Heart Attack and A Night at the Opera, as well as releasing their masterpiece Bohemian Rhapsody. With help from Richard Branson, they organized the free concert as a thankyou to their British fans. Given a strict time-slot of just an hour, the gig over-ran by 20 minutes and local police threatened Mercury with arrest if he went back on stage for an encore.
This pair of white ballet pumps was worn on stage by Mercury during the concert, as part of a white outfit chosen so he would be seen by fans at the back of the crowd. They sold at Bonhams in 2012 for £4,000.
Brian May guitar
(Image: Heritage Auctions)
This Guild BHM-1 Solid Body Electric Guitar was custom built for Brian May in 1984, and finished in the rare custom colour of Sea Foam Green. Played and later signed by the legendary Queen guitarist, this rare signature model guitar sold at heritage Auctions in 2015 for $13,750
Freddie Mercury's bra
(Image: Bonhams)
In April 1984 Queen released I Want to Break Free, the first single from their 11th studio album The Works. The single was accompanied by one of the band's most famous music videos, in which all four members dressed up in drag to parody the famous British soap opera Coronation Street.
Mercury played a glamorous housewife, longing to break free of her everyday life in a red brick terraced house. It also featured Brian May in hair rollers and bunny slippers, John Deacon as a complaining granny, and Roger Taylor as a bored schoolgirl. 
The video was a hit in the UK, and the single reached #3 in the British charts. However, in the US audiences didn't get the joke and it was banned by MTV for promoting transvestism and perceived homosexuality. The single peaked at a lowly 45, despite the band's popularity, and the video remained banned until 1991.
This black bra, worn by Mercury during the video, sold at Bonhams in 2014 for £2,375.
Freddie Mercury's harlequin costume
(Image: Bonhams)
Freddie Mercury became known as one of rock's most flamboyant front men, a natural showman with a series of incredible stage costumes. During the 1970s he was inspired by the costumes worn by legendary ballet dancer Nijinsky, particularly those from the 1910 production of Carnaval which featured designs based on traditional commedia dell'arte characters by Léon Bakst.
In a 1977 interview with the NME, Mercury spoke about these outfits: "I'm into this ballet thing...and trying to put across our music in a more artistic manner than before. (It) may not be quite right for rock 'n' roll...(but) if you don't try these bloody things out, you'll never know."
Mercury wore this stretch unitard with a traditional black and white Harlequin design on stage during the late 1970s. It was originally obtained by a collector from the Queen Fan Club, and sold at Bonhams in 2012 for £22,500.
Freddie Mercury's stage costume
(Image: Bonhams)
Here's one of Freddie Mercury's most recognizable stage costumes, worn during the mid-1980s. Having seen their career revitalized by a show-stealing performance at Live-Aid, named by a 2005 industry poll as the greatest rock performance of all time, the band recorded their 12th studio album 'A Kind of Magic' in 1986.
They then set out on a 26-date European tour, the last ever tour with Mercury and John Deacon, playing to around 1 million people. The show at Knebworth on August 9 was the last time Mercury performed live, and the band retired from live shows in 1987 following his diagnosis with AIDS.
This outfit, comprising a bright yellow military jacket and white trousers with red and gold piping, was worn on stage by Mercury during the tour and also appeared in the video for the 1989 single release, 'The Miracle'. It sold at Bonhams in 2004 for £26,290.