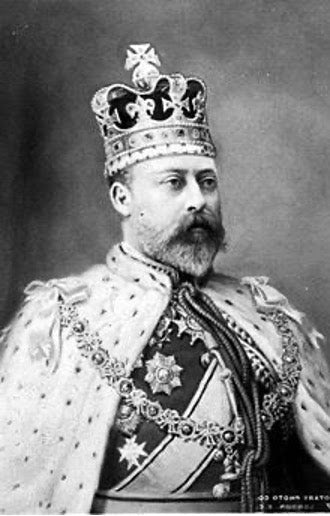 Probably the best quality example in the world
The One-Day Wonder Stamp
It is the dream of every serious collector…
Being in the right place at the right time.
Finding and securing the best quality example in the world of an iconic rare stamp.
These are rare moments in the life of a collector. The most precious of moments.
It defines the zest for serious collecting. 
I'm offering you one of those precious moments today.
You are in the right place at the right time.
And, the market for this area of collecting is showing real signs of growth at the moment.
That area is stamps from the reign of King Edward VII…

The reign of King Edward VII
After a lengthy reign of 64 years, Queen Victoria died on January 22, 1901. Her reign oversaw the birth of the prepaid postal system, which led to a worldwide communications revolution.
The Prince of Wales, Albert Edward was already 60 years old on the death of his Mother.
Edward had always suffered from poor health, even as a young prince.
He was coronated as King Edward VII on August 2, 1902 and died on May 6, 1910.
Edward was a popular King. He was adored by the public and the first King to connect with the "common" people. He was renowned for his zest for pleasure, but also had a strong sense of duty.
He was also affectionately known as the "Uncle of Europe" because of his many trips abroad during his reign.
Because he was King for such a short period, many of the stamps issued during his reign had only one print run.
This makes them much scarcer and often more valuable.
Stamps issued in his reign have become one of the most popular areas of philatelic study. 
A first-class stamp
The King Edward VII stamp I have for you today is one of the most important rarities issued during his short reign…
 Great Britain 1911 6d bright magenta (chalk surfaced paper), SG296
This single beautiful design was one of a series of definitive stamps encapsulating the entire stamp-issuing output of his reign.
This particular stamp was issued posthumously on the October 31, 1911.
The next day, it was immediately withdrawn from use. It was in circulation for just one day.
It was immediately replaced with 6d stamps issued on ordinary paper. 
You see, there was a problem with this stamp…
There is no denying the bright magenta colour chosen for the six pence stamp was striking.
Unfortunately, it did not agree with the paper chosen by the printers at Somerset House.
They wanted to use chalk surfaced paper, which was believed to improve the quality of the impression and to make it more difficult for postmarks to be removed.
When printed, it became clear that the ink used reacted with the chalky surface of the paper and caused a variation in the colour.
What's even more interesting is that you can see the paper itself actually fluorescent bright lemon under a long wave ultraviolet light.
After being withdrawn, most copies were destroyed.
So today, it is now an iconic stamp, rarely ever seeing the light of day.
Very few opportunities arise where you could get your hands on one.
When found, it is rarely seen in fine quality.
What I have, is much more than just "fine"…
A supreme example of this key King Edward VII rarity
When I purchased this stamp, it made me a little giddy with excitement.
It is not often I get the chance to secure the best quality example I have ever seen of such a famous stamp rarity.
Let me explain why the quality of this example made me so giddy… 
The stunning bright magenta colour is intense (no rubbing, no fading) – beautiful
It is well-centred with perfect perforations (no bends, no toning) – it has been well cared for and preserved 
It has all of its original gum still intact with no discolouring - unmounted mint is the holy grail rarely found, which takes it to the top condition grade
It is a bottom right hand corner marginal example – making it much rarer and even more desirable
Without a doubt, it is the best quality example I have ever seen.
It is also the only example I have witnessed coming from the bottom right of the printing sheet with its full margin in place.
It is probably the best quality example in existence.
Clear provenance
This special example previously belonged to the award-winning Joseph Silkin Collection of Great Britain.
It was last sold on June 14-16, 1971 through the prestigious auctioneer H.R. Harmer of London. 
So, it has been 50 years since there was last a chance to buy this perfect example.
Its provenance is further supported by an independent and clear certificate of authenticity from the Royal Philatelic Society…
An attractive long-term investment
This rarity sits alongside the famous 'Tyrian Plum' stamp in terms of its status at the top tier of King Edward VII rarities.
The Tyrian Plum has sold in the past for over £100,000. 
The current catalogue value of the 6d bright magenta is, however, only £17,500.
At the turn of the century, its catalogue value was £3,250.
It has, therefore, recorded price appreciation of 438% in the past 20 years.
To put into investment context, that's the equivalent to having your money in a savings account paying out annual interest of 9% per annum.
This is quite remarkable when you think what the economy has been through in this time including the collapse of financial institutions in 2008, terrorism and now a global pandemic.
Also, the market is looking particularly strong at the moment with a number of very active King Edward VII stamp collectors competing against each other at auction leading to higher price realisations.
The best for less 
A fine quality example of the 6d bright magenta (but not a bottom right hand marginal example) sold at an auction in the US for $24,000.
The current Stanley Gibbons catalogue value is £17,500 for a fine quality example.
Despite these valuations, I am not asking for a higher price for what is probably the best quality example in the world.
You can secure this major rarity today for the current Stanley Gibbons catalogue value of £17,500…
Probably your one and only chance 
I was born in 1970.
A year later this stamp last appeared on the market for sale.
I was in no position to buy it then!
I had to wait 50 years to get my chance.
It is now your chance to take over the proud mantle of ownership. 
It will likely be your only chance.BUY NOW
To summarise:
One of the most important stamp rarities from the popular reign of King Edward VII
The finest quality example in the world, to the best of my knowledge
At a fair price
Call me immediately on +44(0)1534 639998.
Or email me today at mike@paulfrasercollectibles.com.
I look forward to hearing from you. 
Stay safe, and thanks for reading.
Kind regards
Mike Hall
PS. This year marks the 110th anniversary of this ill-fated stamp's issue. This example has enjoyed the dedication to its preservation from past collectors, for which I am very grateful.BUY NOW