Hi fellow collector
Spring is in the air. The sun is out, the flowers are budding and the bees are buzzing.
It is the perfect time of year to look at fresh rare stamps to add to your collection.
The kind of rarities which are budding in value.
They have yet to show their true colours.
Buying now is the right time…
Just before they blossom.
Buy like the master of investing
You have probably heard of Benjamin Graham…
The father of value investing.
The teacher of the greatest investor of all time, Warren Buffett.
His basic teachings are simple…
Buy high quality assets when they are undervalued and where there is expectation of future long term growth.
This investing strategy can be applied to the world of rare stamps…
To do this you need to spend considerable time to unearth those undervalued rarities.
I have done all that hard work for you.
The rare stamps I have for you today all look outrageously under-valued.
A Collection of 12 Under-valued Rarities
I have unearthed a collection of rarities for you based on the following criteria:
  1. They are of high quality
They are very rare with few surviving examples
The current SG catalogue values are extremely modest
There is evidence they are budding in value now and beginning to blossom
It is quite remarkable that you can still today find certain very rare stamps where prices remain remarkably modest.
These stamps fly under the radar and are available at a price way below their rarity factor.
The collection covers countries from the British Empire across the globe.
The total collection is offered at a 12% discount to SG catalogue value.
To coin a well-used phrase from Benjamin Graham, this gives you an added margin of safety.
You will see that some stamps are priced at catalogue value, whereas others I offer at various discounts to catalogue value. It is not always possible for me to buy at a price enabling a discount.
Unless someone e-mails me quickly to secure the entire collection, you will be able to purchase any of these under-valued rarities individually.
Let us proceed to the stamps…
Ridiculously undervalued quintessential QEII stamp error

Great Britain 1969 5d British Ships error, SG778ya.
A very fine unmounted mint example with full original gum. Error with colour red (Inscription) and phosphor omitted.
Offered with an example of the normal stamp for comparison.
The error of missing colour results in the loss of the inscription on the ship.
A scarce and very reasonably priced QEII stamp error. Pierron records only circa 288 mint examples.
PRICE: £140
King George VI at his finest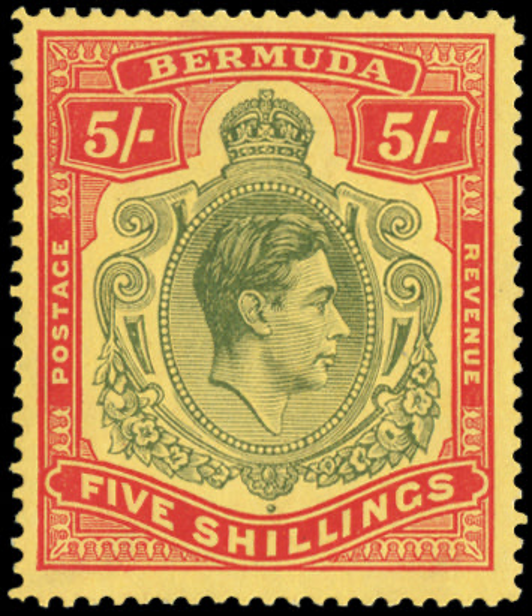 Bermuda 1938-53 5s dull yellow-green and red/yellow, perforations 14 line, SG118b.
A fine unmounted mint example with full original gum and lovely fresh colour. Typical slightly yellowish gum as normally seen for this issue and a very fine example of this scarce printing variety.
Clearly showing HPF 49a (ii) printing variety 'Scratch through scroll'.
Only a maximum of 200 possible examples with this printing variety.
Stanley Gibbons catalogue value: £275.
PRICE: £250
Under £100… really?
Seychelles 1902 45c on 2r25 bright mauve and green, type 5 surcharge, variety 'Narrow 5 in 45' from R4/1 of the setting, SG45a.
A fine mint example with original gum. Toned gum, as often seen, but of good appearance in all other respects.
A particularly rare variety as there are only a maximum of 200 examples possible.
 The Stanley Gibbons catalogue value is £180.
PRICE: £95
Exceptional quality example of a curious printing variety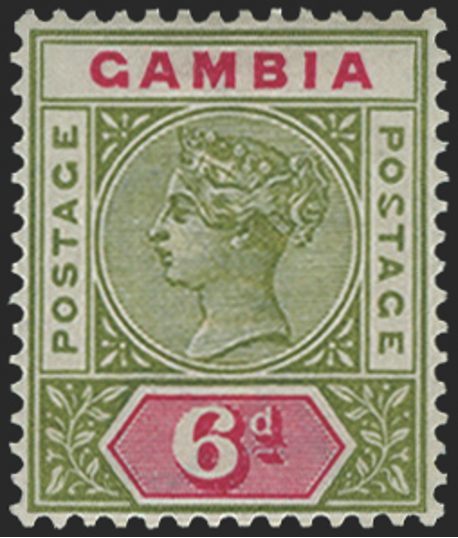 Gambia 1898-1902 6d olive-green and carmine, variety Malformed "S", from R7/3, left pane, SG43a.
A brilliant quality mint example with large part original gum. Post office fresh and without a doubt one of the finest examples in existence.
 A very rare variety as only a maximum of 125 possible examples.
 PRICE: £600
A rare pair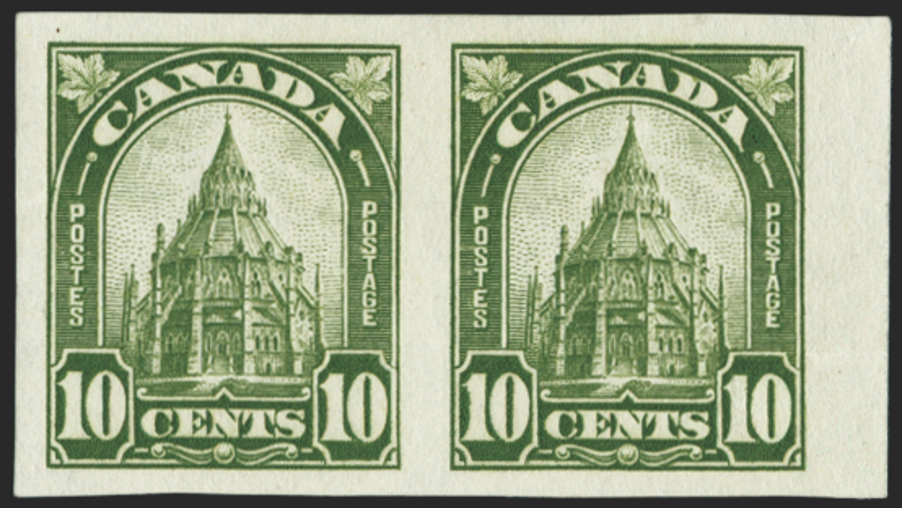 Canada 1930-31 10c olive-green 'Parliamentary Library, Ottawa', right marginal IMPERFORATE horizontal pair, SG299a.
Fresh mint example with large part original gum. Minor gum wrinkle mentioned for accuracy, which does not detract in any way from its supreme quality.
Exceedingly rare with only 50 pairs believed to have existed, and fewer surviving examples.
The Stanley Gibbons catalogue value is £1,800.
PRICE: £1,500
First time I have seen this rare stamp error in over 20 years!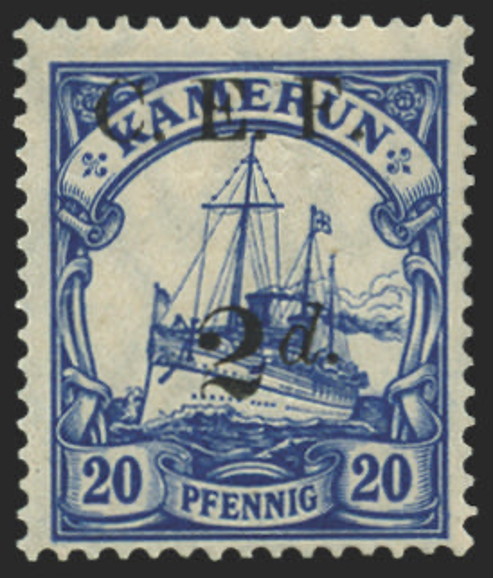 Cameroon 1915 2d on 20pf ultramarine, SURCHARGE DOUBLE, ONE ALBINO, with the albino impression 2 mm below the inked impression and very clear, SGB4a.
A brilliant quality mint example with original gum.
A very rare error as only one half sheet of 50 originally existed with much fewer examples surviving. The first time we have handled this interesting 'Cameroon Expeditionary Force' issue error.
PRICE: £400
The roaring tiger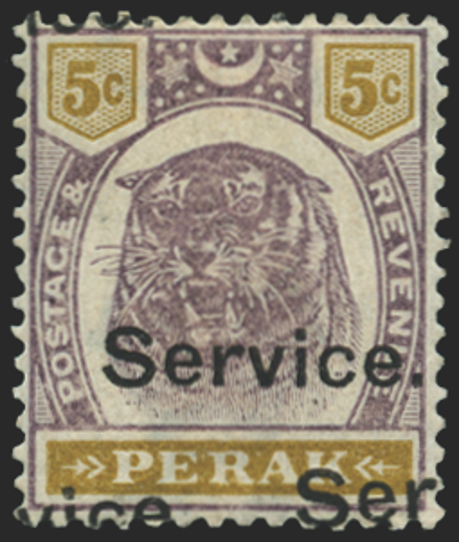 Malaysia - Perak 1897 5c dull purple and olive-yellow Official, type O2 'Service. 'overprint, error overprint double, SGO11a.
A fine mint example with original gum. Some minor trace of rubbing and offsetting on reverse as usually found and still fine and attractive with fresh colours.
A spectacular and rare stamp with the double overprint error.
Only around 40 examples are believed to have originally existed, most of which were used.
The Stanley Gibbons catalogue value is £700.
This fine stamp depicting the "roaring tiger" provides a perfect example of why stamps from the Malaya States are one of the most popular areas of collecting in the British Commonwealth. The designs were unique to this area of philately, with high quality production.
PRICE: £550
A rare Queen Victorian overprint error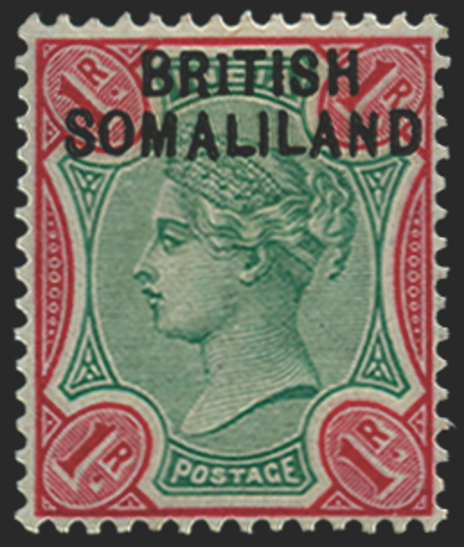 Somaliland Protectorate 1903 1r green and aniline carmine, overprint at top, variety '1' for first 'I' in 'BRITISH' (R6/4, upper pane), SG10a.
A fine and fresh mint example with original gum. Minor gum wrinkle, mentioned only for accuracy as remains a high quality example.
A very rare Queen Victoria variety with a maximum of 35 examples possible.
The Stanley Gibbons catalogue value is £500.
PRICE: £395
Major rarity unissued for postage
Basutoland 1961-63 ½c grey-black and sepia, lower marginal IMPERFORATE vertical pair WITH FRAME INVERTED AND VIGNETTE MISPLACED UPWARDS RESULTING IN ALMOST COMPLETE OMISSION ON BOTTOM STAMP, SG69a var.
A fine mint pair with large part original gum. Usual minor wrinkles, which do not detract from overall quality.
A rarity as only one sheet (= 30 pairs) are believed to have existed with just the bottom row (6 pairs) showing vignette omitted. It is a stamp of unissued for postage status and a spectacular rarity.
Note, the frame is inverted in relation to the watermark and vignette.
Basutoland, located in South Eastern Africa, gained independence in 1966 and is now called the Kingdom of Lesotho.
PRICE: £950
Unique in private hands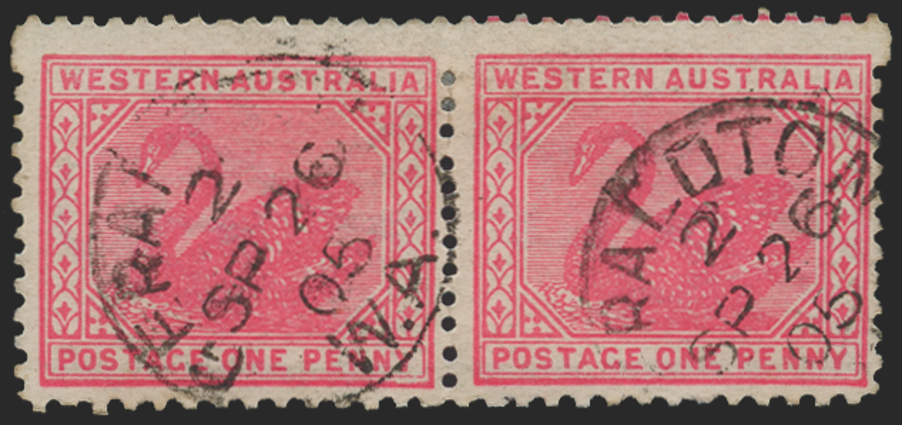 Western Australia 1902-11 1d carmine-rose, watermark V over crown sideways (type 33), horizontal pair, perforations compound of 12½x12 (comb) and 11 line (at foot), SG135.
A fine used example with large part strikes of GERALDTON circular date stamps, dated 'SP 26 05'.
An exceptional rarity as a multiple, with not even single examples being recorded in private hands by Brusden White Specialist Australia catalogue in 2004.
Needless to say, the current Stanley Gibbons catalogue value of £1,000 for a single used example appears ridiculously under-valued.
The iconic Swan issue of Western Australia was used as it was the emblem of the Colony and a reminder of when it was known as the Swan River Settlement.
Accompanied with a British Philatelic Association certificate of authenticity (2007).
PRICE: £1,500
Unique and from the first printed sheet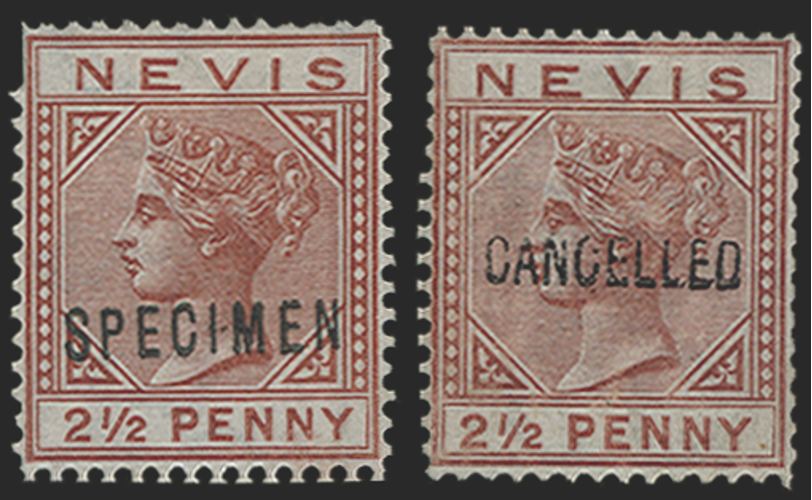 Nevis 1879-80 2½d red-brown, watermark CC, two examples, respectively hand stamped 'SPECIMEN' (type D11) and 'CANCELLED' (type D7), SG24.
The 'SPECIMEN' example is a fine and fresh mint example with large part original gum. The 'CANCELLED' example is without gum, although fine and fresh. Some slight perforation faults.
Minor condition issues are fairly academic as it is such an important and desirable pair. The 'SPECIMEN' example is unique and the 'CANCELLED' example is one of only two recorded examples.
Provenance: Ex De La Rue archives.
PRICE: £1,100
3d or 1½d, that is the question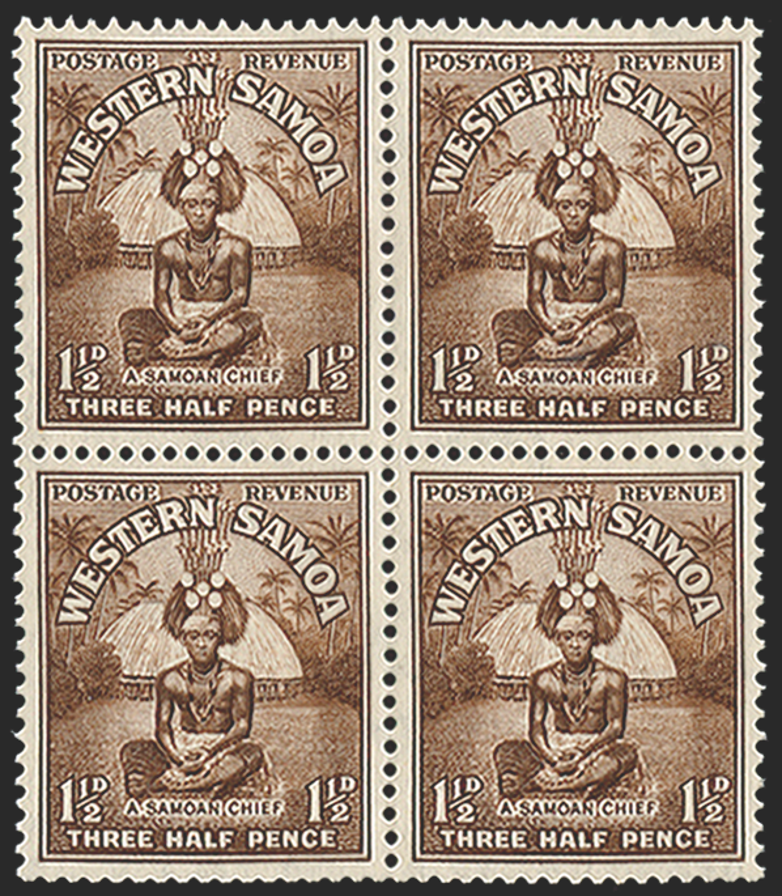 Samoa 1940 1½d brown "Samoan Chief", WITHOUT SURCHARGE, block of 4, SG199var.
A fine and fresh mint block without gum. Fractionally trimmed perforations at foot but very scarce.
The stamp was never issued in this form as all were issued with a 3d surcharge overprint. The existence of this variety was unknown until the dispersal of the Bradbury Wilkinson archive and no examples have ever been recorded outside of archival examples.
An attractive and interesting rarity.
PRICE: £800
Long term growth in value
When you buy fine quality examples of exceptionally rare stamps, you have got the first bit right.
When you do that only when those stamps are ridiculously cheap, you have the perfect combination.
These are the stamps most likely to beat the market average in terms of long term growth in value.
When their true value is ultimately appreciated, prices can rise considerably.
The entire collection can be yours today for a price of just £8,280.
The SG catalogue value is £9,445, giving a 12% discount.
To secure this collection at this price, please e-mail me at mike@justcollecting.com.
Alternatively call us today on +44(0)1534 639998.
Buying stamps that are very difficult to find but not expensive is the equivalent to value investing in stamps.
What's more, what's rare today will be even rarer in the future.
Kind regards 
Mike Hall
PS. The Sudan Camel Postman stamp I offered last week sold in less than an hour. These undervalued rarities are so attractively priced, you'll need to act fast if you want to get your hands on them!