One of the rarest abnormal stamps uncovered
One of the rarest abnormal stamps uncovered
When you are the only sane person, you look like the only insane person. 
With all that is going on in the world right now, some may say I'm insane buying as many rare stamps as I can get my hands on. 
I think I am completely sane.
I believe the reasons to allocate capital to rare collectibles are more relevant today than they have been since the financial collapse of 2008.
At that time, investors in rare collectibles successfully protected and grew their wealth in a time when most lost their shirts.
I see a similar situation today, albeit for entirely different reasons. 
The 5 golden rules of buying rare stamps never change. They must be… 
extremely rare
of premium quality
very desirable to collectors
with clear provenance and authenticity
purchased at a fair price (below market value if possible)
What I have for you today is completely abnormal…
I've found the proverbial needle in the haystack
It is a major British stamp rarity, one of only 24 possible examples.
Not only that, many of those examples are tied up in institutional collections, which are unlikely to ever see the light of day. 
It is what is known as a Queen Victorian abnormal stamp. 
Being abnormal, they hardly ever appear for sale.
And when they do, even poor quality examples are snapped up by desperate collectors taking what could be the one and only chance to fill that elusive gap in their collection.
So, when one of the finest examples you could ever hope to own comes up, it is not an opportunity to pass over. 
This stamp was registered on 11th September, 1876. It became abnormal because it was never put to press…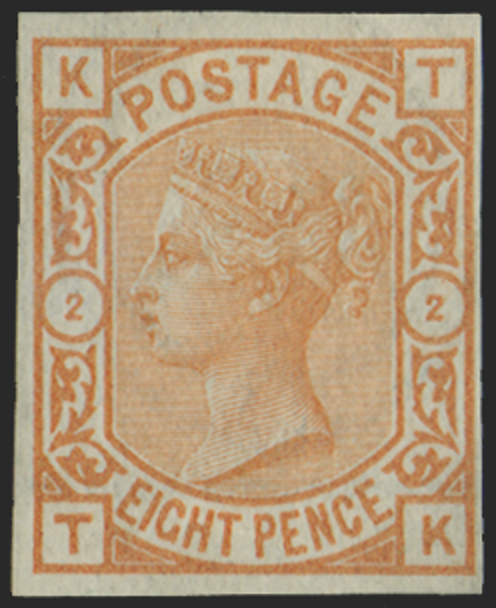 Technical description: 
Great Britain 1876 8d orange Plate 2, SG156var.
Very fine mint example, with original gum, imperforate imprimatur of this rare "abnormal" plate lettered TK that was never issued due to changes in postal rates.
Accompanied with a 2007 British Philatelic Association (BPA) certificate of authenticity. 
The Stanley Gibbons Great Britain Queen Victoria Specialised Catalogue, last published in 2011, lists a value of £11,000. 
Price: £7,500
The abnormals 
The term "the abnormals" was coined many years ago and is used to denote stamps not issued in the normal course of events. 
It is, perhaps, not an ideal term but it has stuck. 
The abnormals only occur in the stamps printed by De La Rue & Co. during the second part of the 19th century. 
These stamps were rare from the outset because they were printed from certain plates which were never released to the public.
The abnormals shouldn't really exist.
They only exist because of the practice at the time when a printing plate was finished and ready for press…
They would print a sheet for approval to be marked as "imprimatur", literally meaning "let it be printed". 
These sheets were not perforated and the first one was the imprimatur sheet. This was kept in the archives, at that time at Somerset House.
In some occasions, no general issue was made after the imprimatur sheet from the plate had been registered. 
This could happen because of a decision to change the colour or a change in the postal rate. 
All the abnormals of the Queen Victorian era are considered great rarities. 
The abnormal 8d Orange of 1876 
The 1876 8d orange stamp I have is special because it comes from the second printing plate. 
Two plates were produced, but plate 2 was never put to press.
The original colour was to be purple-brown, but later changed to orange and issued from plate 1 only. 
At the time, 8d was the standard rate of postage to India (via Marseilles and Australia (via Brindisi). 
Due to changes in postal rates plate 2 was never issued for postage purposes. 
The 8d value was withdrawn and was not re-introduced until 1913. 
Only 24 examples have been removed from the imprimatur sheet.
Much fewer are available on the open market as most are held within institutional collections. 
Defining "Fine"
Not only is this stamp exceedingly rare, it is also difficult to find one in good condition.
My example is in very fine mint condition with its original gum. 
What is particularly pleasing is that it benefits from four clear margins. Many examples I have seen have thin margins or only three margins.
What is most striking, which you can only appreciate from holding the stamp in your hand, (with white gloves on, of course), is the startling freshness of the orange colour.
As an imprimatur it represents an example from the first edition of this stamp issue.
Only, in this case, the first edition was the only edition!
Authenticity guaranteed
Naturally, this stamp comes with our certificate providing you with a lifetime moneyback guarantee of authenticity. But you don't really need that…
It also comes with an independent British Philatelic Association (BPA) certificate of authenticity dated 2007. 
Provenance is clear-cut being one of the 24 recorded examples removed from the first printing sheet.
Pay less for more
I would always rather pay more for the finest quality rather than less for a poorer quality example.
That said, the aim is always to provide you the best quality at a price below fair value. This gives you a margin of safety in your purchase.
In this case, I have achieved this goal for you.
The Stanley Gibbons Great Britain Queen Victoria Specialised Catalogue value for this major Victorian rarity is £11,000.
That catalogue was last published over 10 years ago in 2011.
You can own this abnormal rarity today for the price of £7,500. That's a discount of 32% on the last published catalogue value.
Price History
It is always worth looking at historic price movements to assess the investment merits of a rare stamp. Obviously, the past is no guarantee of the future.
That said, I would rather have something trustworthy in the past to rely upon for the future.
Stanley Gibbons only sporadically publish their specialised catalogues, which include the rarest of Victorian stamps.
The history of pricing in their catalogues of the 1876 8d orange plate 2 imprimatur makes for interesting reading…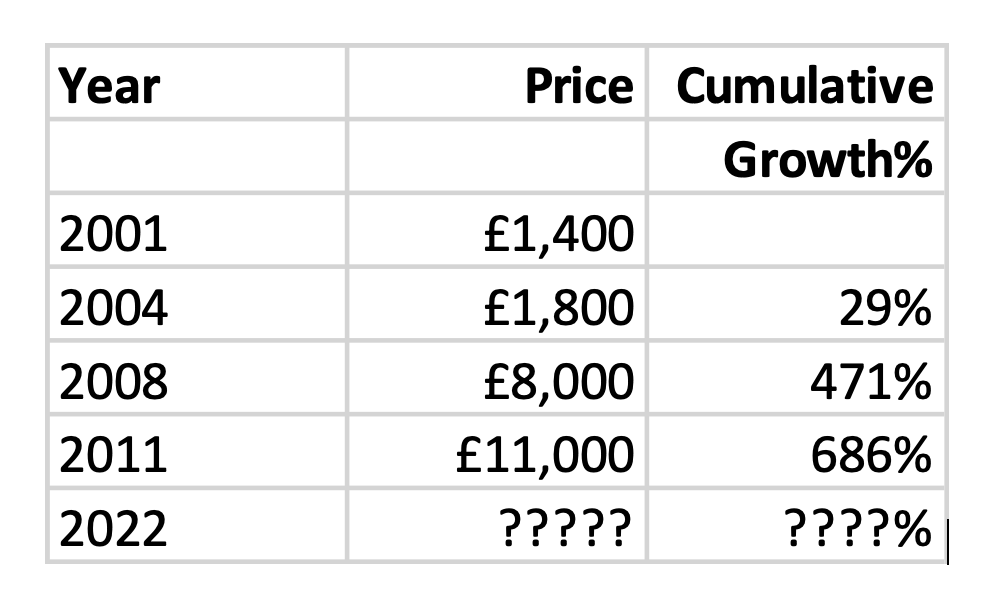 The growth in value of 686% in the ten-year period from 2001 to 2011 is impressive by any investment performance standard.
This growth in value is because such Queen Victorian abnormal stamps are exceptionally rare. 
More importantly, there is a significant base of specialist collectors desperately looking to purchase them.
This is one of the rarest of the abnormals and it is therefore natural to see prices rise each time one finds its way to an auction where collectors can compete against each other to secure it. 
It is very encouraging to see the growth in value between 2008 and 2011 (38% in the three-year period).
Considering what was happening in the worldwide economy at that time, this serves as a clear example of the benefits of rare stamps in difficult times as a defensive wealth protection measure. 
The big question is what the price will be in the next catalogue scheduled for publication later this year? 
Buy today or watch it sell for more at auction 
For obvious reasons, I expect to see this major rarity sell quickly.
If, somehow, the abnormal times we are in right now lead to abnormal behaviour meaning it is not immediately re-homed, I'm not worried.
My intention would be to put it through auction. I am all but certain I would get my money back at auction…
And there is a strong chance I will make a decent return on my short term investment. 
To recap: 
The perfect acquisition in such abnormal times, an abnormal stamp
The chance to own one of only 24 examples taken from the very first printing plate, which turned out to be the only printing plate
A stunning quality Queen Victorian surface printed stamp
With cast-iron authenticity and provenance
Available to purchase today at a 32% discount to catalogue value
With a very strong track record of historic growth, even in difficult economic times
Call me immediately on +44(0)1534 639998. 
Or email me today at mike@paulfrasercollectibles.com.
You will need to let me know as soon as possible if you want me to reserve this stamp for you. 
Keep calm and carry on collecting stamps.
Kind regards
Mike Hall