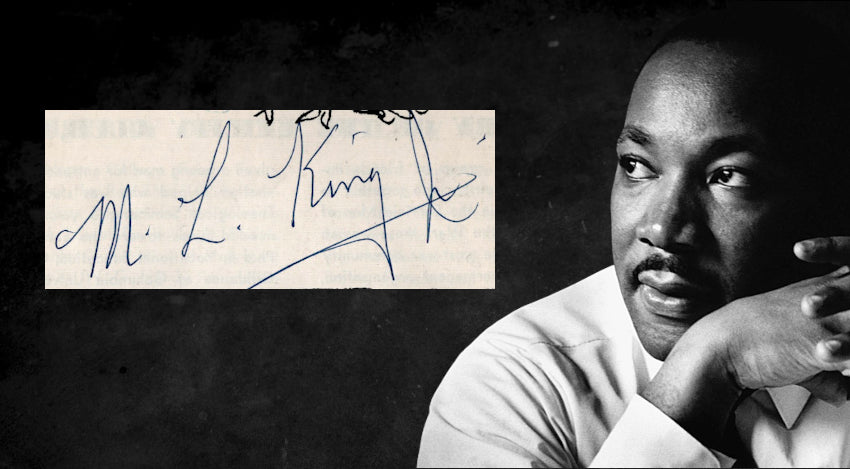 On this day: A visionary is born
Hi fellow collector
On this day in 1929, a child was born in Atlanta, Georgia.
Surrounded by segregation, poverty and inequality.
But raised to believe that love conquers hate.
That freedom from chains is always worth fighting for.
He devoted his life to that American Dream. He led a movement that changed a nation.
Today he is remembered for his bravery, his vision and his sacrifice.
Martin Luther King was one of the defining voices of the 20th century.
And he's one of the most significant autographs you'll ever own.
Martin Luther King's signature is one of the most significant autographs you'll ever own.
King's words have inspired millions around the world to stand peacefully against injustice.
His name belongs next to Nelson Mandela and Gandhi.
That's why his autograph has been described as "the penultimate piece for collectors and institutions".
But examples rarely appear for sale.
When a logbook he signed during his incarceration in Birmingham Jail went up for auction in February 2021, it sparked a bidding war between 28 collectors.
And it eventually sold for a world record $130,000. 13 times its estimate.
So your opportunities to acquire King's signature are few and far between.
But I currently have one example available. Of the highest quality.
And if you act fast, it could be yours.
King's autographs are increasingly hard to find on the open market. This is the only example I have available.
This is a highly rare Martin Luther King signed programme.
Signed in July 1957, during one of the most important periods of his life.
• Its condition is superb.
• King's autograph is exceptional.
• And the item has a deep significance to the Civil Rights Movement.
This is more than a cut signature in a display. It's a real object from history.
Handled personally by King and carefully preserved for 65 years.
Martin Luther King signed this programme during an awards dinner in New York in July 1957.
The programme was printed by the Utility Club, an organisation serving African American communities in New York.
It measures 8.5" by 10.5", and features just mild handling wear and a minor fold to the front cover.
King signs clearly and crisply in blue ball-point pen, with no personal dedication.
It's an excellent example of his autograph, placed perfectly on the page.
This is a superb example of King's autograph, crisply signed and perfectly placed.
King signed this programme on June 15, 1957, during an awards dinner at the Waldorf-Astoria hotel.
He was honoured as the Utility Club's 'Man of the Year', for his work in leading the Montgomery bus boycott - one of the landmarks of the Civil Rights Movement.
This autograph captures the moment in which King became a force in American politics.
Signed just one month after his first national speech, at the Prayer Pilgrimage for Freedom demonstration in Washington D.C.
It's a remarkable piece of paper, with the weight of history behind it.
This stunning Martin Luther King signed programme would be a major addition to your collection. Few men in U.S history are as revered as Martin Luther King.
His iconic "I Have A Dream" speech will live forever.
And his words will always inspire hope in the shadow of hate.
This is a rare, beautifully signed autograph from one of the major figures of the 20th century.
It's an item of real distinction. A major addition to your collection.
And your connection to a truly great man.
You can own it today for £12,000 ($16,450).
I want you to have total peace of mind when you buy.
That's why this item comes with a Lifetime Moneyback Guarantee and my own personal Certificate of Authenticity.
And delivery is completely free and fully insured.
But please remember:
I have just this single Martin Luther King signature available.
And as America prepares to celebrate his life on Monday, his legacy will be fresh in the minds of collectors. So I suggest you act swiftly.
If you want to own this superb piece, email me now at info@justcollecting.com.
Or call me on +44 (0) 1534 639 998.
I look forward to hearing from you.
Thanks for reading,
Paul Fraser,
Chairman, Just Collecting