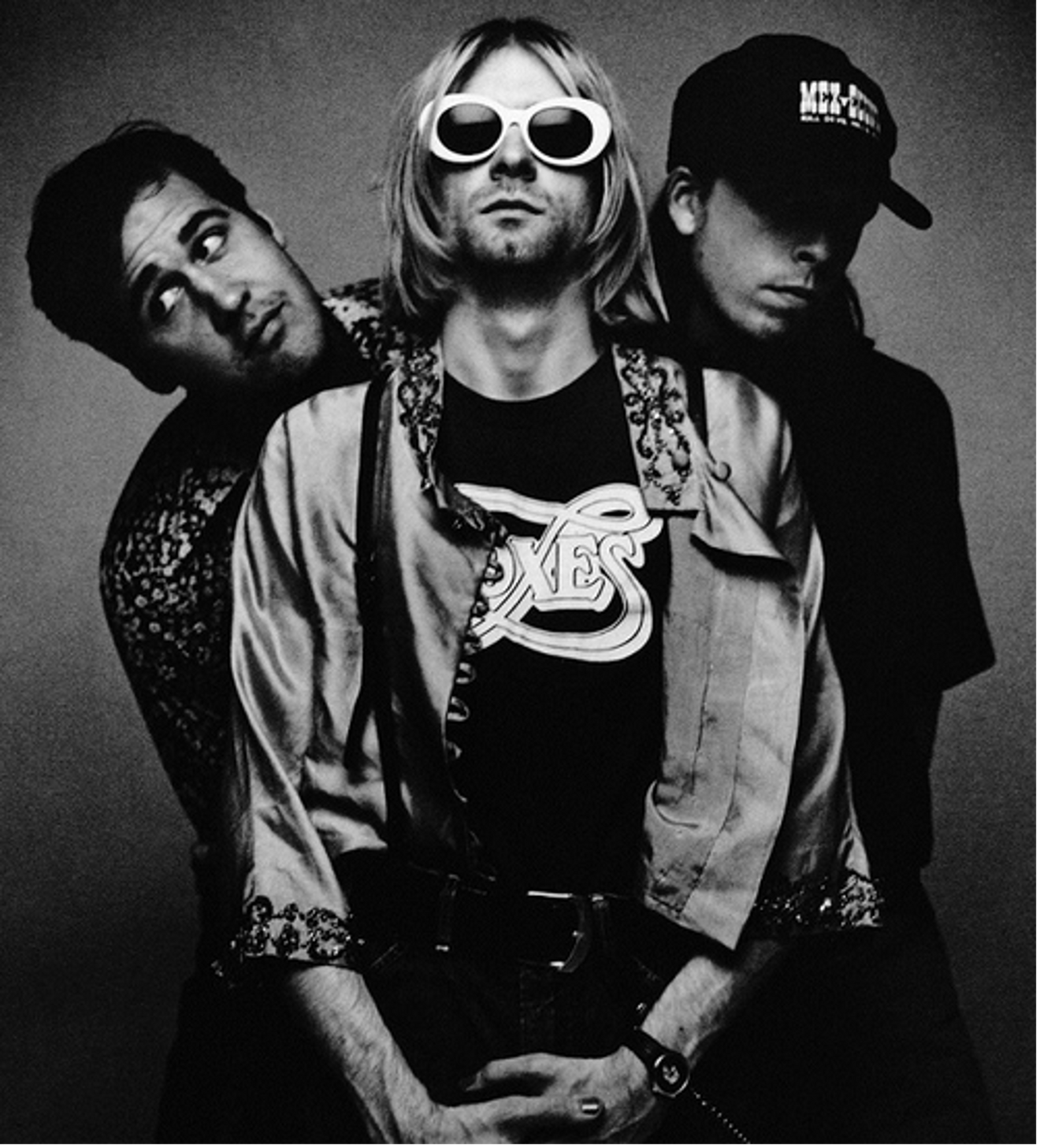 MOST VALUABLE...NIRVANA MEMORABILIA
April 5 marks the anniversary of the death of Kurt Cobain, the iconic front man of Nirvana and highly reluctant "voice of his generation".
Nirvana's incredible impact on the early 1990s music scene, the tragic death of Cobain at the age of just 27, and their influence on almost every rock band that followed them, means they are by far the most collectible band of the past 30 years.
To commemorate Cobain's life and the band's legacy, here are some of the world's most valuable pieces of Nirvana memorabilia, that help tell the story of how a punk band from Seattle changed the course of music history.
Krist Novoselic's bass guitar
(Image: Julien's Auctions)
This Ibanez Black Eagle bass guitar was played on stage extensively by Krist Novoselic as Nirvana toured in 1992-93, at the height of their fame. As with most instruments used during Nirvana gigs, this bass was destroyed on stage, and then fixed with a replacement neck.
Years later Novoselic donated the guitar to the Music for America (MFA) charity, along with a letter which read in part: "Please play the heck out of that bass. I know I did." It then sold at a Julien's auction in 2008 for $16,875.
Kurt Cobain's letter to Courtney Love
(Image: Christie's)
In 1991, during their European tour, Nirvana suddenly discovered they'd become the biggest band in the world. Estimated to sell a total of around 250,000 copies, their new album Nevermind was selling 400,000 copies per week in the U.S and their U.K shows were dangerously oversold.
On November 28 the band's appearance on British TV shop Tops of the Pops aired, featuring an exaggerated, joking performance given after they were asked to mime over a backing track. The band themselves played a concert at the Octagon Centre in Sheffield, and that night Cobain faxed a hand-written letter from his hotel to his then-girlfriend Courtney Love.
The two-page letter mentioned the band's appearance on the TV show, along with Cobain's experiences with LSD, and discussed their life on tour. It read, in part: "I really do care but I'm not very convincing. He's sad. I'm sad. My throat is a swollen tumor, Blood sausage - colon. I puke air after coughing. It was morning by the time I fell asleep after talking to you. 200 lbs. I thought of a great idea for our video. Oh, forget it."
Having faxed the letter, Cobain then gave the original to a receptionist at the hotel, and years later in 2004 it sold at Christie's for $19,120.
Kurt Cobain's stage worn t-shirt
(Image: Julien's Auctions)
This Sonic Youth T-shirt was worn on stage by Kurt Cobain in Munich, Germany, during Nirvana's final live performance on March 1, 1994. The band were halfway through a European tour, but on March 4 Cobain was discovered unconscious in his Rome hotel room, having overdosed on a combination of champagne and Rohypnol, and the rest of the concerts were cancelled. Cobain flew back to the U.S, and was found dead in his Seattle home just a few weeks later on April 8.
The stage-worn T-shirt from Cobain's final gig remained in the collection of Michael Dever, a tour promoter who had discovered it in the band's dressing room after the performance. It first sold at auction at Bonhams in 2012 for $13,382, before selling again two years later at Julien's in 2014 for $25,000.
Kurt Cobain's letter to David Geffen
(Image: Julien's)
In 1992 Vanity Fair published a now-infamous article about Courtney Love, in which the writer Lynn Hirschberg alleged Kurt and Courtney had engaged in a month-long drug binge, and that Love was still using heroin whilst pregnant with her daughter.
Cobain was so incensed by the story, which he called a "crucifixion", that he personally wrote to record label boss and music mogul David Geffen for help.
"Hi, my name is Kurt Cobain, I'm the lead singer, guitar[ist] and songwriter for the band Nirvana. Supposedly I've made your company a lot of money."
"Something so severely defremating [sic] towards my family has come up in an article in Vanity Fair that has forced me to decide on breaking up my band."
"I'm so extremely pissed off about this piece of trash journalism that I'll lay anything on the line for the love of my wife and my daughter."
Unusually, Cobain also mentioned his own drug addiction, something he never mentioned publicly, writing "I've never admitted to using drugs in articles because I don't want my fans to do the same."
The remarkable and personal letter, which illustrated just how far Cobain was prepared to go to protect his family, sold at Julien's in May 2016 for $28,125.
Kurt Cobain's 1953 Martin D-18 guitar
(Image: Heritage Auctions)
Shortly before the release of Nirvana's seminal 1991 album Nevermind, Cobain acquired his first Martin D-18 acoustic guitar, which quickly became one of his favourite models. He purchased the vintage 1953 instrument and played it for a while, before gifting it to his friend, indie-folk rock musician Mary Lou Lord.
Lord then used the guitar extensively in the recording studio and during live performances, including three tours with her label-mate Elliot Smith, who also played the guitar on several occasions. Lord kept the guitar in her collection for many years, before selling it to a Boston collector, and in August 2007 it sold at Heritage Auctions for $29,875.
Smells Like Teen Spirit MTV award
(Image: Julien's Auctions)
In 1992 Nirvana won an MTV Video Music Award for 'Best New Artist in a Video', for their iconic single Smells Like Teen Spirit.
Behind the scenes at the live broadcast, a feud had broken out between Nirvana and Guns n' Roses, with Axl Rose threatening Cobain and his wife Courney Love, and  bassists Krist Novoselic and Duff McKagan almost coming to blows as Nirvana went on stage.
They performed Lithium, and the song descended into chaos as fans began stage diving, Kurt smashed his guitar and the drum kit, Krist Novoselic was hit in the head after throwing his bass into the air, and Dave Grohl stood at the microphone taunting Rose by repeating "Hi Axl" over and over again.
The Moonman award given to Nirvana that night sold at Julien's Auctions in 2008 for $31,250.
Kurt Cobain signed guitar neck
(Image: Julien's Auctions)
This broken Fender guitar neck was signed by Kurt Cobain following a gig at the Great Western Forum Club in Inglewood, California on December 30, 1993.
The headstock is believed to have been broken during the gig, and was then taped back together and signed by Cobain, before being given to a fan by his guitar tech.
The piece of memorabilia from Nirvana's final Los Angeles show sold at Julien's Auctions in June 2011 for $32,000.
Heart-Shaped box MTV award
(Image: Julien's Auctions)
In September 1994, five months after the death of Kurt Cobain, his band-mates Grohl, Novoselic and guitarist Pat Smear paid tribute to him at the MTV Music Video Awards.
They also accepted the Best Alternative Video award for Heart-Shaped Box, the first single from their last studio album In Utero, which was presented to them on stage by Tony Bennet and Toni Braxton. The Moon-Man statue given to the band later sold at Julien's Auctions in 2007 for $40,800.
Kurt Cobain's Sears model bass guitar
(Image: Christie's)
This Sears model bass guitar was owned by Cobain during his teenage years, and was used in his first forays into recording music. Prior to forming Nirvana Cobain produced two demo tapes, both recorded at his aunt Mari Earl's house in Aberdeen, Washington. First was 'Organised Confusion', recorded on a reel-to-reel tape machine and using wooden spoons and an old suitcase for percussion.
The second tape was recorded in 1985 by the short-lived band Fecal Matter, comprising Cobain along with Dale Crover of Seattle band The Melvins and drummer Greg Hokanson. The demo tape, entitled Illiteracy Will Prevail, caught the attention of acquaintance Krist Novoselic, and led to the pair forming the earliest version of Nirvana in 1986.
The guitar, which was played by Cobain during the recording of both early tapes, sold at Christie's in 2009 for $43,750, accompanied by a letter of authenticity from Mari Earl and a photo of the teenage Cobain playing it.
Kurt Cobain's Univox guitar
(Image: Julien's)
On July 13, 1989, Nirvana played at Maxwell's in Hoboken, New Jersey, as part of their first U.S tour to promote their debut album Bleach.
Footage filmed during the gig shows the band play a blistering set, with a typically destructive finale. Cobain left Maxwell's having destroyed not only his beloved vintage fender Mustang (see below), but also this Univox Hi-Flier electric guitar – one of many casualties during the tour.
According to Jack Endino, a Seattle-based producer and associate of Nirvana's Sub Pop label, "I heard stories about Kurt's guitar destruction from the Sub Pop people early on. When he was out on the road he'd call them up and say, `I don't know what got into me, but I just smashed up my guitar.' I don't think he was planning on smashing guitars from day one. It was just something he did. The poor Sub Pop people would call all the pawn shops up and down the coast, looking for Univox guitars."
This particular example had the electric stripped from it, before it was presented as a gift to Janet Billig, whose house Nirvana stayed at after the Maxwell's show. Billig was a music executive who later managed the band and worked with the likes of Hole, Smashing Pumpkins, Dinosaur Jr., and The Lemonheads. The guitar remained in her collection for many years, before selling at Julien's in New York in May 2016 for $56,250.
Kurt Cobain mixed media painting
(Image: Julien's Auctions)
Throughout his troubled childhood Kurt Cobain found solace in music and art, and art classes remained one of the bright spots as he became disillusioned with high school.
His art teachers recognised his talent, and this creativity was also nurtured by his grandmother Iris Cobain, who was a professional artist.
He produced this original painting of racoons hanging in a tree during one of those classes, and brought it home to his family. His father Don Cobain kept it in his personal collection for decades, before it was sold at Julien's Auctions in May 2017 for $64,000.
Kurt Cobain stage-worn jacket
(Image: Julien's Auctions)
This dark blue-green velvet jacket with brass buttons was worn onstage by Kurt Cobain during a Nirvana concert at Pier 48 in Seattle. The show on December 13, 1993 also featured The Breeders and Cypress Hill, and was filmed for MTV's Live and Loud.
The band's performance was later released in 2013 as the video album Nirvana Live and Loud, to commemorate the 20th anniversary of their third studio album In Utero.
The jacket sold at a charity auction at Julien's Auctions in May 2008 for $87,000.
Kurt Cobain's Fender Mustang guitar
(Image: Sluggo)
Cobain purchased this vintage 1970s Fender Mustang guitar in 1989, and it survived a few shows of Nirvana's first U.S tour before being smashed to pieces on stage at Maxwell's in Hoboken, New Jersey on July 13.
Two days later Nirvana played at Green Street Station in Boston, but having now smashed both of his guitars (see above) he was reduced to singing whilst Jason Everman played both guitar parts.
Now in need of a new guitar, he traded the broken Mustang for a slightly-less broken Gibson SG owned by his friend Sluggo, bass player for the grunge band Hullabaloo. Cobain signed the guitar: "Yo Sluggo, thanx for the trade. If its illegal to rock and roll, then throw my ass in jail. NIRVANA."
It took pride of place on Sluggo's wall, and remained in his collection until 2004 when he loaned it out to the Experience Music Project in Seattle. The guitar was placed in storage, ahead of the planned Nirvana 'Taking Punk to the Masses' exhibition set to open in 2010, but in 2008 Sluggo sold it privately to New York investor and art collector Adam Sender for $100,000.
According to Sluggo, all the proceeds from the sale were used to pay off debts, with just enough left over to buy a copy of the Guns'N'Roses album 'Chinese Democracy'.
"I've often thanked Kurt in my mind for ridding my family of credit cards – to this day I do not have one," he later recalled. "I truly believe that he would've approved. I can almost hear Kurt saying, "Sh*t, if some dumbass wants to give you that much money for a pile of broken wood, then go for it."
Kurt Cobain's Mosrite Gospel Mark IV guitar
(Image: Heritage Auctions)
Despite eventually smashing most of the guitars he ever used, Kurt Cobain kept this one: an incredibly rare 1960 Mosrite Gospel Mark IV. Having destroyed many cheap Mosrite copies, he purchased this original – one of only two known to exist – from Real Guitars in San Francisco in 1990.
Amongst the many famous gigs this guitar survived was a show at the OK Hotel in Seattle on April 17, 1991, which marked the first time Nirvana performed Smells Like Teen Spirit on stage. Cobain later sold the guitar, complete with its case which still featured his inscription "F*ck Elvis", and it was rediscovered by collectors years later.
The guitar first sold at auction in 1994 for $75,000, before selling again in 2004 for $117,500. It sold for the third and final time in 2006 at Heritage Auctions, realising $131,000, and today it can be found on display at the Experience Music Project museum in Seattle.
Kurt Cobain's MTV Unplugged cardigan
(Image: Julien's)
In November 1993 Nirvana appeared on the TV show MTV Unplugged, in what would become one of the band's most iconic live performances. The semi-acoustic set featured a number of the band's lesser-known songs, along with cover versions of tracks by The Meat Puppets, David Bowie and Lead Belly, and 
Three months later Cobain tragically committed suicide, and the program was repeated on MTV on heavy rotation as fans mourned the loss. The performance was later released as MTV Unplugged in New York, regarded as one of the greatest live albums ever recorded, and to date has sold more than 25 million copies around the world.
The green woollen cardigan famously worn by Cobain during the performance, featuring burn holes and missing a button, sold at Julien's Auctions in November 2015 for $137,500, setting a new world record price for a piece of Nirvana memorabilia.