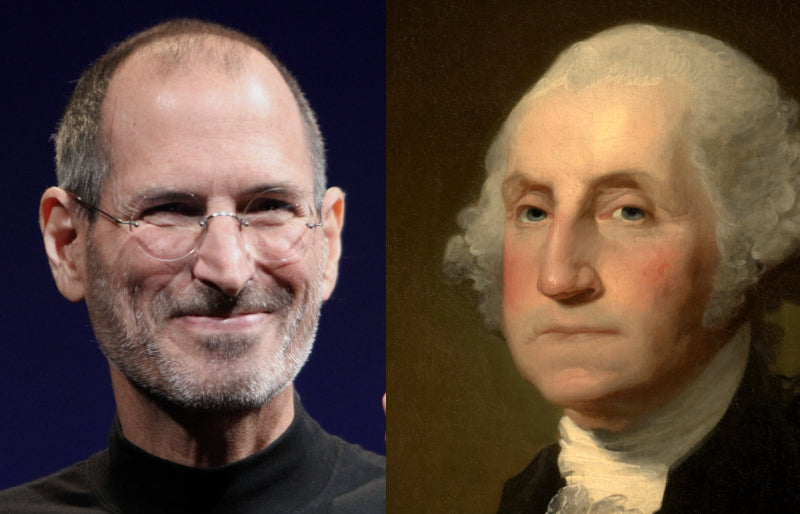 Market Watch: get ready for fireworks...
Hi fellow collector
It's been another interesting week in the world of rare collectibles.
More and more auction stories are making headlines in the mainstream news. That always bodes well for the strength of the market.
But there's one story that I'm paying particular attention to.
And if you're an autograph collector, you should too.
Because a special auction dedicated to Apple founder Steve Jobs takes place in Boston next week. And I'm expecting fireworks.
The last time a similar sale took place in August 2021, the prices achieved were stunning.
• A signed and inscribed Apple II manual estimated at $25,000 sold for $787,484.
• A typed and signed two-line letter sold for $479,939 – almost 48 times its estimate of $10,000.
• And a signed copy of MacWorld Magazine #1 sold for a huge $201,021.
Even seasoned dealers and experts like myself were surprised by the huge leap the market took that day.
Put it this way: Steve Jobs' autograph is now more valuable than George Washington. Significantly more.
Steve Jobs' autograph is now worth significantly more than that of George Washington.
I can't remember another figure whose signature has grown so valuable in such a short space of time.
This remarkable growth is clearly illustrated by a single lot from next week's sale: Jobs' 1973 employment application to work at Atari.
• In 2017 the document first sold for $18,750.
• In 2018 it sold again for $174,757. That's an 832% increase in a single year.
•In 2021 it sold again for $224,750. Another 28% increase.
• And in 2022 it sold again for $343,000. That's a 52% increase in value.
Overall, the application form is now 18 times more valuable than it was just five years ago.
Now that's a powerful example of the rare autograph market in action.
And for me, there are three main reasons for these soaring prices.
1) Historic importance
We live in a digital age completely dominated by home computers and smartphones.
It's impossible to imagine the modern world without them.
And as the creator of the Apple computer and the iPhone, Steve Jobs was the leading figure in that transformation.
He literally changed the world within his lifetime.
2) Extreme rarity
During his life Jobs famously hated signing autographs.
He so rarely signed anything, that any item bearing his signature is now highly valuable.
And his untimely death in 2011 at the age of just 56 capped the market forever. So the demand for his autograph far outstrips the supply.
3) New blood
A new generation of freshly-minted millionaires who made their fortunes in technology and cryptocurrencies has arrived.
This generation grew up with computers. They owe their wealth to them.
To them, Steve Jobs is an icon. He's the 'John Lennon' of the tech world.
These millennial millionaires also grew their wealth outside the traditional system, and they're wary of putting their money back into it.
So instead of investing in stocks, they've taken to collectibles in a big way.The company behind the Steve Jobs auction know full well who their target market is.
They're wisely promoting that bidders can pay in a variety of cryptocurrencies including Bitcoin, Ether and Dogecoin.
So whatever the method of payment, I suspect it won't be long before we see the first Steve Jobs item break the $1 million mark.
Perhaps even next week.
The sale also throws up another interesting step in the growth of the NFT market.
The last time the application form sold in 2021, the sale was billed as "the world's first physical vs NFT auction".
When it came to the crunch, there was no contest. The NFT sold for $27,460 – 13 times less than the real thing.
But next week the real copy and the NFT are being offered together as a single lot. And that's something I think we'll be seeing a LOT more of this year.
The market for NFTs of rare autographs and historic documents is still in its infancy.
Many sellers will begin by hedging their bets, offering these NFTs as an 'added extra' to the physical item itself.
The appetite for them as stand-alone collectibles isn't quite there yet. But it will be. And perhaps much sooner than we think.
Just look at how quickly the market for Steve Jobs memorabilia moved when this new generation of crypto-wealthy collectors got involved.
So whether you're a dealer or a collector, if you want to keep on top of today's market it seems we'll all have to pick up the pace a little.
But the rewards are definitely there for those who do.
And it certainly keeps life interesting!
Until next time,
Thanks for reading.
Paul Fraser,
Chairman, Just Collecting.