I hope you're enjoying your weekend.
Here's a quick catch-up on a couple of collecting stories that caught my eye this week.
Both make interesting reading, as they could have a big impact on the market.
(And they also give you an excuse to put your feet up for 10 minutes!)
Pop Britannia
The British Pop Archive aims to become the national home of Post-war pop culture memorabilia.
Last week I wrote about the museum boom, and how it affects the rare collectibles market.
And a few days later, this story came along to illustrate my point perfectly.
The John Rylands Research Institute and Library in Manchester already owns some truly remarkable treasures.
They include a copy of the Gutenberg Bible, a Shakespeare first folio and the oldest known fragment of the New Testament.
And now it's set to expand the collection into the modern era.
The library has announced plans to create the British Pop Archive – a major new collection of artefacts covering every aspect of postwar popular culture.
They've already acquired the huge personal archive of Rob Gretton, the former manager of British band Joy Division.
And they're adding a wealth of material from Granada Studios, spanning some of the best-loved shows in U.K T.V history.
It's just the start of a project that could become the new national home of pop culture memorabilia.
"It's very easy to look at artefacts from 400 years ago and say that's really important," said Professor John Savage.
"What we are saying is this is important now. Maybe if more people had kept material from Shakespeare's time it wouldn't just be Shakespeare that we're talking about."
He raises a great point about the nature of collecting. And how it plays a huge role in the way future generations will view history.
But it also means a lot of material that may have been sold at auction could eventually be donated to the BPA instead.
So for collectors seeking the finest pieces of British pop culture memorabilia...
Everything from handwritten lyrics to iconic TV props could become even rarer.
And that usually means more valuable as well.
Touched by the hand of God...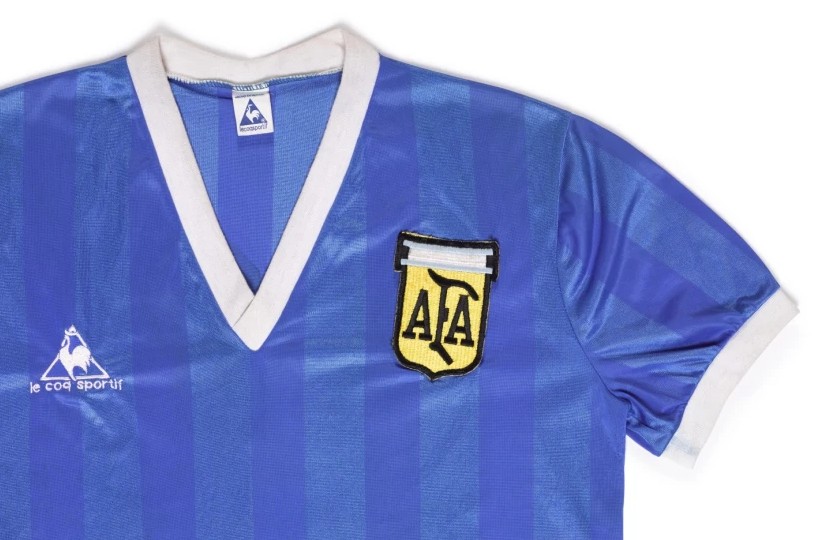 Diego Maradona's shirt from the infamous 1986 World Cup 'Hand of God' match could sell for up to £6 million (Image: Sotheby's)
The shirt worn by football legend Diego Maradona during the 'Hand of God' match is finally going up for sale.
Maradona wore the Argentina shirt as he scored twice against England at the 1986 World Cup.
The first goal (scored illegally with his hand) is one of the most infamous moments in football history.
His second - in which he dribbled past almost the entire England team - was voted as the greatest goal of the 20th century.
So it's fair to say this is the most significant football shirt to ever come up for auction.
And it comes with an equally significant estimate of £4 – £6 million.
That price would blow the world record price for football memorabilia out of the water.
In the U.S-dominated sports memorabilia market, football memorabilia has always lagged behind the likes of baseball and basketball.
That's despite it being the world's most popular sport, with 3.5 billion fans around the globe.
But at £6 million ($7.18 million), the shirt would easily become the most valuable sports jersey of all-time.
And such a price could bring a serious re-evaluation of other major items of football history.
It could be the landmark sale that brings the whole market to another level.
So if you're a collector with a passion for football history, pay close attention over the coming weeks.
Things may be about to get very interesting.
Thanks for reading,
Paul Fraser,
Chairman, Just Collecting.