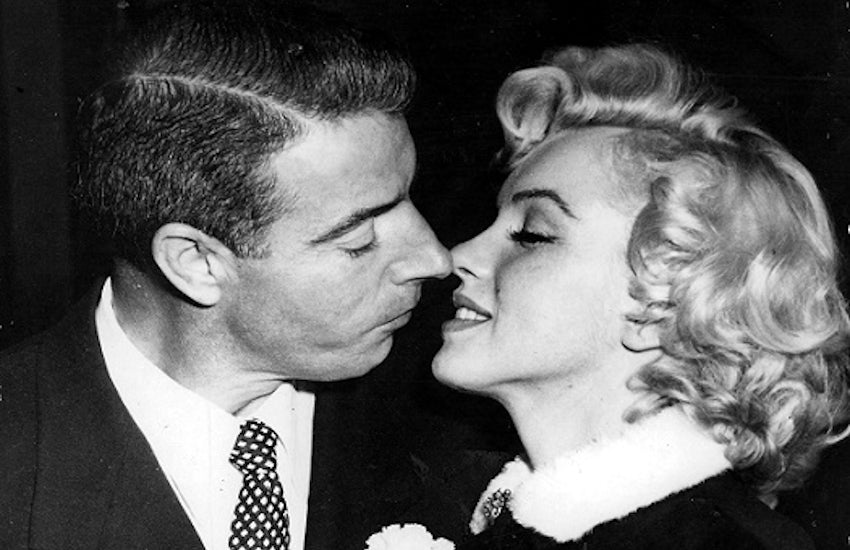 Marilyn Monroe and Joe DiMaggio: Memorabilia from their Marriage
The marriage between cultural icons Marilyn Monroe and Joe DiMaggio continues to fascinate people around the world, but perhaps none more so than collectors.
Fans of the Hollywood legend and the baseball superstar are willing to pay huge sums at auction for a piece of their shared history.
Here are ten personal items from the life of Marilyn Monroe and Joe DiMaggio which vividly tell the story of their tragic yet touching love affair.
10) Marilyn Monroe's wedding suit
(Image: Wikimedia Commons)
Marilyn Monroe and Joe DiMaggio married on January 14, 1954, after a two year courtship which kept gossip columnists busy across the world. The ceremony took place at 1pm in San Francisco's City Hall registry office, surrounded by a flurry of press outside who had been tipped off by a studio insider.
Less than a year later the pair were divorced, and Monroe found herself staying with close friend Milton Green and his family in Connecticut. Whilst unpacking, she found the brown wool suit with a mink collar and unsentimentally offered it to Greene's wife Amy, saying "Oh, this is the suit I married Joe in. Do you want it?"
Amy said the suit wasn't her style, but that her mother may like it, and she did: wearing it regularly to church and social occasions without ever knowing its true history.
Having remained in the Greene family for decades, the suit finally came to auction at Sotheby's in 1999 where it sold for $33,350.
9) Marilyn Monroe's wedding ring
(Image: Profiles in History)
During the civil ceremony DiMaggio gave Monroe a platinum eternity band set with 35 baguette-cut diamonds. Despite their divorce, Monroe kept the ring for the rest of her life and following her death in 1962 it passed to her acting coach Lee Strasberg along with the rest of her possessions.
In 1999, Strasberg's widow Anna sold the large collection of Monroe's effects at auction in New York.
The wedding ring was offered with an estimate of just $50,000, but sold at Christie's for a remarkable $772,500.
8) Marriage certificate
(Image: Hunt Auctions)
In 2006 a large collection of DiMaggio's personal effects were placed up for sale in Pennsylvania through Hunt Auctions.
The collection included a range of personal items documenting DiMaggio and Monroe's marriage and subsequent divorce, kept by the baseball legend throughout his life.
The collection is the couple's original State of California marriage certificate, dated January 14, 1954. It bore the famous signatures of the bride and groom, along with those of the California Municipal Court Judge Charles S. Peery and two witnesses, Rene Barsocchini and Tom DiMaggio.
The certificate still remained in the original court envelope it was presented in more than 50 years previously, and sold for $20,000.
7) Marilyn Monroe's passport
(Image: Hunt Auctions)
Following their wedding, Monroe and DiMaggio set off for their honeymoon in Japan to coincide with his own baseball coaching trip.
Whilst there, Monroe was asked to travel to Korea to entertain US troops whilst DiMaggio remained alone, causing an early rift in the marriage that would stretch to breaking point over the following eight months.
This passport was issued to Monroe in 1954 for the couple's Oriental tour. It features four different Marilyn signatures including, "Norma Jeane DiMaggio" and "Marilyn Monroe", both signed boldly on a black and white photograph.
It sold from DiMaggio's estate at Hunt Auctions in 2006 for $100,000.
6) Marilyn Monroe and Joe DiMaggio signed photograph
(Image: Heritage Auctions)
When the couple embarked on their honeymoon in Japan, it wasn't just Monroe's detour to Korea that set alarm bells ringing. DiMaggio also managed to make it less romantic, by inviting his best friend Frank 'Lefty' O'Doul to join them on the trip.
The trio were captured in a photograph whilst visiting Tokyo, a trip which brought them publicity in countless sports and celebrity magazines around the world.
This black and white photograph was also signed by Monroe, DiMaggio and O'Doul, and spent decades in the family collection of a former sports editor for a Tokyo newspaper.
It sold at Heritage Auctions in 2006 for $89,625.
5) The White Seven Year Itch dress
(Image: Profiles in History)
This dress may have helped create one of the most famous moments in Hollywood history, but it was also a big nail in the coffin for Monroe and DiMaggio's relationship.
During filming in September 1954 for The Seven Year Itch, director Billy Wilder invited press and onlookers to witness the iconic moment in which Monroe's dress is blown up around her by a subway vent. The crowds cheered for more, but the famously possessive DiMaggio stood fuming with rage as they ogled his wife.
"What the hell is going on here?" he is reported to have shouted, and Wilder later described DiMaggio as storming off set with "the look of death" on his face. The pair allegedly fought violently that evening, and on October 6 Monroe publicly announced they would divorce.
The white dress sold years later in 2011 from the collection of actress Debbie Reynolds, setting a world record price of $5,658,000.
It may have been the most famous costume in movie history, but for DiMaggio and Monroe it was also the final straw.
4) Joe DiMaggio's love letter
(Image: Julien's)
Just three days after Monroe told the world about their upcoming divorce on the grounds of 'mental cruelty', DiMaggio sent her a letter in which he mentioned watching the announcement on television.
He also wrote "Don't know what you're thoughts are about me, - but I can tell you I love you sincerely, - way deep in my heart, irregardless of anything."
Despite their turbulent marriage, DiMaggio had great difficulty in coming to terms with their divorce and carried a torch for her for the rest of his life.
This three-page handwritten letter, clear evidence of his continuing love, sold at Julien's in 2014 for $78,125.
3) Joe DiMaggio's private journal
(Image: Hunt Auctions)
A few months after their divorce, it seems that DiMaggio was still trying to win Monroe back. A journal from the period illustrates his love and compassion for his ex-wife, and includes notes written to himself to perhaps aid the reconciliation.
Dated circa 1955, one particular entry reads: "1. Don't ever be critical. 2. Forget ego & pride. 3. Talk from the heart. 4. Be warm, affectionate, & Love. 5. Don't be a sch... 6. Be Patient-no matter what. 7. No Jealousy. Remember this is not your wife. She is a fine girl and remember how unhappy you made her. Happiness is what you strive for-for HER. Don't talk about her business or her friends. Be friendly towards her friends. Don't forget how lonesome and unhappy you are-especially without her."
This moving document, which speaks of DiMaggio's heartbreak following their separation, also features his own recollections of numerous phone calls between the pair.
It sold at Hunt Auctions in 2006 for $9,000.
2) Marilyn Monroe and Joe DiMaggio signed baseball
(Image: Heritage Auctions)
Despite her subsequent marriage to playwright Arthur Miller in 1956, Monroe and DiMaggio remained close and he became a rock of support as she struggled with depression and dependence on alcohol and prescription drugs.
Following her divorce from Miller in January 1961, Monroe entered the Payne Whitney Psychiatric Clinic for treatment but quickly wanted to leave.
She called DiMaggio, who immediately travelled from Florida to the clinic to ensure her release, allegedly claiming "If you don't give her to me, I will take this place apart, piece of wood by piece of wood."
He then took her back to Florida and the relative calm of the New York Yankees Spring Training Camp. Some believe the couple attempted to reconcile, whilst others say they remained just good friends.
But whilst in Florida the pair both signed a baseball for a visiting New York sports photographer, and forty five years later this rare memento hit the auction block.
Described as "one of the most desirable and valuable signed baseballs ever offered", it sold at Heritage Auctions for an incredible $191,200.
1) Marilyn Monroe signed photograph
(Image: Hunt Auctions)
 Despite DiMaggio's friendship and efforts to protect Monroe, the actress tragically succumbed to her demons and died of a drug overdose in August 1962. But for the rest of his life, the baseball legend remained devoted to her memory.
He was responsible for arranging her funeral at Westwood Village Memorial Park Cemetery, and for the next twenty years had half-dozen red roses delivered three times a week to her crypt.
DiMaggio never remarried, and refused to exploit or speak publicly about their relationship. According to his lawyer and confidant Morris Engelberg, DiMaggio's final words on his deathbed in March 1999 were "I'll finally get to see Marilyn."
This signed Marilyn Monroe photograph was amongst his most treasured possessions. Bearing the inscription "I love you Joe, Marilyn", it remained in his private collection for decades before being auctioned as part of his estate in 2006 for $70,000.