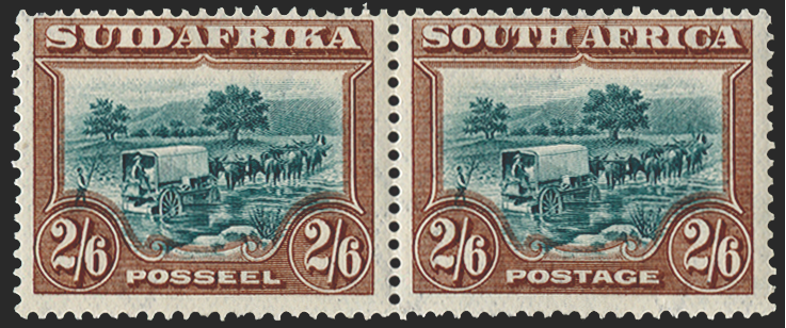 Let's keep this simple…
Key stamp rarities at very attractive prices for you today
I'm just back from visiting my Mum in Scotland.
She may be poorly, but it didn't stop her still putting me firmly in my place.
One evening, I was prattling on to her about an idea I had for a new marketing campaign.
Admittedly, it was a bit convoluted and probably wouldn't have worked. 
My Mum was keen to tell me so. She said:
"What a lot of nonsense. Why don't you just keep things simple?"
She's right!
So, today my marketing pitch to you is really simple. 
I present to you nothing more and nothing less than excellent quality rare stamps at very attractive prices.
Now, how could that not work?
My right-hand man, Anthony has a favourite phrase which comes to mind:
"They won't be around for long."
Here's why:
I have selected seven key stamp rarities across a range of price levels
All are of a quality which is very hard to find
They particularly excited me when I had the pleasure of handling and describing them
And, I am able to offer them to our subscribers at very attractive prices
Enjoy…
     1. A miniature work of art
South Africa 1927-30 2s6d green and brown Recess pictorial, perforations 14, SG37.
This is just one of those stamps where the design, featuring an Ox-wagon, captures the imagination in a miniature work of art.
It is also a fine quality example being a mint pair with large part original gum. Other than a few short perforations, which are immaterial to overall quality, it is a lovely fresh and attractive example. 
Stanley Gibbons Catalogue Value: £150
Available for: £95 (37% discount)
     2. An under-valued British QEII stamp error
Great Britain 1971 3p Christmas error, SG895c.
This error of missing colour on the 1971 3p Christmas stamp represents excellent value in my opinion. The current Stanley Gibbons catalogue value seems too low.
The missing lemon colour affects various parts of the stained glass image, but is most noticeable missing from the arch, chair and crowns.
It is a very fine unmounted mint example, with full original gum being the finest quality possible. It is particularly desirable and rare since it is a right hand marginal example from the printing sheet.
The error stamp is offered alongside the normal stamp for comparison.
The current catalogue value seems low as Pierron, the experts in Queen Elizabeth II stamp errors, record only 100 mint examples possible.
Available for: £225
     3. Paying homage to the British Empire
Newfoundland 1857-64 8d scarlet-vermilion 'Royal Crown and Heraldic flowers of the United Kingdom', thick machine-made paper, horizontal pair, SG8.
These were the first stamp issues of Newfoundland, the easternmost province of Canada, after becoming self-governing in 1855.
I have always considered them delightful and I am not alone as they are widely regarded as being amongst the classics of the British Empire.
The design features the Royal Crown and Heraldic flowers of Great Britain paying homage to the British Crown.
This is a fine mint pair example with good to large margins and brilliant quality fresh part original gum.
There are some minor imperfections (right stamp with tiny pinhole, left with inclusion) which do not detract from what is a visually stunning pair with lovely colour.
The Stanley Gibbons catalogue value is £800+.
Available for: £475 (41% discount)
     4. Primitive charm
Fiji 1870-71 'FIJI TIME EXPRESS' 3d black/rose, thin vertically ribbed paper (with additional thickened lines), R4/1 on the sheet, roulettes on two sides, SG6.
Christian missionaries first reached Fiji in 1835. In 1852, Cakobau, the chief of the island of Bau, declared himself King of Fiji and converted to Christianity two years later.
Internal problems and difficulties with the American government led the King to offer to cede Fiji to Great Britain. The offer was refused but resulted in the appointment of a British Consul in 1858.
The destruction of plantations in the Confederacy during the American Civil War led to an increased demand for Fijan cotton and this upsurge in commercial activity encouraged the Fiji Times newspaper on Levuka to establish a postal service on 1 November 1870.
These, the first stamps from Fiji, present a primitive charm to philatelists and were printed at the office of the Fiji Times, Levuka, Ovalau.
It is a very difficult stamp to find in fine condition as most seen are damaged. This one, however, is in fine quality and is a mint example with part original gum.
There is a small thin spot and minor marks and wrinkles, yet much above average for this difficult stamp issue.
It is also accompanied with a British Philatelic Association (BPA) certificate of authenticity (1995).  
The Stanley Gibbons catalogue value is £1,800.
Available for: £950 (47% discount)
     5. A real beauty
Malaya - Federated Malay States 1904-22 $25 green and orange, watermark MCA, SG51.
This imposing and beautifully designed stamp is considered one of the design classics of British Empire philately.
Malaya has been a very strong area of the market in recent years. This stamp has almost doubled in value in the Stanley Gibbons catalogue in the past 10 years.
This mint example is stunning quality, well-centred with good colour and large part original gum. Despite a minor bend and tiny surface mark it is still a really fine example of this key high value stamp.
The stamp has strong provenance once belonging to the collection of the famous racing driver, Sir Gawaine Baillie and sold through Sotheby's Auctions on 16 November 2006 (lot 754).
The Stanley Gibbons catalogue value is £2,250.
Available for: £1,750 (22% discount)
     6. The Famous China Red Revenue Surcharges
China 1897 Red Revenue Large surcharge $1 on 3c deep red, SG91.
In 1897, the new Qing Dynasty government took charge of the Post Office. There was an immediate need for a large quantity of stamps, especially those of high value. While waiting for the delivery of new stamps from Japan, a Provisional Issue was made using existing stock from the Imperial Customs.
A quantity of 600,000 of the 3c Revenue stamps received from England were surcharged with different values. The high value surcharged stamps are considered stamp icons in China, are very scarce and highly sought after by avid collectors.
Because of its enduring popularity and scarcity, it has shown strong growth in value during the bull market in Chinese stamps. It is up 400% in value over the past 20 years.
Chinese rarities are notoriously challenging to find in good quality and this fresh quality mint example with significant original gum is a real find.
The SG catalogue price is £6,000 (last published in 2018).
Available for: £5,500 (8% discount)
     7. An all-time great rarity
Australia Queensland 1860-61 1s violet, watermark small star, clean-cut perforations 14-16, SG10.
The first stamp issues from Queensland, Australia feature in the all-time greats of British Commonwealth philately.
Queensland was proclaimed a separate colony on 10 December 1859, but continued to use New South Wales stamps until 1 November 1860. As you would expect for a colony named after the Queen, all the early issues featured Queen Victoria.
This example is fine quality, used with crisp part strikes of the Perkins Bacon '(CANCELLED)' barred oval which leave the portrait clear. There are slightly trimmed perforations at upper right, which do not detract from its beauty.
A stunning and fascinating stamp of the highest rarity, being position 2 of an original block of 6 (3x2) for presentation to Rowland Hill's family, and one of only two recorded in private hands (plus a third in the Royal Philatelic Collection of Her Majesty Queen Elizabeth II).
It comes with impeccable provenance: Ex Jaffe (realised A$11,500 in 2006) and fully documented on p.57 of his book.
It is also accompanied with an independent Brandon certificate of authenticity (2006).
The Stanley Gibbons catalogue value is £11,000.
Available for: £8,950 (19% discount)
Simply the best 
To keep it simple for you, I have spent considerable time selecting some of our best stamps available at attractive discounts to Stanley Gibbons catalogue value. I would recommend the collection as an ideal starter investment in rare stamps. 
The collection provides you with a well-diversified portfolio of stamps from different collecting areas. All stamps in the collection pass the "5 golden rules" investment test.
The collection is available to purchase today at the price of £17,945. This compares to a value in the most recent SG catalogues of £22,225 (19% discount).
All stamps in the collection show a strong and long term track record of price appreciation.
I have done all the hard work for you. As with all investing, if you buy the right quality at the right price, your returns should naturally follow…
You can also purchase individual stamps from the collection from our online store by clicking on the link against each stamp featured.
Alternatively, you can place your order by email to mike@paulfrasercollectibles.com.
Finally, we would love to hear from you and you can always call us on +44(0)1534 639998 to secure the stamp(s) you want. 
I hope my Mum will be proud!
Kind regards,
Mike Hall
PS. Looking to sell? If you are fortunate enough to already own a collection of rare stamps of a quality such as those featured in this email, and are interested in selling, I would love to hear from you. We are always looking for more stamps, which pass the "5 golden rules" test. The problem is, very few stamps pass the test!