Hi fellow collector
On this day in 1775, the first shots of freedom were fired.
On the battlefields of Lexington and Concord, the American Revolution began.
So today it seems fitting to celebrate a man who sparked the fire.
I'm offering you a remarkable relic from a Founding Father.
His vision and passion drove the Revolution.
His hand helped draft the Declaration of Independence.
The second President of the United States.
John Adams.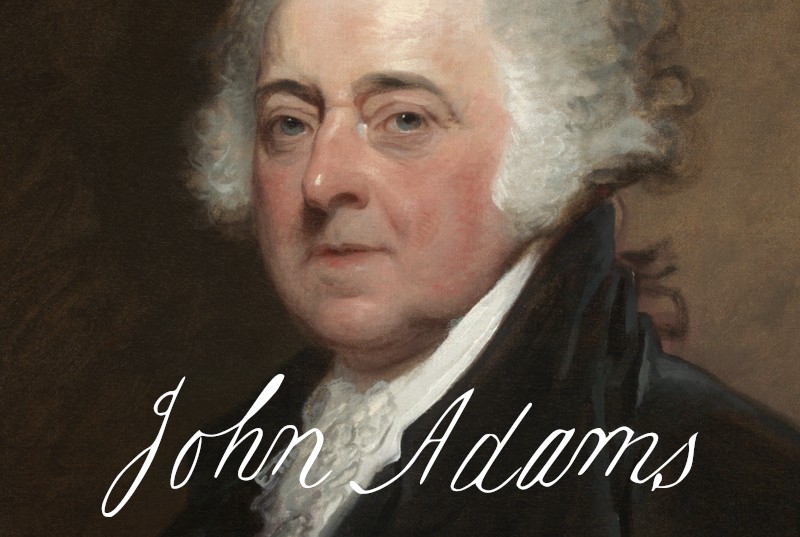 John Adams - one of the Founding Fathers and a leading voice in the American Revolution.
This item is an extraordinary find.
If you have a passion for U.S history, this artefact could become your most prized possession.
An authentic lock of hair from the head of President John Adams.
It was discovered in a sealed envelope once owned by a U.S Civil War soldier.
An incredible piece of American history preserved for two centuries.
Carefully passed down from one dedicated collector to another.
And now you have the opportunity to become part of its story.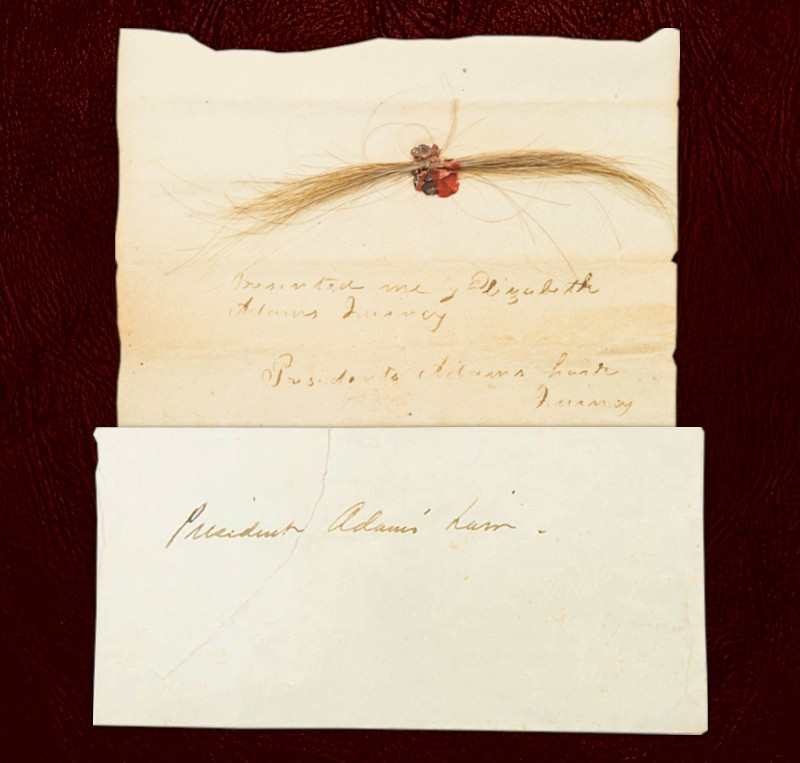 An incredible discovery: a large lock of President John Adams' hair.
That story begins in the mid-19th century, following Adams' death in 1826.
It was originally owned by Union soldier George F. Noyes (1824 – 1868).
Noyes served on the staff of Major General Abner Doubleday, and later published several notable works on his experiences during the Civil War.
The lock was a gift from Elizabeth Adams Quincy, a member of the President's esteemed family.
The historic letter of provenance accompanying the lock documents its discovery:"The enclosed lock of President John Adams hair was uncovered while searching through the estate of George F. Noyes of Portland, Maine.
"The remnants of his belongings included several boxes of papers and included a letter from Doubleday, many letters to his wife, several thousand envelopes, etc…This lock of hair was in a sealed envelope, stuffed among the many others."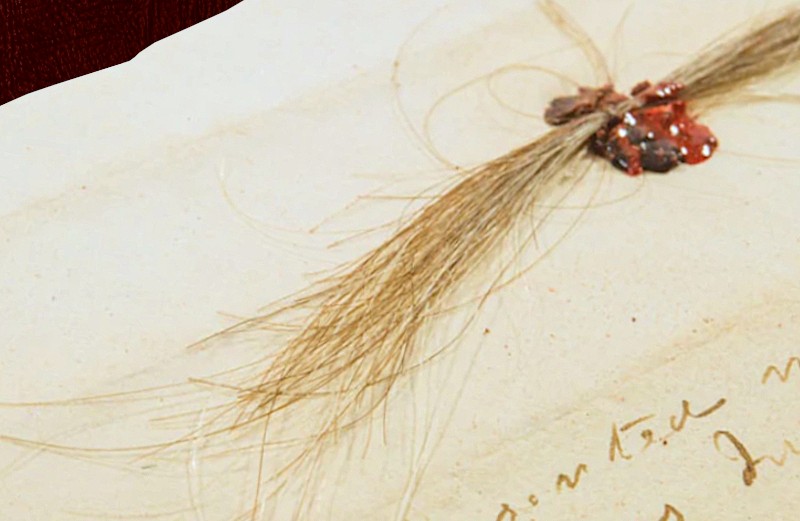 This rare lock of hair is a spine-tingling piece of early American history brought to life.
This is the most substantial lock of Adams' hair I've ever seen.
It measures approximately 3.5″ in length, and is affixed to a sheet of paper with a single spot of red wax.
The sheet itself measures 4" by 3.75", and bears the handwritten note: "Presented me by Elizabeth Adams Quincy, President Adams hair Quincy."
And it comes with the original envelope in which it was preserved, labelled: "President Adams' hair."
As a collector, you simply can't get any closer to history than this.
It's your personal connection to the birth of America.
And for many collectors, that type of connection can be worth millions.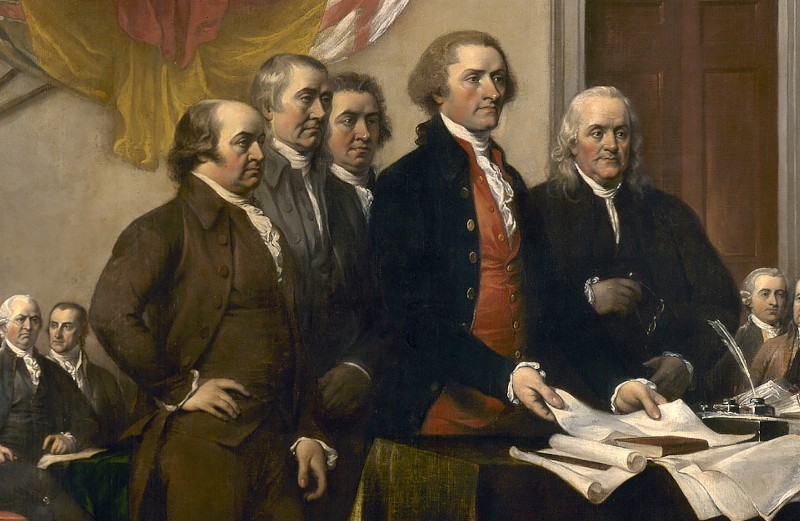 Founding Father John Adams (left), pictured as a member of the Committee of Five which drafted the Declaration of Independence in 1776.
The market for items linked to early U.S Presidents and Founding Fathers is one of the strongest in the entire hobby.
Collectors have been seeking them since the 18th century. And today the demand is higher than ever.
Historic documents and letters sell for seven-figure sums.
Personal relics are housed in museums and institutions. They rarely remain in private hands. And the few that do command substantial prices.
Locks of Abraham Lincoln's hair consistently sell for upwards of $25,000.
And in 2016, a similar lock of George Washington's hair sold at auction for $32,500. Today it's now valued at $47,750 – and rising.
These artefacts grow in historic importance and value year upon year.
And this rare lock of John Adams' hair is one of the most impressive I've ever handled.
It's a centrepiece worthy of any collection.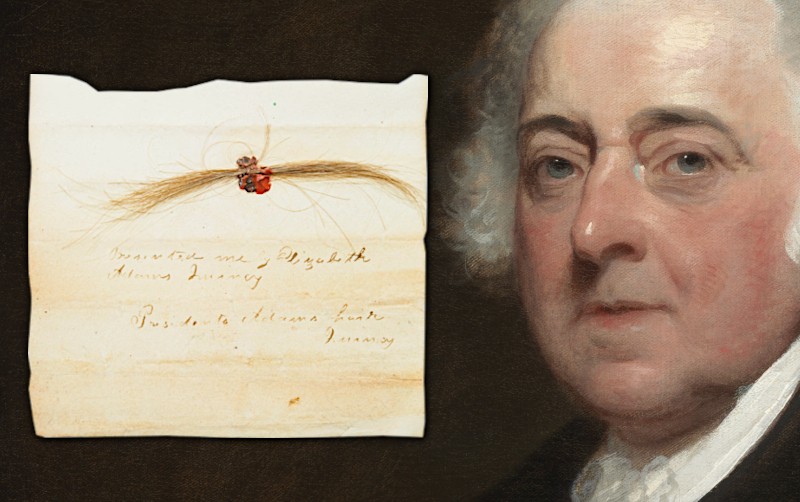 A large lock of President John Adams' hair. One of the most significant pieces of U.S history I've ever offered for sale. Now available to purchase for just £12,000.
John Adams is one of the most significant figures in U.S history.
He was a leader of the American Revolution
He co-wrote and signed the Declaration of Independence
He was America's first Vice-President under George Washington
And the first President to ever live in the White House
This lock of his hair is a hugely important piece of American history.
An authentic Founding Father relic unlike anything else on the market.
It's incredibly rare. Highly valuable. Carefully preserved for 200 years.
Accompanied by a superb letter of provenance and a wonderful backstory.
Ready for you to display with pride, and pass down to future generations.
This is your opportunity to own something remarkable.
You can purchase it today for just £12,000 ($15,630).
To give you complete peace of mind, the lock comes with a Lifetime Moneyback Guarantee and my own personal Certificate of Authenticity.
And delivery is completely free and fully insured.
This is one of the most remarkable historic items you will ever own.
A piece you will treasure for years to come.
So don't miss this rare opportunity.
Purchase it now, or email me at info@justcollecting.com to secure it for your collection.
You can also call me on +44 (0)1534 639 998.
I look forward to hearing from you.
Thanks for reading,
Paul Fraser,
Chairman, Just Collecting.