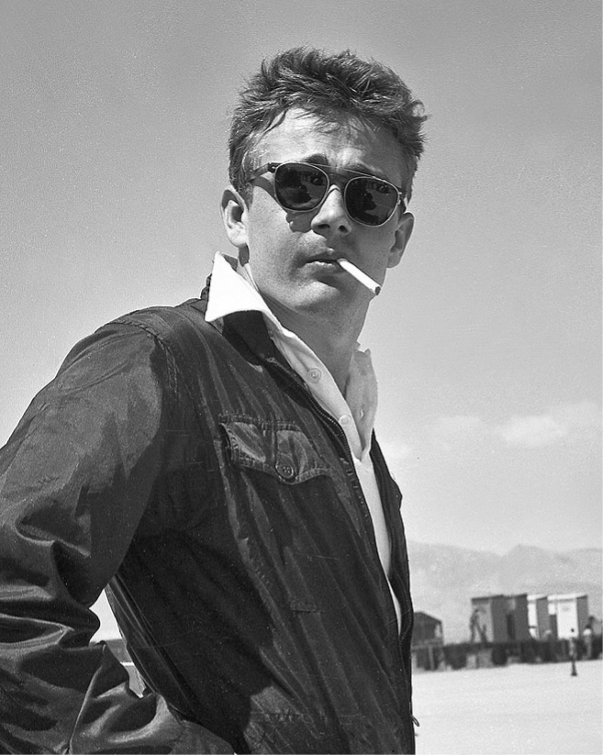 JAMES DEAN MEMORABILIA: THE MOST VALUABLE ITEMS EVER SOLD
To mark the anniversary of James Dean's passing at the tragically young age of 24, here's a list of the most valuable items of memorabilia from his personal life and movie career.
10) 'East of Eden' pants and shirt
(Image: Heritage Auctions)
East of Eden was James Dean's first major film role, after a handful of uncredited appearances and larger roles on television and the stage. He played Cal Trask in the adaptation of John Steinbeck's 1952 novel, and won plaudits for his complex portrayal and his unscripted method improvisation. East of Eden was the only film Dean starred in to be released before his death, and it won him one of his two posthumous Oscar nominations for Best Actor.
This pair of grey pinstriped pants, worn onscreen by Dean in the film, sold at Heritage Auctions in October 2006 for $15,535. A short-sleeved shirt worn by Dean in the film also sold during the auction for the same price.
9) Abstract painting
(Image: Julien's Auctions)
Dean was renowned for his passion as an amateur artist, and could often be found sketching in his favourite hangout of Googies coffee shop in Hollywood. In addition to sketches, he completed several paintings, including this abstract canvas dating from 1954.
The painting was originally owned by Jack Simmons, an actor, friend, and at one time, roommate of Dean's, who played the role of 'Cookie' in Rebel Without a Cause. It later sold at Julien's Auctions in 2015 for $16,640.
8) 'Rebel Without A Cause' switchblade
(Images: Profiles in History)
Dean's most famous role is that of the troubled teenager Jim Stark in 'Rebel Without a Cause', a film which cemented his place as a cinematic icon despite such a short-lived career. In one of the film's most famous scenes, Dean is taunted into a knife-fight at the Griffiths Observatory against local bully Buzz Gunderson. Dean's screen-used black switchblade knife from the scene, bearing scuff marks where a character kicks it across the ground to him, sold at Profiles in History in December 2013 for $20,000.
7) Final race registration form
(Image: Heritage Auctions)
Dean's combined his burgeoning acting career with his love of motor racing and he competed in three major races, winning the novice class in two of them. Warner Bros. banned him from racing whilst filming 'Giant', but towards the end of the production he entered himself into the Salinas Road races on October 1-2, 1955.
He was set to compete in the Porsche 550 Spyder he famously called 'Little Bastard', but was tragically killed on his way to the race on September 30. His signed registration paperwork for the race, originally submitted on September 14, sold at Heritage Auctions in April 2008 for $23,900.
6) Racing photograph
(Image: Premier Props)
In March 1955 Dean competed in his first race, the Palm Springs Road Races, in which he finished an impressive fourth overall. The event was captured by photographer and racing journalist Gus V. Vignolle, whose photographs of Dean prior to the race were published in a memorial issue of MotorRacing magazine in January 1956. The original photographs and negatives were believed lost, until being rediscovered by Vignolle's daughter in 2014.
This striking image, along with its reproduction rights, was sold ay Premier Props in March 2014 for $25,000. Further images from the same collection brought individual prices of up to $20,000 in the same sale.
5) 'East of Eden' jacket
(Image: Heritage Auctions)
This brown wool sports jacket, worn on screen by Dean in East of Eden, originated from the same museum collection as the previous items on the list. Bearing the handwritten Warner Bros. production tag dated 'May 25, 1954' and the name "Jim Dean", the jacket sold at Heritage Auctions in October 2006 for $28,680.
4) 'Giant' jeans
(Image: Heritage Auctions)
'Giant' was Dean's third and final film role, shot in 1955 and released after his death in October 1956. As Jett Rink, the ranch hand who discovers oil and strikes it rich, Dean played against his previous roles as a rebellious young man to great effect – earning a posthumous Oscar nomination for Best Actor.
This pair of Lee jeans worn on-screen by Dean sold at Heritage Auctions in October 2006 for $35,850.
3) Lucky pocket watch
(Image: Fame Bureau)
This Elgin pocket watch was Dean's lucky charm, purchased in New York in 1951 as he began his acting career. With the addition of his estranged father's gold watch chain, Dean insisted on wearing the watch during the filming of East Of Eden (against the protests of director Elia Kazan). He later gifted it to Tillie Starriet, a close friend and Warner Bros. employee who acted as a surrogate mother to Dean when he came to Hollywood.
The gold watch, on which Dean had his initials engraved when he bought it, sold for £29,000 ($42,000) at a Fame Bureau auction in May 2010.
2) Rebel Without A Cause jacket
(Image: Profiles in History)
This brown wool jacket was worn by Dean during much of the first half of 'Rebel Without A Cause', before his character Jim Stark changes to the famous red jacket for the 'Chicken Run' scene.
The jacket ended up in the collection of Dean's co-star Nick Adams, before he gifted it to his close friend (and King of Rock and Roll) Elvis Presley. Presley later gave it to his Uncle Vester, and in May 2011 the jacket sold at a Profiles in History auction for $55,000.
1) 'Giant' vest
(Images: Cooper Owen)
This black, pinstriped vest was worn on-screen by Dean in numerous scenes of his last film 'Giant'. Dean was killed in a car crash towards the end of production on the film, devastating his co-stars Elizabeth Taylor and Rock Hudson, and a few of his lines had to be overdubbed later by a voice impersonator.
His iconic style and posthumous fame is credited for popularising the vest as a fashion accessory, as numerous promotional photographs from the film picture him wearing the item. The original screen-worn vest sold at a Cooper Owen auction in 2005 for £52,000 ($90,460) – a record price for a piece of James Dean memorabilia.