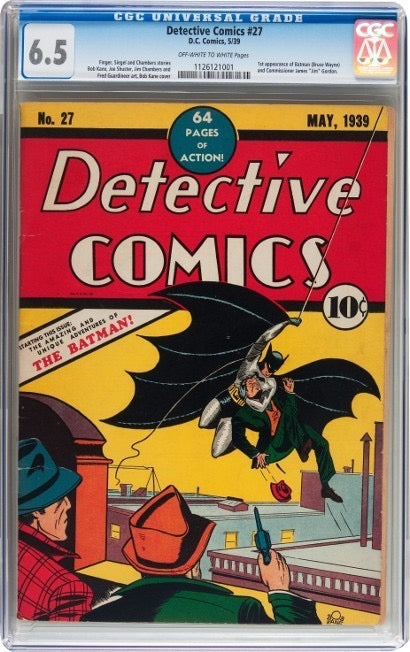 HOW TO STORE YOUR COLLECTIBLES
How to store your collectibles?
An often overlooked factor, learning how to store your collectibles properly is vital
When assembling a collection in almost any field, one of the most important aspects to consider is how you will store the items once you have made that exciting purchase. It is only too easy to get carried away with the buying, only to realise that you have nowhere suitable to put your prized possessions.
Often, a professional grading service will supply a storage case for your item, such as these acid-free examples from CGC
Storage is especially important to maintaining a strong, valuable collection and avoiding any damage. Take for example the $4.6m Batmobile that was sold at Scottsdale last month, which was kept in climate controlled conditions at Barris Kustom Industries. It was in a fantastic state given its age, but would have been unlikely to see such outstanding results if it hadn't been preserved in this way.
Humidity is perhaps the biggest enemy of your collection, whether it is classic cars, stamps, rare books, coins, art or otherwise. If you live in a particularly humid climate or have trouble regulating humidity in your home, consider professional storage options that will deal with this, though silica gel packets can be effective to a certain extent.
When it comes to temperature, a good rule of thumb is, if it is tolerable for you, then it is likely to be ok for your collection. Any extreme should be avoided, and this rule should also be applied to light, which is likely to fade any rare books or artwork.
Acidity is another often overlooked aspect of storage, and one that has proved to be a problem for many collectors. Items such as comics and coins should be stored in acid-free conditions, such as the Mylar slips for comics or those impenetrable cases used by PCGS for coins.
Obviously, depending on what you collect, there are numerous factors to consider and you should look into the specialist options for your particular field. Cost will often be the deciding factor in which option you choose, but it is always wise to find the best possible conditions to avoid paying a higher price further down the line.
When your collection reaches a certain value, you will want to look at security, as having a large amount of valuables stashed away in your house is likely to leave you unnerved. A bank vault is perhaps the safest option, but is also the most costly, and often buying a safe to put in your own home is far more realistic.
Some dealers, such as Paul Fraser Collectibles, also offer free storage when you buy an item from them. With this option, you can be sure that your collectibles are being looked after by experienced professionals in the correct conditions.