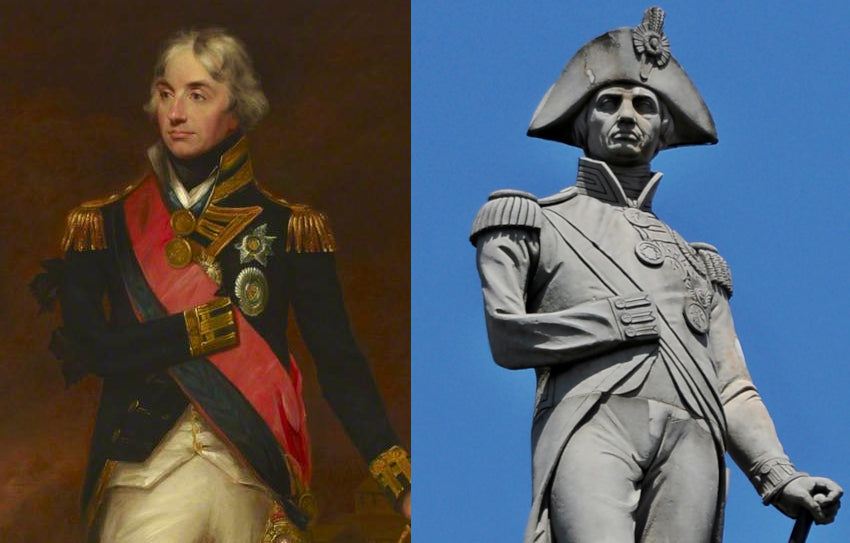 Handwritten by the nation's greatest hero
In the centre of London there's a man who stands alone.

Stared at by tourists. Surrounded by pigeons.

A man who lost his arm and eye fighting for his country.

A fearless leader. A tactical genius. A hero who wrote his own rules.

And today he stands watch on a granite column, 170ft above the crowd.

No figure in British history has ever stood taller.

The nation's greatest naval hero. Admiral Horatio Nelson.
Admiral Horatio Nelson's statue stands tall above London, in celebration of the nation's greatest naval hero.
Nelson's spirit is woven into the very fabric of British society.

For collectors, everything he ever owned, signed or touched is a treasure.

Owning his memorabilia is like owning a piece of England.

So it's a genuine honour to offer you this item today.

This is a rare Admiral Horatio Nelson handwritten letter.

Written in London in July, 1801 - just days after returning home from victory at the Battle of Copenhagen.

It's beautifully preserved. Superbly signed.

With personal content that speaks highly to Nelson's character.

This is a historic letter that would grace any collection.
This is a highly rare Admiral Horatio Nelson handwritten letter, signed and dated July 1801.
The letter is dated July 7, 1801 and was sent from the Lothian Hotel in London.

(Which was conveniently close to the home of his mistress Emma Hamilton...)

The condition of this letter is exceptional. Nelson's handwriting is crisp and fresh.

And it was written with his left hand, as he'd lost his right arm at the Battle of Santa Cruz de Tenerife in 1797.

After 220 years, you can still sense Nelson's presence on the page.

He was wounded and weary. At that very moment, he knew his mortal enemy Napoleon was planning an attack.

But his first concern was an important family matter.
Nelson was recovering from the Battle of Copenhagen when he penned this letter to his cousin.
Nelson's letter is addressed to his cousin William Suckling.

William had been court-martialled from the navy, and was facing financial ruin.

But Nelson was determined to help. Because he owed William's father, Captain Maurice Suckling, a debt of gratitude.

Maurice had taken a young Nelson under his wing, and taught him everything he knew about the sea.

So now Nelson used his position as a national hero to find William a new job with Charles Yorke, the Minister for War.

He writes: "I send you Mr Yorke's answer to my letter, therefore very soon you must have an appointment. Send back the letter, and ever believe me."

And he signs "Nelson & Bronte", befitting his status as the first Duke of Bronte.
This is a superb example of Nelson's autograph - bold, clear and perfect for display.
It's a striking signature. Bold. Clear. Ideal for display.

This is an autograph of the highest quality. And a real feather in your cap.

Because Admiral Horatio Nelson is one of the defining figures of British history.

His death in 1805 at the Battle of Trafalgar created a legend. And collectors have sought his memorabilia for over 200 years.

Today his personal items and letters are owned by museums, with few still in private hands.

Which makes this handwritten letter highly rare and highly desirable.
This stunning Admiral Nelson handwritten & signed letter can be yours today.
I'm seldom able to offer material signed by Horatio Nelson.

These pieces are increasingly hard to find in any condition.

His signature alone is a trophy for any historic autograph collector.

So a genuine handwritten letter this good is an opportunity not to be missed.
Penned by Britain's greatest naval hero

Beautifully preserved after 220 years

With a bold, clear signature of the highest quality
This is a true piece of England, that will stand the test of time.

You can purchase it now for just £9,995 ($13,585).
I want you to have total peace of mind when you buy.

That's why this item comes with a Lifetime Moneyback Guarantee and my own personal Certificate of Authenticity.

And delivery is completely free and fully insured.

But please remember:

This is the only Admiral Nelson signature in my entire stock catalogue.

So if you want to own it, email me now at info@justcollecting.com.

Or call me on +44 (0) 1534 639 998.

I look forward to hearing from you.

Thanks for reading,

Paul Fraser.