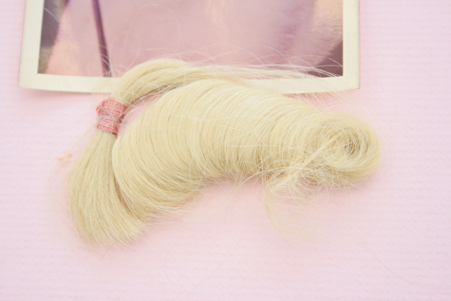 CELEBRITY HAIR INDEX: THE 40 MOST VALUABLE LOCKS EVER SOLD
The bald facts: JustCollecting's new report reveals Che Guevara's hair is the world's most expensive
A three-inch lock taken from revolutionary Guevara's corpse following his execution in 1967 auctioned for $119,000 at 

Heritage Auctions 

in 2007

Bieber more valuable than Beethoven…

Napoleon's horse pricier than Marilyn Monroe…
Seriously cool or serial-killer creepy? That's up for debate. What isn't debatable is that hair from famous heads can sell for huge money.
"Some find hair-collecting a bit, well, weird," says JustCollecting's Dan Wade. "Yet back in the Victorian era locks of hair were a popular way of remembering deceased loved ones. Young lovers would often exchange strands too. In some ways locks of hair are a step up from an autograph – why bother with Abraham Lincoln's signature when you can own an actual piece of him?"
Tom Slater, director of Americana at Heritage Auctions, believes the present popularity of hair collecting "stems from the uniquely personal nature of hair. 
"If you look at a broad range of auction results for personally owned relics and artifacts, the appeal to collectors seems to relate very closely to just how intimately related to the person a given item is."
The 40 most valuable locks ever sold
1: Che Guevara: $119,500
2: Elvis Presley: $115,000
3: Michael Jackson: $100,000
4: Edgar Allen Poe: $80,000
5: Lord Nelson: $70,000
6: Mozart: $53,520
7: John Lennon: $48,000
8: General JEB Stuart: $44,812
9: Justin Bieber: $44,000
10: Abraham Lincoln: $38,837
Notes on 1-10: CIA operative Gustavo Villoldo snipped off the three-inch lock of Che Guevara's hair to prove to his superiors the revolutionary was dead, after CIA-backed soldiers captured and killed Guevara in the Bolivian jungle. Texas bookshop owner Bill Butler paid $119,500 for the item at a Heritage Auctions sale in 2007. "Guevara is an iconic figure for some people, and his hair engendered a remarkably emotional response when we offered it," explains Slater.
A CIA operative snipped the lock from Che Guevara's body
A "baseball-sized" clump of Elvis Presley's hair sold in 2002 for $115,000. It came from Elvis' personal barber, Homer "Gill" Gilleland. Smaller locks of the King's hair from his famous Army trim in 1958 have sold for up to $20,000.
While filming an advert for Pepsi in 1984, firework sparks set Michael Jackson's hair aflame. Executive producer Ralph Cohen threw his Armani jacket over Jackson's head to extinguish the flames. When Cohen removed the jacket, with it came several of Jackson's hairs. Cohen sold the hairs for $100,000 to celebrity hair dealer John Reznikoff in 2009.
Justin Bieber's "teen to adult cut" caused a sensation among his teenage fan base in 2011, sending the internet into meltdown. Bieber gave some of the clippings to TV star Ellen Degeneres, who sold them for $40,668 in aid of animal charity the Gentle Barn. Golden Palace Casino was the buyer. 
Hair from Justin Bieber's "teen to adult cut"
Wade comments: "Hair with a fascinating history is among the most valuable. Guevara's comes from his capture and execution. Michael Jackson's is from his infamous Pepsi advert, in which his hair was singed. Justin Bieber's haircut rocked many worlds, although not mine."
11: Babe Ruth: $38,000
12: General Custer: $21,510
13: Tsar Nicholas II: $20,025
14: Robert E Lee: $19,120
15: David Bowie: $18,750
16: George Washington: $18,750
17: Franz Joseph I: $17,844
18: Mary Pickford: $15,000
19: Napoleon: $13,000
20: Ulysses S Grant: $12,500
Notes on 11-20: A lock of David Bowie's hair sold for $18,750 in June 2016 – as the singer's death earlier in the year sparked bids from nostalgic fans. An employee from Madame Tussauds waxwork museum in London snipped the lock from the singer in 1983 to provide a colour match for a waxwork wig.
Silent movie star Mary Pickford - "the girl with the curls" - sold a lock of her famous hair for a staggering $15,000 (around $240,000 today) during WWI to raise money for the US war effort. 
Mary Pickford - "the girl with the curls"
21: Beethoven: $12,415
22: Napoleon's favourite horse, Marengo: $10,588
23: Marilyn Monroe: $9,200
24: Jane Austen: $8,500
25: Bonnie Prince Charlie: $8,269
26: Edward IV: $7,236
27: Thomas Jefferson: $6,875
28: John Adams: $6,875
29: Jacqueline Kennedy: $6,037
30: Mick Jagger: $6,000
Notes on 21-30: The lock of Marilyn Monroe's hair was snipped by "hairdresser to the stars" Robert Champion just hours before Marilyn sang "Happy Birthday Mr President" to John F Kennedy. 
Cut from Marilyn Monroe just hours before she sang Happy Birthday Mr President
A bag of JFK's hair clippings sold for $4,160 in 2011, making his hair less valuable than his wife, Jacqui's ($6,037).
Jane Austen ($8,500) beats Charles Dickens ($5,542) in the battle of the English authors.
Hair from Napoleon's famous Battle of Waterloo horse, Marengo ($10,588) got the better of Copenhagen ($4,145), the Duke of Wellington's mount at the battle.
31: Charles Dickens: $5,542
32: King Louis XVI: $5,536
33: John Dillinger: $5,400
34: Geronimo: $5,312
35: Lord Byron: $4,635
36: Maria Callas: $4,485
37: John F Kennedy: $4,160
38: Duke of Wellington's horse, Copenhagen: $4,145
39: Paul McCartney: $4,050
40: Neil Armstrong: $3,000
Notes on 31-40: Bank robber John Dillinger was famed for his moustache. A single moustache hair, removed from his death mask, auctioned for $5,400 in 2012. 
Dillinger and his moustache died in a shootout with the FBI outside Chicago's Biograph Theater
Neil Armstrong sued his barber of 20 years after he sold the Moonwalker's clippings for $3,000 in 2004.
Paul McCartney's ($4,050) hair is worth far less than fellow Beatle John Lennon's ($48,000).
The figures quoted are based on JustCollecting's close monitoring of auction and dealer sale.
Only each celebrity's most valuable hair transaction is quoted.
For more information call Dan Wade on +44 (0) 117 933 9502 or email dan@justcollecting.com