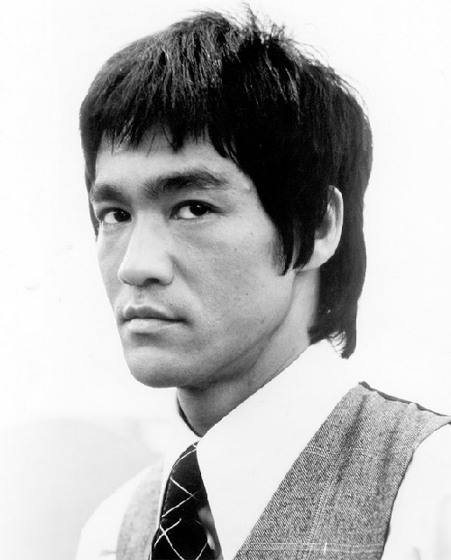 BRUCE LEE MEMORABILIA: TOP 10 MOST VALUABLE ITEMS
A list of the ten most expensive pieces of Bruce Lee movie memorabilia ever sold
10) My Definite Chief Aim statement letter
In January 1969, following his role as Kato in The Green Hornet and a series of minor TV guest spots,  Lee wrote this letter to himself, entitled "My Definite Chief Aim", in which he outlined his career goals.
"I, Bruce Lee, will be the first highest paid Oriental super star in the United States. In return I will give the most exciting performances and render the best of quality in the capacity of an actor. Starting 1970 I will achieve world fame and from then onward till the end of 1980 I will have in my possession $10,000,000. I will live the way I please and achieve inner harmony and happiness."
Lee then returned to Hong Kong in 1971, driven by his ambition, and played his first leading role in The Big Boss. He then shot to international stardom with roles in Fists of Fury, Way of the Dragon and Enter the Dragon, and was well on his way to achieving his goals when he died suddenly in July 1973 at the age of just 32.
This letter sold at the 1993 auction of Lee's estate in Los Angeles, for a final price of $29,000.
9) White lift shoes & brown platform shoes
These white leather shoes feature a 1'' platform under the front of the foot and a 3'' heel. Lee was photographed wearing the shoes several times, and after his death in 1973 they were amongst the items given away to friends by his widow Linda. All Lee's shoes were gifted to either his brother or his close friend Herb Jackson, as they shared the same size feet.
This pair, along with another pair of brown platform shoes, were both sold at auction by Jackson's son in October 2013 through Nate D. Sanders. Each pair brought a price of $29,136.
8) Used heavy training bag
This canvas heavy bag, weighing 69 pounds, was used by Lee during his intense training sessions at his home in California. Just before he moved back to Hong Kong, Lee gifted several pieces including the bag to his student Herb Jackson, who had built much of his custom-made training equipment.
The bag was amongst several items from Jackson's collection sold at Nate D. Sanders in October 2013, where it realized $33,901.
7) Chinese Gung-Fu notebook
Lee had planned to write a book featuring his own thoughts and philosophies about martial arts and Gung-Fu in particular. In 1964 he filled a notebook up with diagrams, illustrations, notes and detailed exercise routines with the title 'The Tao of Chinese Gung Fu', but it remained unpublished until years after his death.
In 1997 the contents of the notebook were published in the 1997 book entitled 'Bruce Lee: The Tao of Gung Fu A Study in the Way of Chinese Martial Art'. In December 2008 the original book featuring Lee's handwritten notes and drawings sold at Profiles in History, fetching  a price of $40,000.
6) Letter to Taky Kimura
In 1966, Taky Kimura joined Bruce Lee's kung-fu club where he taught Jun Fan Gung Fu. Kimura quickly became Lee's best student, and the pair became close friends. Along with acting as Lee's best man, Kimura was also a pallbearer at his funeral just a few years later and is one of only three individuals to be personally certified by Bruce Lee to teach his style of martial arts.
In 1966, after Lee had moved to California, he wrote a long letter to Kimura about his budding acting career and new life in Los Angeles. The handwritten letter was sold years later at a Phila China auction in August 2011, where it realized a price of HK$400,000 ($50,000).
5) Gold, diamond and onyx ring
After filming just one series of 'The Green Hornet' in the U.S, and being relegated to supporting roles, Lee returned to Hong Kong with the aim of becoming a star in his own film. Boosted by The Green Hornet's success across the Pacific, Lee was able to secure a contract with the studio Golden Harvest to make his first film 'The Big Boss'.
To celebrate this moment, Lee commissioned a ring in Thailand during filming, and it became a symbol of his triumph over adversity. In November 2012 the ring was sold at Julien's in Beverly Hills for $54,400.
4) Game of Death nunchaku
This pair of wooden lacquered nunchaku was commissioned by Lee for Game of Death, to match his famous yellow jumpsuit. They were used onscreen during his fight with his senior student and co-star Dan Inosanto, who starred as the guardian of the pagoda third floor known as  the 'Temple of the Tiger'. These scenes were completed before Lee left to film Enter the Dragon, and are amongst the few to feature in the final version following his death.
The nunchaku were sold from the personal collection of Taky Kimura at Spink Asia in December 2013, for HK$450,000 ($57,962).
3) Leather jacket
This white leather jacket with navy sleeves was often worn by Lee and owned at the time of his death in July 1973. He had earlier been photographed wearing the jacket in 1972, while editing The Way of the Dragon, Lee's only fully-completed directorial work. It remained in the collection of his widow Linda Lee until 1993, when it was sold as part of the landmark Bruce Lee estate auction in Los Angeles.
It was then offered at auction once more at Julien's in December 2014, accompanied by a letter of authenticity from Linda Lee, where it sold for $70,400.
2) Blue fur-lined jacket
This fur-lined navy blue jacket was worn by Lee during production on Game of Death in 1972 and in numerous test photographs for an unnamed film he was planning to make after 'Enter the Dragon'.
Following his death just a few months later in 1973, the jacket passed into the collection of his brother Robert who kept it for many years. It sold at Phila China Auctions in August 2011 for HK$600,000 ($77,000) – nine times its initial estimate.
1) Game of Death jumpsuit
In 1973 Lee interrupted filming on his fourth Golden Harvest film 'Game of Death' to star in the Hollywood-produced 'Enter the Dragon', which would help establish him as a star in the U.S. Lee sadly died in July 1973, before filming could resume of Game of Death, but producers cut a version of the film together using the already-shot footage, out-takes, scenes from other Lee films and new scenes filmed with a Lee look-a-like.
Lee appears on screen for just 15 minutes of the final version, but his yellow jumpsuit has become his most iconic outfit – and one of the most recognisable costumes in movie history. In December 2013, his screen-worn suit was sold at Spink Asia for HK$650,000 ($83,723), setting a new record for an item of Bruce Lee memorabilia at auction.