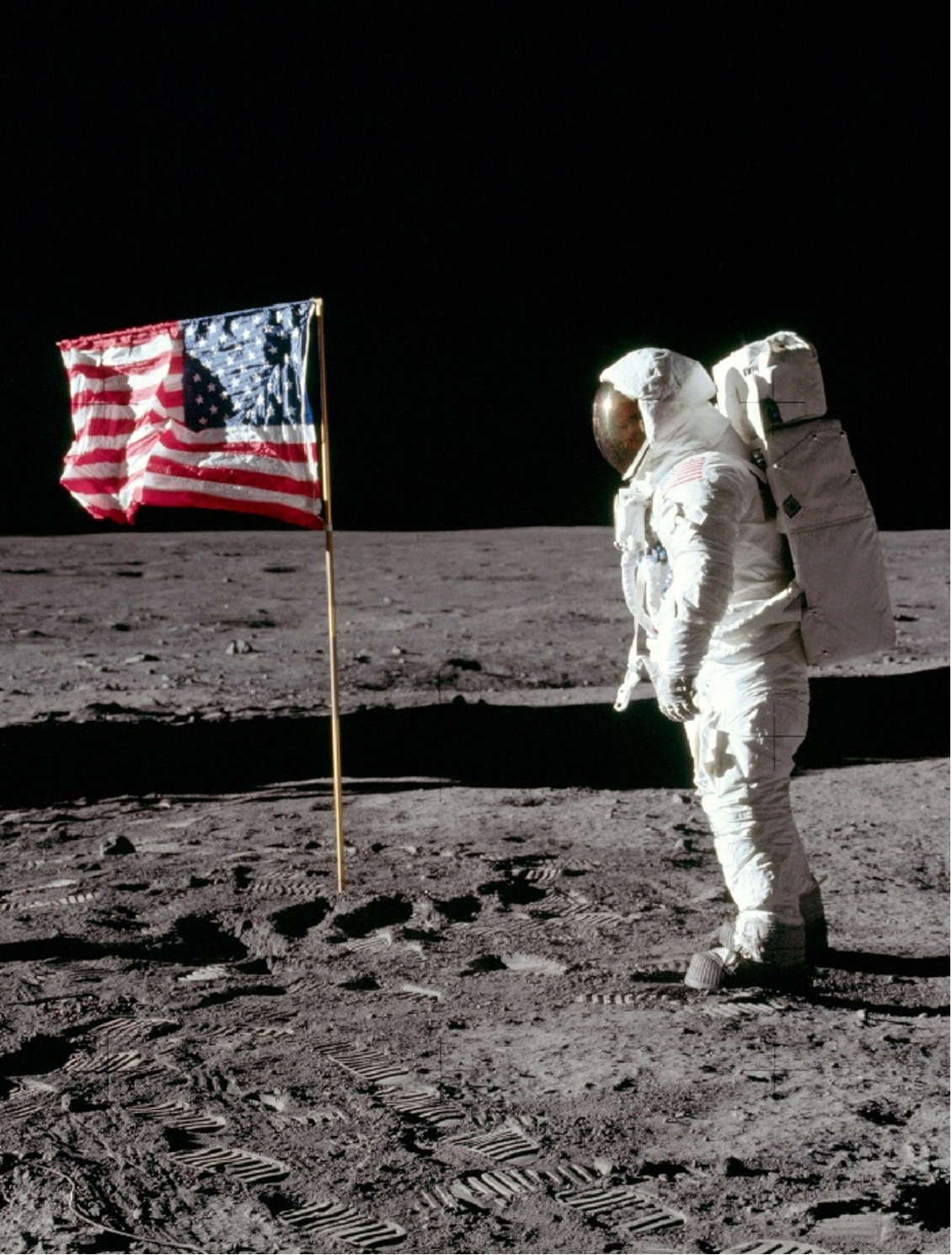 APOLLO 11 MEMORABILIA: THE MOST VALUABLE ITEMS EVER SOLD
Here we take a look at some of the most valuable items of memorabilia from the Apollo 11 mission, which saw mankind take a giant leap back in July 1969.
10) Buzz Aldrin's descent monitoring chart
(Image: Heritage Auctions)
This section of the descent monitoring chart features a map depicting the lunar surface around two of the three Theon Senior craters and the D'Arrest crater. It was used aboard the lunar module by Buzz Aldrin, and signed on his return to Earth, before selling at Heritage Auctions in September 2007 for $71,700.
9) Lunar-flown U.S. flag
(Image: Heritage Auctions)
These small U.S Stars and Stripes flags were flown aboard Apollo 11 in the Personal Preference Kits (PPK) of crew members. Although exact figures for the mission don't exist, it's believed that both Aldrin and Collins each took a small number of flags into space, and most were then mounted on NASA's official display cards bearing the signatures of all three crew members.
This particular flag was originally gifted to Paul Sturtevant, a NASA special assistant who worked on both the Mercury and Gemini projects, and sold at Heritage Auctions in November 2013 for $71,875.
8) Buzz Aldrin's slide rule
(Image: Heritage Auctions)
This may look like a simple slide rule, but in 1969 it was one the few things standing between the crew of Apollo 11 and oblivion. The Pickett Model N600-ES (Eye Saver) Log Speed Rule was amongst the practical items taken into space by Buzz Aldrin, as a back-up computational tool to be used in case of a serious computer malfunction.
Having returned to Earth and remained in Aldrin's personal collection for decades, the rule sold at Heritage Auctions in September 2007 for $77,675.
7) Command Module Rotation Control Handle
(Image: Aurora)
This grey handle originated from the Apollo 11 command module, amongst a bank of controls situated between Buzz Aldrin and Michael Collins, and was used to control the spacecraft's rotation in either direction around all three axes.
Following the command module's return to Earth, this handle was reportedly given to a member of the NASA team to be display mounted for presentation purposes. However, it then remained in storage for years, and was rediscovered when the employee retired and cleared out his safe. Instead of discarding the handle he retained it as a memento, and in April 2004 it sold at an Aurora auction for $79,750.
6) Gene Kranz's Mission Control archive
(Image: RR Auction)
This collection of manuals, charts and notes was used by NASA Flight Director Gene Kranz, as he coordinated the Apollo 11 mission from his console at Mission Control.
The carefully organized folders contained every piece of information that Kranz may have needed at his fingertips throughout the mission – from landing procedures to an abort checklist - preparing him for any possible scenario.
According to Kranz: "Each Flight Director's Flight Book included material mirroring individual needs, as we each had our own diverse backgrounds and knowledge base….For my ease of use, this binder has been organized and tabbed, was carried everywhere and kept on top of my console during the actual mission."
As one of the most important collections of Earth-bound memorabilia from the Apollo 11 mission, the mission control archive sold at RR Auction in November 2014 for $91,909.
5) Michael Collins' signed crew patch
(Image: Bonhams)
As was then a NASA tradition, the Apollo 11 crew were tasked with designing their own mission patch prior to lift-off. Armstrong, Aldrin and Collins chose to keep it simple, featuring an eagle holding an olive branch, but without their own names. According to Collins:
"We wanted to keep our three names off it because we wanted the design to be representative of everyone who had worked toward a lunar landing, and there were thousands who could take a proprietary interest in it, yet who would never see their names woven into the fabric of a patch."
Several of the patches were then flown aboard the mission inside each crew member's PPK. This example, which flew into space and back with Michael Collins, was signed on his return to Earth in 1969 by his crew mates. It sold at Bonhams in 2016 for $110,000.
4) Neil Armstrong's inscribed flight plan
(Image: Bonhams)
This document is thought to one of the few – and perhaps only – times Armstrong inscribed the iconic phrase "One small step for a man—one giant leap for mankind" for anyone.
Armstrong wrote it for John McLeaish [1929-2006], Chief of NASA's Public Information Office, who spent three weeks in quarantine with the three Apollo 11 crew members following their return to Earth. During this time he gave press briefings and interviews through a glass window, and it's believed that Armstrong signed and inscribed the item for McLeaish during a conversation about his first words on the moon.
The sheet itself is from the detailed timeline section of the flight plan, featuring the instructions "Prep for cabin depress ... Don gloves ... Depress cabin ... Initial EVA. Egress to platform ... Descend ladder. Rest/check EMU [the spacesuit and backpack combination.] Environmental familiarization ..."
The sheet remained in McLeaish's private collection for the rest of his life, before selling at Bonhams in April 2010 for $152,000.
3) Lunar module landing sequence pages
(Image: Heritage Auctions)
These space-flown instructions feature the exact step-by-step computer procedures used by Armstrong and Aldrin when they began their descent in the lunar module.
The pages, PGNS-43 through to PGNS-48, originate from the G&N Dictionary, the manual and checklist for the operation of the Lunar Module Primary Navigation and Guidance System.
They feature the "P63 Braking Phase" that began their descent from lunar orbit, to the "P68 Landing Confirmation" which confirmed the module's touchdown location. According to Aldrin, "These are the most significant pages from the entire dictionary, and from my view point, some of the most important pages available to us during the entire flight. These steps enabled the actual landing by Man on the surface of the Moon."
The pages originally crossed the auction block at Bonhams in 2009, where they sold for $152,000. Seven years later in May 2016 they were offered for sale again, and sold at Heritage Auctions for $175,000.
2) Buzz Aldrin's Holy Communion notes
(Image: Heritage Auctions)
This set of Buzz Aldrin's hand-written notes was flown aboard the lunar module, and features Bible quotes used during the first religious sacrament performed on the Moon.
During a quiet moment aboard the module, Aldrin took Holy Communion using a small kit he had secretly taken aboard with him, featuring a small chalice, some wine and a wafer (prepared for him by the Webster (Texas) Presbyterian Church).
NASA was hesitant over any religious ceremonies being publically carried out during the Apollo missions, so Aldrin simply read from the statement on this card:
"Houston this is Eagle The LM Pilot speaking. I would like to request a few moments of silence. Over. I would like to invite each person listening in, wherever and whomever he may be, to contemplate for a moment the events of the past few hours and to give thanks in his own individual way- - My way shall be by partaking of the elements of Holy Communion."
This symbol of mankind's search for answers in the universe, both scientific and spiritual, sold at Heritage Auctions in 2007 for $179,250.
1) Lunar navigational chart
(Image: Bonhams)
This navigational chart was used by Neil Armstrong and Buzz Aldrin to determine their exact position on the moon's surface, just after they touched down safely in the Eagle lunar landing module.
Featuring a rotating map of star patterns, constellations, the Earth and the Sun, from which the pair could gauge their position, Aldrin described the chart as "the single most critical navigational device we used while on the Moon".
The companion chart used 20 hours later to update navigational equipment, prior to the lunar lift-off, is owned by the Smithsonian National Air and Space Museum in Washington, D.C. According to Aldrin, from whose collection the chart originated, the Velcro patch used to secure it also returned to Earth complete with a sample of lunar dust embedded within the fibres. 
In 2009, the lunar navigational chart sold at Bonhams in New York for $218,000 – a world record price for a piece of Apollo 11 memorabilia which remains unbroken to this day.