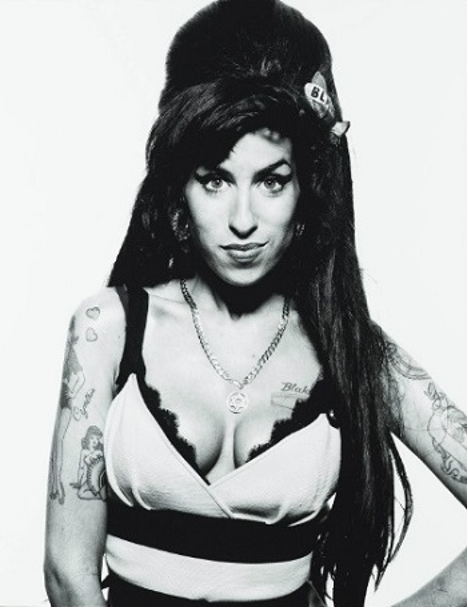 AMY WINEHOUSE MEMORABILIA: 10 CLASSIC ITEMS
Although her life and career were all too short, Amy Winhouse cemented herself as a genuine musical and cultural icon before her untimely death in 2011. Here are 10 items of memorabilia through which collectors have remembered her...
Valentine's card
(Image: Bonhams)
In January 2009, whilst her husband Blake Fielder-Civil was in prison for assault and perverting the course of justice, Amy Winehouse was spotted on holiday in Saint Lucia with actor Josh Bowman. She told a British newspaper "I'm in love again, and I don't need drugs. I've finally escaped from Hell,", and just a few days later Fielder-Civil filed for divorce on the grounds of adultery.
Winehouse then said she still loved Fielder-Civil, stating "I won't let him divorce me. He's the male version of me and we're perfect for each other." Whilst still in Saint Lucia, having received the divorce papers, Winehouse sent her husband this Valentines card which read in part:
"Oh Blake, You are an ache in my guts darling, every pang I feel in my body, I belong to you and always have...our day will come, your Gemma" (Gemma being a code-name Winehouse used in letters to Fielder-Civil).
The personal hand-written card, featuring cartoon character Linus Van Pelt by Charles M Schultz, was offered for sale at Bonhams in 2013 but withdrawn from sale at the last moment.
Love letter
(Image: IAA)
Winehouse and Fielder-Civil had married in May 2007, but the pair were soon separated when he was sent to prison in July 2008 for assaulting a pub landlord and then trying to cover up the crime. Whilst the couple were apart, Winehouse's drug use and addiction began to spiral out of control and she sent a series of love letters to her husband including this illustrated example, which read in part:
"How can it be that we've spent more time apart than together since we've bin wed?... I want to look at pictures of you + shed little hot tears of frustration that you would laugh at and tickle me for...I wondered if I can make you a tape now. Blakey I was even thinking of releasing a compilation for you! I don't care if a million music geeks wanna beat me up for commercialising our beloved Elvis - Billy Bragg - Madness - Sub lime. Specials! So I'm thinking: how about I WRITE you a few albums instead... You are real Blake, I feel like I've woken from a beautiful dream sometimes so colourful and loving and the only precious jewel I can pluck from memory in the mourning is a 5 letter fire alarm, a wail of Blake and you're real! You are a REAL boy. Everything I could ever pray for, really my Boy Wonder…."
This highly personal letter, which provides an insight into their intense relationship, sold through International Autograph Auctions in 2013 for £2,700.
Fred Perry polo shirt
(Image: Julien's)
In 2010 Winehouse collaborated with British sportswear company Fred Perry to design a new 17-piece collection of women's clothing, stating "Fred Perry is my be-all-and-end-all. I've always loved it, always worn it, it feels like a living dream."
This stylized Fred Perry polo shirt, featuring cuffed sleeves and a stand collar with pink stripes, was co-designed by Winehouse and then worn by her in an advertising campaign for the range in October 2010. Accompanied by a letter of authenticity from The Winehouse Foundation, the shirt sold at auction through Julien's in 2012 for $7,812.
Terry O'Neil photograph
(Image: Christie's)
This black and white portrait of Winehouse was taken in 2008 by the celebrated English photographer Terry O'Neil, renowned for his iconic images of 1960s stars and portraits of Elton John, amongst many others.
According to O'Neill, "There wasn't one decent portrait of Amy Winehouse out there and I managed to persuade her to pose for this photograph, which I feel perfectly captures her power and vulnerability."
This limited-edition silver gelatin print of the portrait, signed and numbered 1/50, sold at Christie's in 2012 for £8,125 ($12,878).
Bronze sculpture
(Image: Julien's)
This bronze bust of Amy was created by English artist Linda Joyce, as one in a series of 12 sculptures. Each bust was hand embellished with tattoos and semi-precious stones, making every one subtly unique, and in each case the bronze flower adorning her hair could be removed and a real flower placed inside a hidden water flute.
This sculpture was sold at auction through Julien's in Beverly Hills for $20,000, with a portion of the proceeds donated to the Amy Winehouse Foundation, which supports children suffering from the effects of drug and alcohol abuse.
Rehab video kimono
(Image: Julien's)
This orange trim kimono robe was designed by Princesse Tam Tam, and personally chosen by Winehouse to wear in the video for her 2006 single 'Rehab'. Once the outfit had been picked, with advice from the video's director Phil Griffin, location scouts were sent round London to find a building with an interior colour scheme which matched the robe.
As worn on-screen by Winehouse in the video for one of her biggest and most famous singles, the kimono was sold at Julien's Auctions in 2012 for $34,375.
Pete Doherty artwork
(Image: Cob Gallery)
This artwork was created by the notorious Libertines front man Pete Doherty, as one of a series of paintings created using his own blood. It also featured a contribution from his close friend Winehouse, with whom he shared both musical inspiration and serious addiction issues.
Entitled 'Ladylike', the artwork was created in 2010 and Doherty recalled the process during an interview with The Independent: "Amy was on the phone to her dad when she did that. She said, 'Dad, I'm with Pete and he's making me draw with my blood!' He didn't like me much, her dad."
The work was sold in 2012 by a private owner, as part of an auction of Doherty's artworks and memorabilia at London's Cob Gallery, for £35,000.
Back in Black album cover dress
(Image: Kerry Taylor Auctions)
This printed chiffon dress was worn by Winehouse on the cover of her seminal 2006 album 'Back to Black', later described as "a 21st-century soul classic".
The polka dot dress, featuring a corset-like bodice with under-wiring, central lace bow insertion and an elasticated puff-ball skirt, was the creation of the St Martins-trained, Thai based designer Disaya. Having been approached by his friend, and Amy's stylist, Louise Winwood, Disaya loaned a number of outfits for the cover shoot, which took place in the home of photographer Mischa Richter.
Following the shoot the dress was returned to Disaya, and stored away for several years in the designer's archive. Following Winehouse's untimely death in 2011, Disaya decided to sell the dress at auction, with all proceeds donated to the Amy Winehouse Foundation. It crossed the block at Kerry Taylor Auctions, specialists in vintage clothing, where it sold for £43,200.
Tears Dry On Their Own video dress
(Image: Christie's)
Winehouse wore this gingham dress in the video for her 2007 single 'Tears Dry On Their Own', filmed in Los Angeles and directed by the celebrated fashion photographer David La Chapelle.
Two days later she wore it again whilst attending the Ivor Novello awards in London, where she won the Best Contemporary Song award for 'Rehab' and accepted it with the brief speech "Thank you all very much, I didn't even have time to get drunk, I've only been here about 15 minutes."
She wore the dress a final time four days later on May 28, during her homecoming gig at the Shepherds Bush Empire, which was filmed and released as the DVD 'I Told You I Was Trouble: Amy Winehouse, Live in London'.
Winehouse later donated the dress to the online charity auction Celebrity Trash, organised by Diesel in 2008 to benefit The Livity Trust. In 2013 the stage and screen-worn dress sold at Christie's for £47,475 ($73,206).
Camden home
(Image: Wikipedia)
When Winehouse was discovered dead at her North London home in July 2011, the location overlooking Camden Square quickly became a shrine for fans from around the world. Her family had originally planned to make the house the headquarters for the charitable Amy Winehouse Foundation, but constant attention from fans made the plan impossible and the house was placed up for auction.
The 2,500 square ft, semi-detached three-storey townhouse featured three bedrooms, a modern gym and a sound-proofed music room, along with alarmed security gates. After being inundated with viewing requests for the home, most of which came from "nosey time-wasters", Winehouse's former home was finally sold in 2012 for £1.98 million, to a buyer with a passion for houses with interesting back stories.